DIY Christmas lights that spell love – simple to do!
Kaboom… It's nearly Christmas! I think lights make everything more magical. Don't you?
Last weekend we put the tree up at our place, early I know, but we had a helper from interstate and I thought she'd love to share the "tree putting up" with our little guy.
So we did it!
And she loved it!
I loved watching her, adding those branches on.
Can you come back and pack it away too? (lol)
We used to have an arty tree, the white kind with sticks and sparse decoration, (I still love that), however my husband has been saying…
"That's not a Christmas tree!" for years.
This year, I succumbed and now we have a "green" tree.
I must say, I do like it, it reminds me of being at grandmas.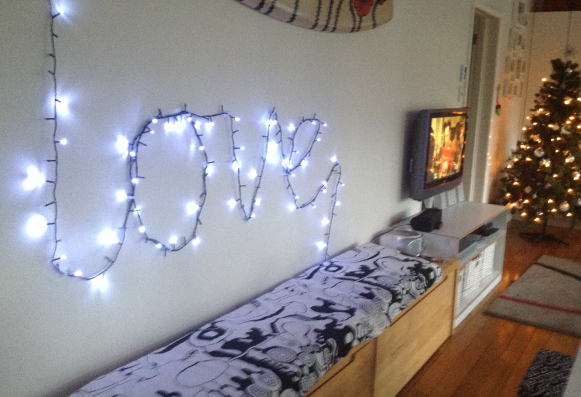 It really does have that magical feel (you should see it at night!)
We put on Bing and the Christmas party mix while we put it up, it was perfect,
I couldn't stop smiling as I watched them looking for all the "A" branches and fluffing them up… all the way to the "G" ones.
I wanted to add my own arty take still, so I thought I'd write a message in lights on the wall.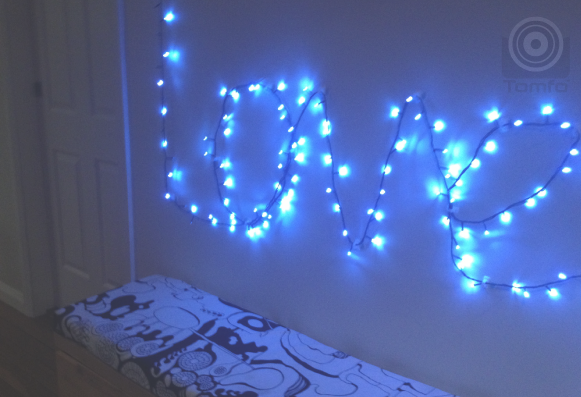 This is a super quick way to add some sparkle to your house with some fairy lights and a few removable cable clips.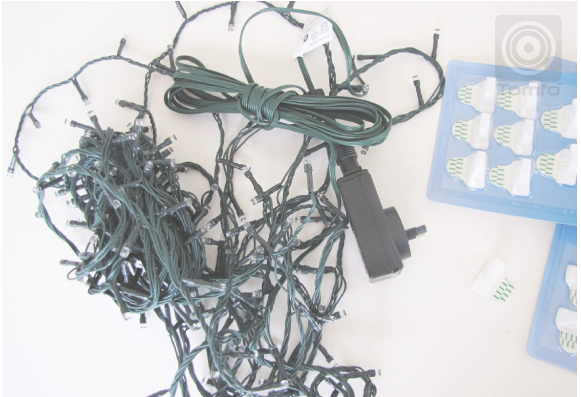 I selected a wall that had a powerpoint below it, did a rough test that the length would spell out "love" then positioned the clips on the wall as needed.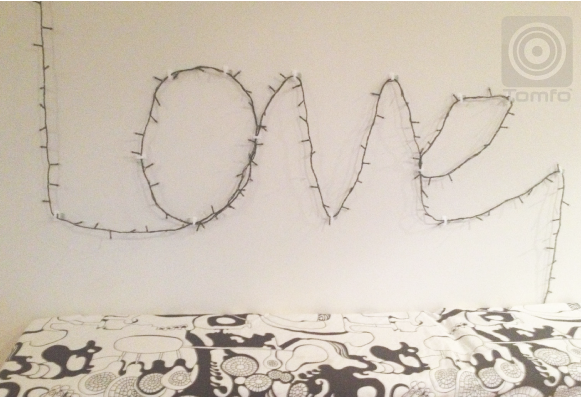 Simlpe and effective, love it!
You could write anything you like, Noel, Joy, Happy, etc, I chose love!
The little guys words were… "Wow' when he saw it. The lights have an option to flash or stay on, we had fun playing with the different settings too!
When it's time to pack all that magic light stuff away, I'll simply take the removable clips off the wall (I love those things) and pack the lights away. It took 15mins to do tops!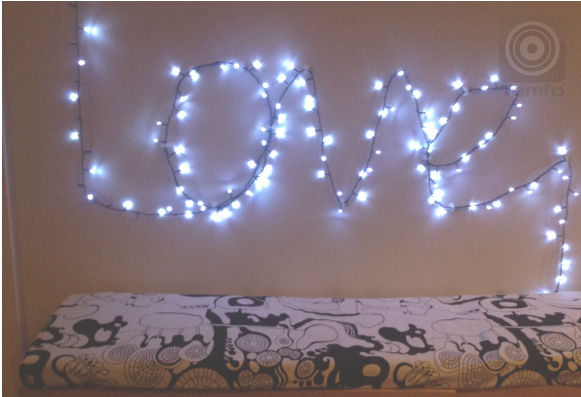 What would you write on your wall this christmas?
You could write something over the kid's bed as a surprise… add someone special's name in the room where you gather for lunch, or perhaps "grace", or "thank you" in the dining room, the possibilities are only limited by your imagination.
I hope I've inspired you to get out the "magic lights" for Christmas and have some fun along the way.
Live with Love,

PS: Why not check out some of my DIY Christmas prints for your home this Christmas.


Why not subscribe here so you don't miss an easy DIY idea like this?
Tags: 2014 family calendar, 2014 family organiser, 2014 FAMILY ORGANISERS, 2014 family planner, 2014 tomfo, believe in the magic of christmas, christmas lights, Christmas tree lights, Family Organiser, it's christmas, magic of christmas
READ MORE POSTS
---