Simple Scandinavian Christmas Decorating ideas
Let there be lights…
to decorate.
Because…
it's nearly Christmas,
and everything is even more magical with sparkle.
Here's 3 super simple,
Scandinavian inspired Christmas decorating ideas you can try yourself.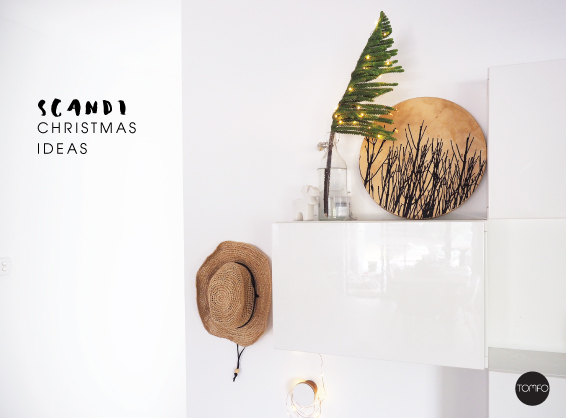 Introducing my new best friend….
Copper wire lights!
I picked these up at The Reject Shop for $5,  you can find them at Cotton On and a few other places online too.
The simple curl:
You know how much I love a hook or ten,
simply curl them around a hook for instant Christmas sparkle.
Don't have a hook?
Curl them over a plant on a bedside table.
Or curl them in a clear vase with baubles to hide the battery pack.
The possibilities are endless.

Sparkling Christmas tree:
Place a beautiful branch in a bottle with water and twist them around, then hide the battery pack behind the bottle.
Beautiful.
You could also use Christmas bush, gum leaf branches, even a simple palm leaf. I found this norfolk palm branch on my daily walk.
Quick wreath:
Try twisting dried grass into a circle,
(I picked this up at my fabulous local florist)
tie with string to secure,
then add a rhapis palm for a touch of green.

Copper wire lights….
you just made my day.
I think they are so good, they might even stay at our place long after Christmas is over.
Reckon they might become your new best friend too?
Are you gtting excited for tree Trimming day?
We are set to trim our tree Friday, next week.
I can't wait to turn on the lights.
And listen to a little bit of "Santa Baby".
And Michael Buble singing,
"It's beginning to look a lot like Christmas," with that velvet voice of his.
Here's to turning on the lights and decorating Scandinavian style this Christmas.
Oh, and remember this DIY Tree Sculpture I made a while back?
I think it might be getting some fancy lights for Christmas too.
Do you trim the tree with friends and family over a sneaky wine or two with Christmas carols on like us?
Do you get excited about turning on the lights?
What's your favourite Christmas tune?
Happy weekend guys,
Live with love,



READ MORE POSTS
---