Do you have a christmas tradition? Here's ours…
Christmas traditions do you have one? Here is ours…every year we light tealights in paper bags and make a trail on the lawn on Christmas eve for all the people in our lives. It started as a tribute to the beautiful Jae and has continued ever since. The first year we lit candles in white paper bags like below…
It's amazing how light has an effect on people…
Look at the kids… magic
Last year at Christmas we used coloured bags and I got the big kids to stamp everyones name on the bags. I think that made it even more special, even the "golden uncle" helped stamp the name. We stamped you if you were here, if you are celebrating somewhere else or if you are looking down on us from the sky. I love the magic of lights and long after the kids are in bed, they put on a beautiful show for us big guys.
This year I'm missing my big girls (the stamper helpers, it's their "other christmas" celebration)… bummer!
I did a quick scout and found a few white bags and I have a ton of mason jars, so I think we will stamp a few tags from our christmas wrap idea and write everyones name on them, all the ones that are with us and all the ones that are not, even the ones that are celebrating at other parties (we miss them on christmas eve too).
After we light the bags we've started taking the little guys up the street to check out the lights. Grandpa is the pied piper and all the kids follow, then it's time for bed, ('cause santa doesn't come if you are awake at our house!) We put out the milk and cookies and it's off to bed for the little ones.
This year I'm adding a new addition to the tradition… some lawn stars, made with a star template, and flour… I found over at Pink and Green Mumma.
I pinned this to my christmas ideas spot on Pinterest  and I'm thinking we will make a trail of stars to go inbetween the lights so santa can find his way to grandmas house again this year!
The tradition stuff makes me happy and I love the fact that we do it every year and everyone joins in. I'd love to think, long after I'm gone, the little guy will be doing this and there will probably a million, trillion bags they will have to light every Christmas… I'd be happy with that!
Here are a couple more small traditions we do on Christmas Eve too…
PORK CRACKLE FESTIVAL
We also celebrate on Christmas Eve with the "Pork Crackle Festival". It's really just an excuse to eat more and get the pork cooked before lunch the next day. My sister and my dad have the webber down to a fine art, the exact amount of stones and the exact time, and later on, (when the kids are in bed, we eat most of the crackle before the lunch on christmas day, it's not like we won't have enough food!) We call it the Pork Crackle Festival, just for fun!
CHRISTMAS EVE KRIS KRINGLE
Neighbours and friends come to our house and they all bring a plate, and we do KRIS KRINGLE. This is for the big kids and we do this once all the kids are tucked  in bed and fast asleep.
The rules are important…
Everyone brings a present of $10 -$15 and we number them all.
Then we all choose numbers out of a hat, ie: say we have 23 people, we number the presents accordingly and then we all draw out numbers, ie; 1-23. With no 1 being the first present choice. The person who picks No. 1 out of the hat has the choice of the present numbered, No. 1. Then the next person with No. 2 opens the present marked No. 2, and  has the opportunity to chose from both presents. So when the last person, who has the "golden ticket" choses, they can chose from whatever present they wish.
It's fun to see what presents get moved around. We all enjoy this game, and much banter happens at No 13.
Although I am sure the next door neighbour who has his own party thinks, "here we go again!"
Blame it on the brother-in-law, I say, this one was his tradition we adopted!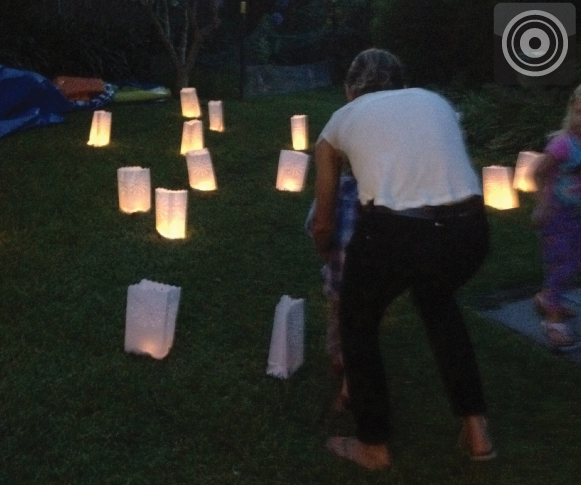 At the end of the night we set up all the santa sacks and always in the back of my mind are the people that are not with us. This year I will be thinking of  Tom, Jae, Pauline, Chris, Keith, Barry, Sue and my grandparents, Doreen @ Valentine and June @ Beres, all such wonderful people that made us what we are today.
Their love and fun still lives… and they are all part of it in our house, today and every day!
I can't wait for christmas and the traditions that go with it, this year we will celebrate a "pre christmas"-"christmas" too with our other side of the family and I think we will test out lights there as well! (maybe the start of another tradition?)
Wishing you and yours a cracking christmas with family and friends and remembering all the wonderful people who have helped shape our lives… such gratitude to them.
What's your christmas tradition/s?
Live with Love,
Tags: 2014 family calendar, 2014 family organiser, 2014 Family organiser Calendar, 2014 FAMILY ORGANISERS, 2014 family planner, christmas traditions
READ MORE POSTS
---