DIY Christmas Tree Paper Garland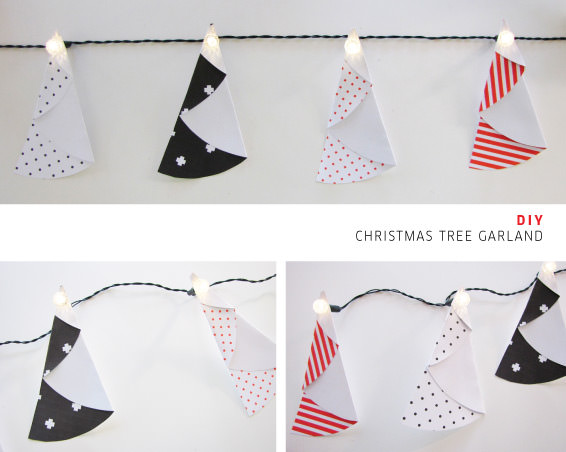 Today I'm over at Sweetly Chic Events with the gorgeous Missy and Kirstin sharing a DIY Christmas Tree Garland.
You can never have enough lights at christmas right?
This garland uses a string of lights and a free printable, but you could also hang it on some ribbon or string,
there's even a star if you choose to go down that option.
With a little bit of folding…
You'll be whipping up a Christmas Tree Garland in no time.
I've hung mine on the vertical next to our tree.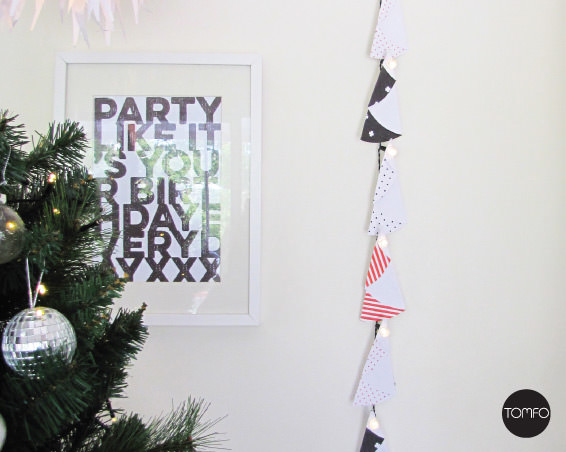 What you will need:
Free Christmas Tree Garland Printable Download  (each page makes 2 trees)
10 x A4 sheets of 200gsm card
1 set of battery operated lights with round bulbs
Glue Stick
Hole Punch
Scissors
3m hooks to hang
How to make your Christmas Tree Paper Garland:
It's super easy, simply cut a circle out of the templates using the dotted lines as guide.
1. Cut the circle in half. With the straight line edge of the semi circle on the left, fold over as shown below to approx 3cm away from the top point. (Use the black dot as a guide). Then fold back the other way.
2. Fold back across again, then tuck the last piece under.
Glue the pieces down with a glue stick.
(I found it easy to unfold, then glue the undersides)
My string had 20 lights so I repeated the steps above to make 20 trees.
Then you are ready to assemble.
Punch a hole in the top of each tree, (NB: Use a 2 hole punch it has better leverage)
Untwist the globe from the lights and push it through the hole at the top. Then twist the light back on.
Repeat for all 2o trees.
These battery operated, so you can place them anywhere… no need for a powerpoint.
You can also thread with a ribbon and add a paper star on top.
There's a star on the printable if you want to do that option too.
I love the lights though… it's all about the lights at Christmas.
See the tutorial below for more info.

Christmas is getting so close I can almost touch it.
Download the Christmas Tree Garland Free printable here
Have a great weekend guys, we are off to parties and BBQ's…
it's such a fabulous time of year.
I designed some Christmas cards this week and I thought it would be a great computer screensaver to get me into the christmas spirit at work too.
Merry Everything…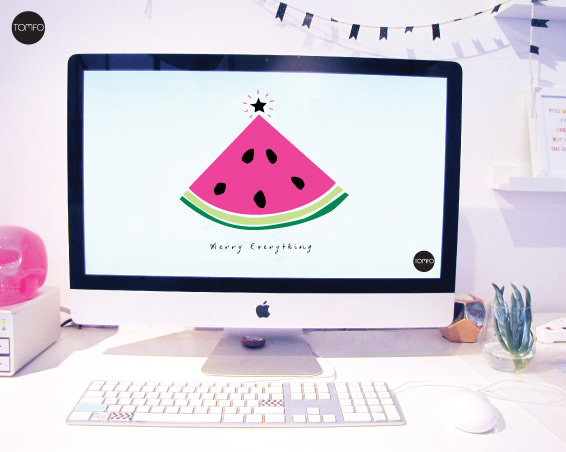 UPDATE: You can now download the FREE Christmas Watermelon Tree Wallpaper here
Do you love the lights at christmas like me?
Live with Love,

Why not subscribe here so you don't miss a FREEBIE?


Linking up with The Pin Junkie
Tags: christmas tree garland, diy christmas, free printables, TOMFO
READ MORE POSTS
---