Sweet Chilli + Bacon Potato Salad + FREE meal planner download
You had me at bacon! I am a sucker for bacon and now with the weather warming up, it's time to get the BBQ fired up, slap on a steak and have a go at this fab potato salad.
My Aunty made this for me years back and it's now a recipe that I take to BBQ's and everyone says… " geez…what's in that potato salad, it's yum!
It's the sweet chill sauce, mint and coriander that make it taste so good I reckon, oh, and the bacon!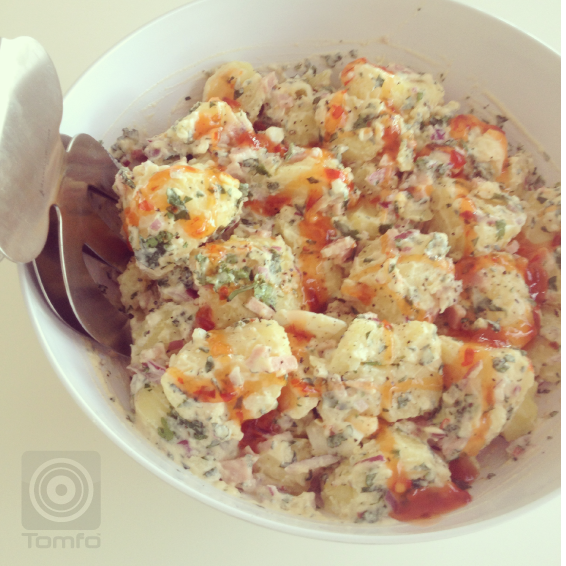 Here is the receipe, simple to make, it's on the menu tonight at our house, with some steaks on the BBQ.
RECIPE      Serves 6
8  large potatoes (I use desiree)
6 rashers short cut bacon (cooked and diced), you can also use chopped ham
2 eggs boiled and chopped
1/2 cup finely chopped mint
1/2 cup finely chopped coriander
1 small red onion finely chopped
2 heaped tablespoons whole egg mayonnaise
1 heaped tablespoon sweet chilli sauce and extra to drizzle over at the end
Salt & pepper to taste
METHOD
Peel and quarter potatoes, then cook in a saucepan of boiling water till soft, (I cook for 10 mins on high and check with a fork, I always make sure they are cooked through nothing worse than a hard potato), then drain and cool. Do the same with the eggs, cook in boiling water for 10 minutes.
Fry up bacon and once cooked, dice and add to the bowl.
Whack all the other ingredients in the bowl with the bacon.
Peel eggs and chop, add to bowl, add in cooled potatoes, gently toss to combine, add salt and pepper to taste.
Then serve with an extra drizzle of sweet chilli sauce and enjoy.
I am trying out a new idea this week, Meal Planning! I've been meaning to do this for ages and I've decided it's time!
I've made up a meal planner, you can download it here for FREE for a limited time. This item is now available in my shop here. For best results set your printer to print borderless, so the whole image prints.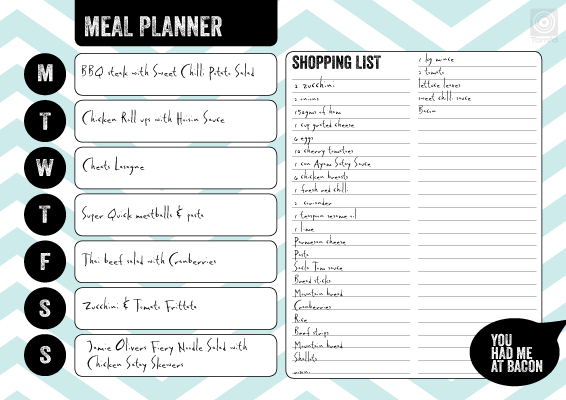 By planning this weeks meals, hopefully I can save some cash on impulse buying and the most important thing… I will know what's on for dinner every night and it won't be that crazy rush at the end of the day, because everything will be in the fridge!
Do you meal plan?
Live with Love,

Why don't you Subscribe so you don't miss a post? There is a promo code for FREE postage in Australia on 2014 TOMFO when you do.
Tags: 2014 family organiser, Family Organiser, FREE MEAL PLANNER, MEAL PLANNER, PRINTABLES, SWEET CHILLI POTATO SALAD, TOMFO
READ MORE POSTS
---