Weekend breakfast – bacon and egg muffins
We don't have big brekkys at our place during the week, but… on the weekends we sometimes do! This is a quick brekky we make with bacon as the case for our muffins.
My little guy helps mix the egg, then we pour the mix straight into the "bacon lined" patty pan tray and bake in the oven.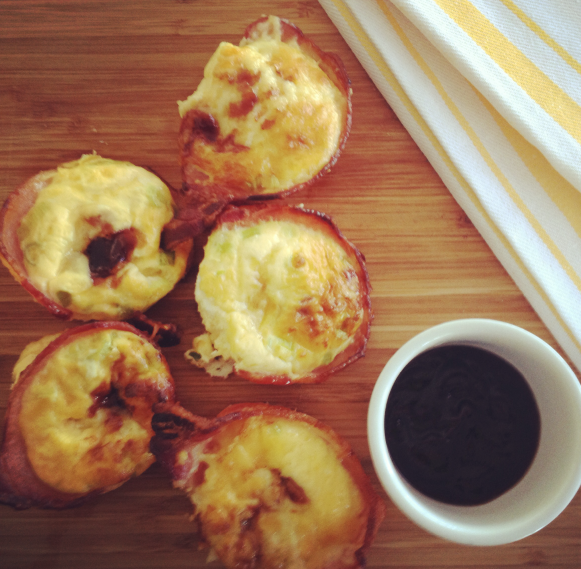 RECIPE – makes 12
12 x middle bacon rashers
6 eggs
1/2 cup milk
handful grated cheese
bbq sauce
patty pan baking tray
cooking oil spray
METHOD:
Preheat oven to 175°C
Spray the inside of the patty pan tray, then layer the bacon into each hole, pressing down to make a well for the mixture.
Beat eggs together, add milk and cheese, (you can also add in some chopped chives or parsley if you like). Then pour the mix into each patty pan.
Drop a dollop of bbq sauce in each, then cook in the oven for 12-15 mins or until golden and the egg mixture has set.
Serve with extra bbq and enjoy.
We have speedy meatballs on the menu tonight and I think I'll be having a champagne to celebrate the weekend.
It's exciting stuff at our house at the moment, we are on the countdown to our family holiday.
My little guy and I have been counting down the days on Tomfo.
Tomorrow we'll whip up a batch of these – we've got a few eggs to use up before we go!
Have a fabulous weekend with the ones you love,
What's your favourite weekend breaky?
Live with love,

Tags: bacon and egg muffins, easy bacon and eggs, weekend breakfast
READ MORE POSTS
---