Jamie Oliver's Chicken Fajitas with Salsa and Guacamole – I love the salsa on toast too!
It's no secret that I love Jamie, his food is so fresh and well… just yum. I have tried this recipe a few times and it's been a winner on all occasions. I'm no chef for sure, but like all mums, I have to cook something every night and Jamie really does make my life easier, plus I get guaranteed compliments when it's an Oliver BBQ or meal planned. (You've gotta love that!)
I think it's the salsa in this recipe that makes it so fab and the yoghurt instead of sour cream makes it a healthier option too. It's been a winner when we've had a bbq to feed many, the salsa is so good, I also have it on toast for lunch, a great find, I think. You can see the original from Jamie here.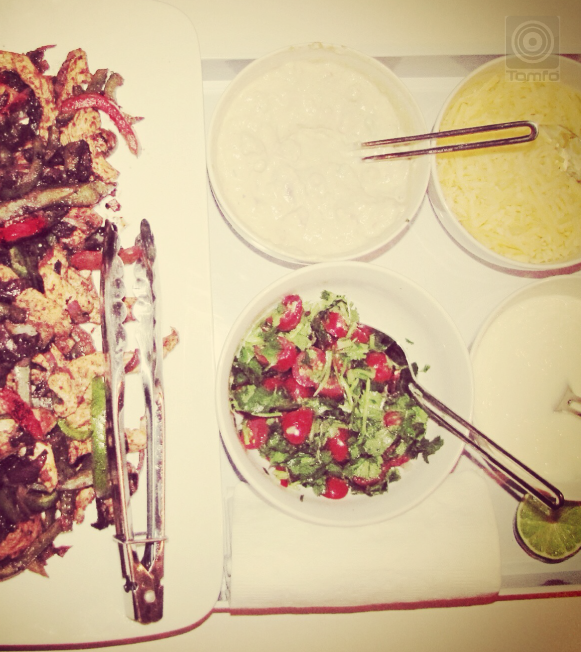 Here is how I do it…
RECIPE
CHICKEN FAJITAS WITH SALSA + GUACAMOLE
CHICKEN
1 red pepper ( I used a mix of green and red, because that was all I had in the fridge)
2 skinless chicken breasts
2 teaspoon smoked paprika
1/2 tsp ground cumin
2 limes
Olive oil
Black pepper
SALSA
1 red chilli finely chopped
1 punnet tomato cherries
1/2 bunch coriander
1 lime
Olive oil
GUACAMOLE
1 red chilli
1 avocado
Squeeze of lime juice
4 small cherry tomatoes
2 garlic cloves
1 tsp chilli sauce
1 tsp worstershire sauce
Salt and pepper
3 tbs whole egg mayo
EXTRAS
10 pk small flour tortillas
1 small tub natural yoghurt
1 cup grated cheese
1 lime for serving
METHOD    Serves 4

Make the chicken mix first. Cut pepper into thin strips and finely slice your onion. Slice chicken into long strips.
Then add peppers, onion, and chicken into a tray and add paprika and cumin. Squeeze over the juice of 2 limes and a splash of olive oil, season with a good pinch of pepper and mix well. Marinate for 5 minutes or so while you make your other condiments.
SALSA – Finely chop chilli, roughly chop tomatoes and the coriander, including the stalks. Add the chilli and tomatoes into a serving bowl with the salt and pepper and the juice of 1 lime, then stir in chopped coriander.
GUACAMOLE – Mash up the avocado with a fork, add finely chopped garlic, chilli and worstershire sauce, chopped tomato, salt and pepper to taste and a splash of lime juice. Then spoon mayonnaise ontop and cover all of the avocado and set aside. (I do this so the avocado doesn't go brown, then when ready to eat, mix it all together and serve.)
Cook chicken mix in a preheated, oiled, hot pan (or on hot bbq)  for 6 to 8 minutes, until the chicken is cooked through. Turning so the peppers and onion don't burn, once chicken is cooked, place on a platter.
Warm up tortillas up in a microwave (I do for 45 secs), serve with yoghurt and cheese in bowls, salsa and guacamole and a cut lime, then let everyone roll up their own fajitas. Yum!
Our little guy loves this, although he has to have tomato sauce on his and he doesn't eat the tomatoes – go figure!!!!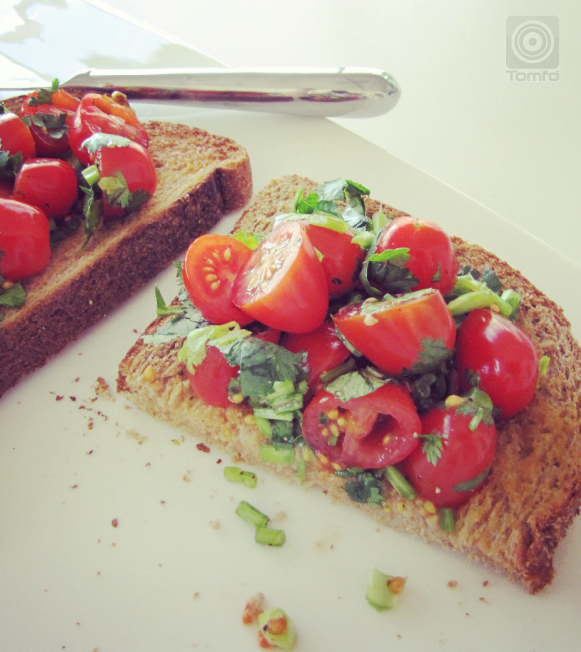 Oh coriander… I wish I had a field of you at my door! It really does make everything taste great (in my opinion). I often whip a small version of this salsa and eat it on toast – coriander, chopped cherry tomatoes, with generous salt and pepper and a squeeze of lime (if I have it), tastes great and it's healthy… in the summer the Perino tomoatoes are my favourite.
Hope you enjoy this as much as we do and thanks again Jamie for making our meal time so enjoyable and easy to do.
I'm loving my little recipe stash on the Tomfo, I know where all my favourites are and I can check up if I need to meal plan or write up a shopping list  and hopefully it's going to be a source for the little guy to cook from when he gets older and has to cook for himself.
Where do you keep all your favourite recipes?  Drop me a line on Facebook I'd love to hear,
Live with Love,

PSST….I've got a giveaway at the moment, 10 of our fab 2014 TOMO (Tomorrow's Family Organiser) Calendars, click below to enter. It's super easy, just like Tomfo on Facebook and answer a question, closes 20/11/2013 at 1pm AEST.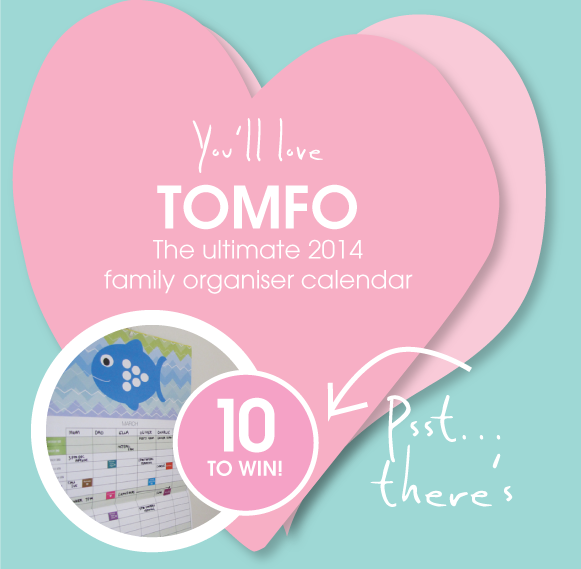 Tags: 2014 family organiser, 2014 tomfo, 2104 family organiser calendar, easy dinners, easy meals, easy recipes, jamie oliver, jamie oliver chicken fajitas
READ MORE POSTS
---