How to make your own Tissue Paper Tassel Garland
Follow this easy, step-by-step tutorial to make a DIY tissue paper tassel garland as a special touch for your next party, wedding or baby shower.
We have a superhero party coming up at our place, last birthday I made tissue paper pom pom balls, so it is time for something new, I'm thinking these will go well with our black and yellow theme.
Here's what you will need:
Tissue paper (1 single sheet makes one tassel)
Scissors
Ribbon or thin twine
Sticky tape

How to make a tissue paper tassel garland
Follow these simple steps.
1. Take a full sheet of tissue and fold it in half.
2. Cut thin strips, approx 1- 1.5cm each, leaving approx 9cm at the top uncut, all the way along.
NOTE: You can add more sheets at step 1 once you do a first run and cut about 5 sheets at once, (makes it faster to make a few at a time)
3. Unfold and lay flat.
4. Start rolling up in a cigar shape.
5. Roll all the way to the end.
6. Twist the middle slightly.
7. Fold in half.
8. Make a loop by twisting around your index finger.
9. Pluck a strip from the middle and wrap it around the end loop. Then attached some tape to secure. You could also use some cool coloured mini rubber bands to close or glue gun together.
8. Hang on some thin twine or bakers twine would also look great.
NOTE: To make smaller tassels, simply use half a sheet of tissue paper.
I love this… super easy to do, my tissue paper came in packs of 10, so one pack made plenty with some paper left over.
You don't need to have a party coming up to make these though… I think they'd look great as a decoration in a girls bedroom, try gold, creams and soft pinks.
Maybe I started planning too early for the birthday in our house, the little guy keeps asking me…"Is it my party day yet!" (It's going to be a long two weeks)
Stay tuned, I will put up our invitations and other superhero party decor in the coming weeks.
Live with Love,

Did you know I also design prints and cushions?
Check my shop out below.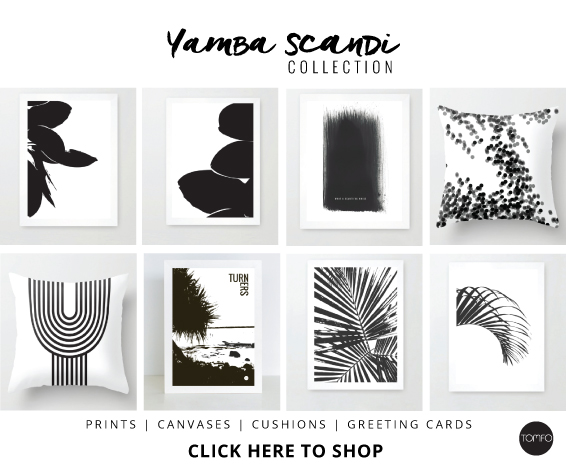 Linking up with Moms and Munchkins
Tags: diy garlands, party garlands, tassel garland, tissue paper garland, tissue paper garlands, tissue paper tassel garlands
READ MORE POSTS
---