Free printable garland + fold-a-shirt gift
Hi guys, I thought I'd share a free Printable Garland and how to make a cute shirt in a box gift for the person who has everything.
It's father's day here this weekend and I'm looking for a cool idea to say…. "buy yourself something nice".
Our big guy is a bit fussy on his clothes selection.
So…
Here it is…
I think the little guy and I will hang this garland up the night before and leave the present below it so he can find it in the morning.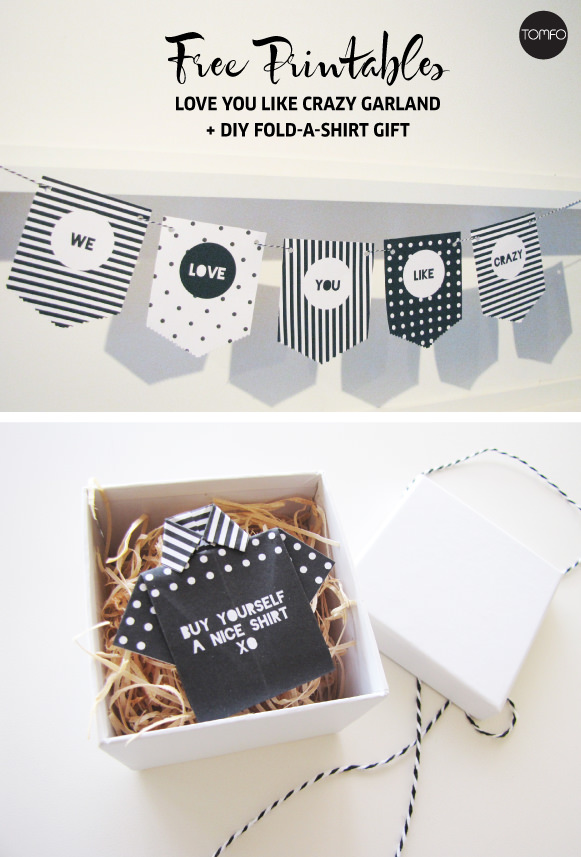 It's inspired by a father's day lunch they had at kindy this week…
When asked what we could write on the card…
I said how about, "I love you like crazy?"
The rest is history…
DIY Love You Like Crazy Garland
Printer
3 X A4 sheets of  paper (200gsm card preferably)
My Free Love You Like Crazy Printable available here
Scissors
Pinking shears (optional)
Hole punch
Butchers String or similar
Washi tape to hang
Simply download the printable and print out the pages you require. ( There's an "I" as well on the printable, or just use "love you like crazy". Then cut out, ( I used pinking shears to give the bottom a cool finish, but it's will look just as good with normal scissors)

Then hole punch two holes in the top corners and thread with butchers twine. I get mine from here. Then hang with washi tape. Too easy!

Here's the easy gift idea you can also make…
 How to make a Fold-a-Shirt Gift
It's also on the garland printable (the last page) simply print out and fold as per below.

How to make a DIY Fold-a-Shirt Gift
You will need:
Printer
A4 copy paper
My free printable available here
Scissors
Small gift box
Some wadding or use cotton wool balls, shredded paper or similar
String
Washi Tape
Follow this easy to follow video I found here.
Or follow these steps. It's super easy promise!
1. Download the printable, (it's the last page on the Garland Pdf) then print out, the pdf has two shirts, so you can make two of these or practice with one.
2. Cut out the printable with scissors, place the stripe section at the top in front of you.
3. Fold in half, this is a marker line to show you the middle.
4. Unfold and then make a fold to meet the middle of the paper as shown.
5. Do the same for the other side.
6. Turn the paper over, and fold over at the top, this is the beginning of the collar. I folded on the 5th line. (NB: Note the type will be upside down, this is correct)
7. Turn over to the side with no type on it, then fold the top corner to the centre as shown.
8. Do the same with the other side so they both meet in the centre. This is now the collar.
9. Turn the paper over and fold as shown using the 2nd row of dots as a guide to fold.
10. Then flip over.
11. Fold over and push the dotted edge under the two corners of the collar, then crease once you find a snug fit.
12. Now to make the sleeves.
13. Unfold and "pinch" the paper out as shown to form a triangle, then fold back over, creasing in place.
14. Do the same for the second sleeve.
15. Press all the creases in place.
16. Fold back in place… tuck the dotted edge back into the collar and you're done.
Too cute…
Then put some real cash or a gift voucher in a box, cover with wadding and place your shirt on top.
Wrap and you have a clever way to give someone a present, who has everything.
You could use this Diy printable garland as a surprise for someone you love, for when they get home…
Just for no reason other than you love them…
Or a family gathering…
Or just leave it up… to put a smile on your face.
I think we'll be finding a spot to keep this baby up at our house.
Lets hope the big guy doesn't read this post so he doesn't know what he's getting on Sunday…
Enjoy the weekend
Live with Love,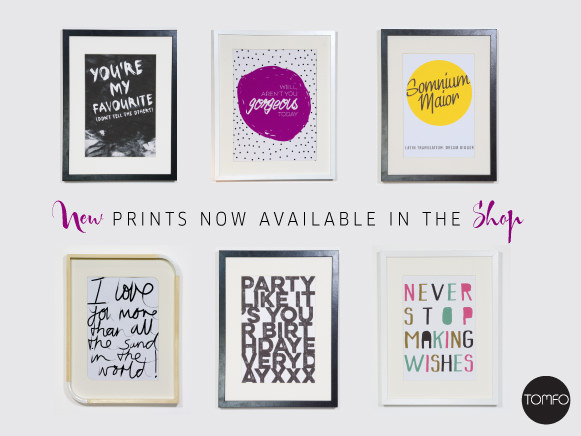 Linking up with With Some Grace + Life Love and Hiccups
READ MORE POSTS
---