Thank you for letting us live such a wonderful life
Today, as I walked  to a meeting at the Quay, I could feel a city getting ready to honour it's bravest men and women. Anzac Day 2014!
It is with endless gratitude that I write this post today.
Tomorrow is Anzac Day here in Australia and I will be off to the dawn service, to hear the Last Post and remember the men and women who have given me and my family and friends such a beautiful life.
I am truly grateful!
Did I tell you I'd been to Gallipoli? (Goose bumps on a day like tomorrow)
You can read my story here about an amazing storyteller I met in Canakkale. Tomorrow, has great meaning for me, I've walked on that soil, I've seen those hills, I have strolled on the lone pine field, I am in awe of such brave men, and I am forever in their debt. I will always honour them (and instil those traditions in my family), they have afforded me the life I have today.
Tomorrow I will wake at the same crazy hour that they landed in Gallipoli, (and my friend will send me a text message saying "lest we forget" as I am doing my hair), and I will reflect on all the men and women who have helped me live such a blessed life.
I will think how brave they were and shed a silent tear as I drive off while my beautiful family sleeps. "Thank you", I will whisper…
Today…I visited a new neighbour and dropped off these Anzac Biscuits… (I've been meaning to say hello for the last few months.)
His beautiful wife said… "Thank you", he will be so chuffed, he says "It's the Soldiers Christmas tomorrow", I'm so glad we have someone in our street who has afforded us such a fabulous life.
I was worried my biscuits would not be up to scratch, however, his beautiful children… readily opened the jar and tasted a few," Leave some for Dad" was the call, and then came the question, excuse me… "How do you make these?"
He's done two trips to Afghanistan and I thank him and his beautiful family for enabling us to lead the life we do today.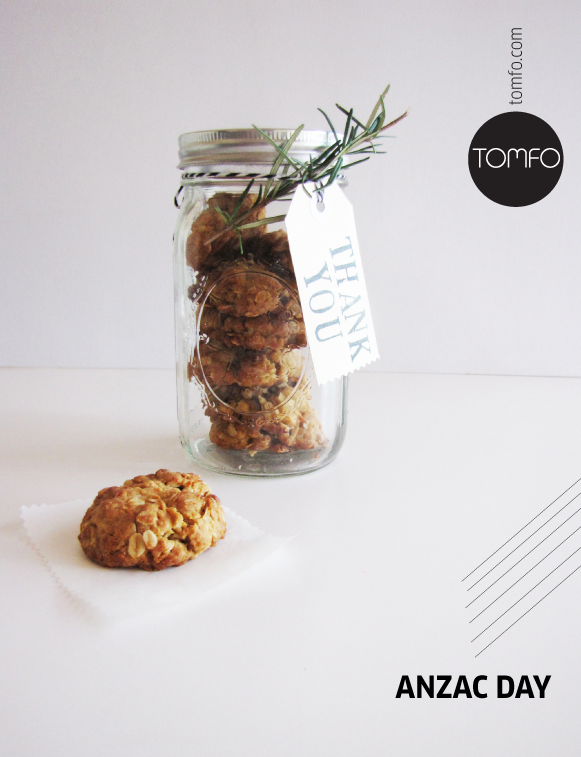 I think people were worried that we would forget…
So many Australians and New Zealanders are so grateful of the courage and bravery of all our troops today and from previous years….it is part of our heritage, we will always remember them.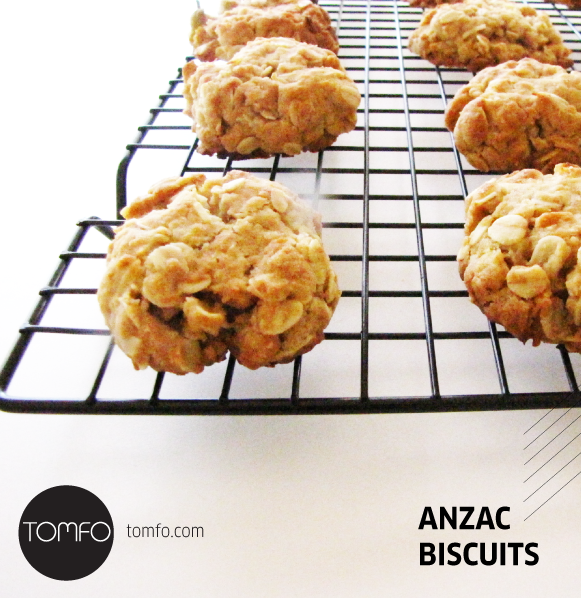 Here is the recipe if you are keen to spread the tradition to your children…
It so should be spread….
It is said that wives used to send these to their soldiers as they didn't spoil easily. Original here, but my version below…
Recipe                                    
1 cup plain flour
1 cup rolled oats
2/3 cup brown sugar
3/4 cup desiccated coconut
2 tablespoons golden syrup or treacle
1/2 teaspoon bi carb soda
Method
Preheat oven to 160C.
Put the flour, oats, sugar and coconut in a bowl and stir.
In a small saucepan on low heat, add butter and golden syrup and stir until melted. Add the Bi carb soda with 1 1/2 tablespoons of water and add to the mixture.
It will bubble so remove from the heat. Pour the butter mnix into the dry ingredients and mix until combined.
Roll a tablespoon of mixture into balls and place in a sprayed baking tray 5cm apart.
Press down with a fork softly.
Bake for 10 mins or until golden.
Cool on baking tray for 5 mins, then cool on a wire rack.
I think this will also be another one of our traditions, making Anzac Biscuits for Anzac Day.
Plus…
They actually taste damn fine. (Confirmed by the neighbours)
Head "em up…
Thank you to the brave men and women of Australia and New Zealand from the depths of my being for affording us the life we lead today….
One day when the little guy is older I hope this will be something we do together… get up early and head to Dawn Service together.
To my neighbour, my uncle, my pop, and all the men and women who have and continue to serve our country….
Lest we forget,


FOLLOW TOMFO ON…
FACEBOOK  |  PINTEREST  |  GOOGLE +  | TWITTER
READ MORE POSTS
---