DIY Superhero Birthday Printables – TOMFO
Batman called today to find out how many kids would be at our Superhero Birthday Party… I think I am more excited than the birthday boy!
It's been a week of excitement at our house, we've been making some Superhero Birthday printables such as DIY water bottle labels, cool chocolate wrappers and chip holders for our superhero theme party.
Here are some birthday party ideas for your next superhero party that we have been making this week…
DIY Superhero Personalised Water Bottle Labels
I had so much fun designing these… we tried a few designs and decided on "the masked face" as our label.
The little guy has been eager to help me, as I've been doing a little bit of organising every night.
His job was to rip the labels off… he was quite chuffed when he got the label off in "one second", saying "That was super quick mum!" (melt your heart stuff)
The superhero party printables have a space to write everyones names on them, so the kids will know whose water bottle belongs too who. (I love it now they are five and can recognise their own names, we taught them that!)
Here is a quick tutorial on how we did it… I used Frantelle water bottles because they were the smaller size and had white caps.
It's super easy to do, print out, then cut and stick with a glue stick.

DIY Superhero Personalised Chocolate Wrappers
I designed these with a few sayings like… "Crime fighters… check!" and "Time to be a Hero" and of course the little guys name and birthday age.
We had fun wrapping these up together, the little guy was in charge of the wrapping these around the chocolates and then we had to count them at the end to make sure we had enough for all the guests. Excitement plus!

We made some cupcake toppers and some cool cones for holding cheese balls too.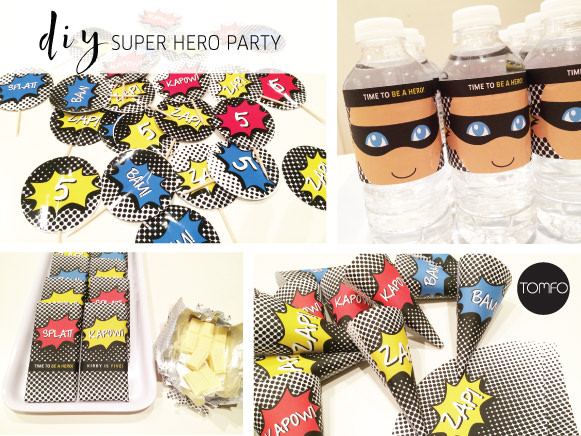 Our lolly bags and making jelly cups are on the list to do for Friday night and then we are decorating a cake on Saturday before the party. Wish me luck… I've got a super simple idea in mind but you never know with cakes and decorating, I'll keep you posted!
I'll let you fill you in on all the party fun after the weekend.
We've had so much fun counting down on our Tomfo Calendar and we can't wait for the big day…
Batman visiting… check!
Party food… check!
Decorations… check!
Meeting new mums and dads that will be at school next year with our child…. happening!
I think we might celebrate with a wine after when we open the presents… double check!
Happy birthday little man, OMG I can't believe you go to school next year! (how did that happen so fast?)
Tomfo is on Pinterest so if you are looking for some more inspiration check out my Superhero party ideas board, I'd love to follow you if you are on Pinterest, (follow me and I'll give you a follow back.)
I am a fan of extended birthdays, I think they should last for at least a month of excitement and buildup, no matter how old you are, how about you?
It's Superhero party time, catch you next week,
Live with Love,


FOLLOW TOMFO ON…
FACEBOOK  |  PINTEREST  |  GOOGLE +  | TWITTER
Tags: birthday decorations, birthday party ideas, boys party, DIY superhero party, DIY superhero party printables, superhero chocolate wrappers, superhero party printables, superhero party theme, superhero water bottle labels, themes for boys
READ MORE POSTS
---