Fizzing colour… easy craft idea for kids this holidays
Looking for easy craft ideas for kids these school holidays? Try this super simple play idea that will keep the kids engrossed with things you already have in the kitchen cupboard – baking soda, vinegar and food dye, too easy! When you run out of ideas to keep the kids amused this holiday or even on a weekend when it's raining, this is sure to keep them amused.
I pinned this to my play ideas for kids board on pinterest, we tried it and loved it.
So simple and hours of fun!
You'll need
Plastic tray
Baking soda
Food dye
Vinegar
Eye dropper (or medicine dropper dispenser)
Fill some cups with vinegar and add a few drops of food colouring, we used yellow, red and blue. Then shake a layer of baking soda into your tray and drop different colours on the baking soda and watch them fizz!
Check out the first fizz….
We added more colour drops to make different colours using blue and yellow to make green etc.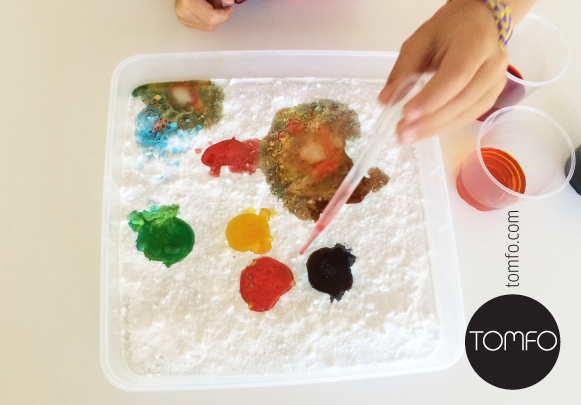 The really cool thing about this is once you add the coloured vinegar to the baking soda, it fizzes and if you add it over the top of another colur, you get "colour changing fizz" super cool for a 4 year old and me too! (I think I'm still a kid at heart, plus, I pins that work!)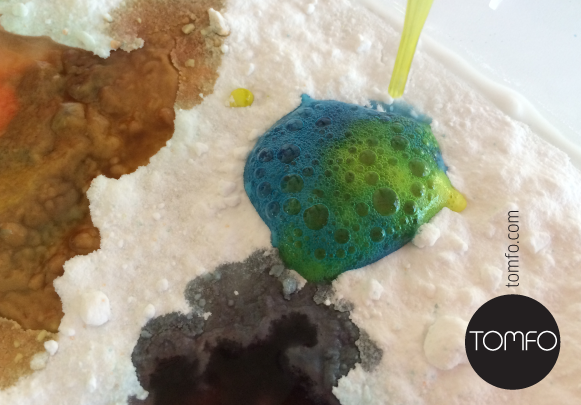 We kept creating and adding…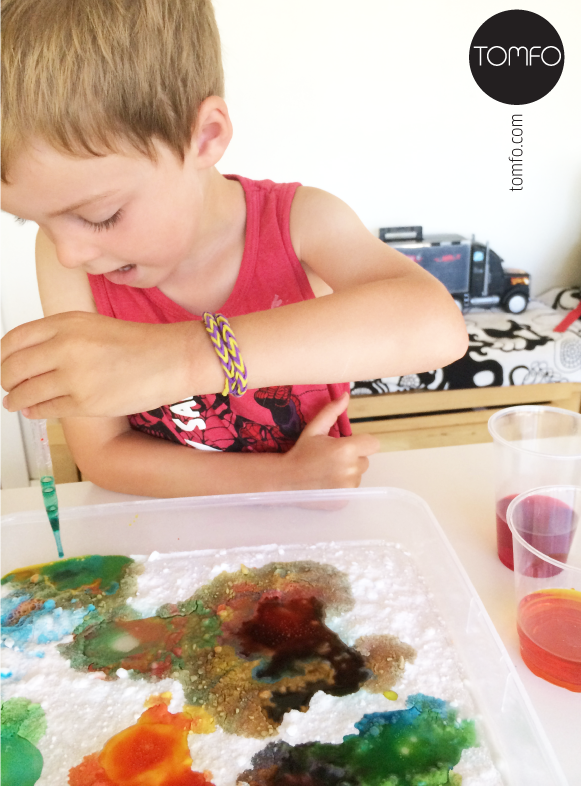 Then watching and making up new colours, I loved watching my guy create the fizz and make new colours.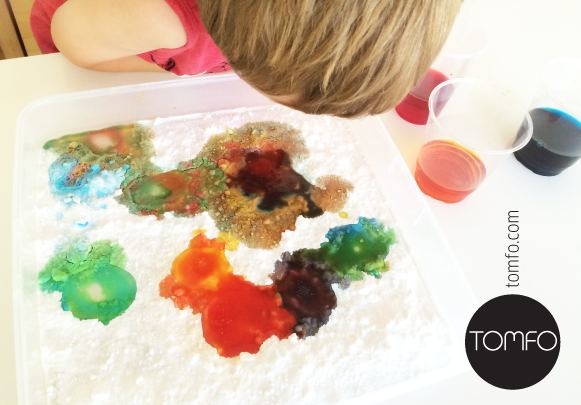 So easy to do, give it a shot, you'll love watching the kids do this as much as I did.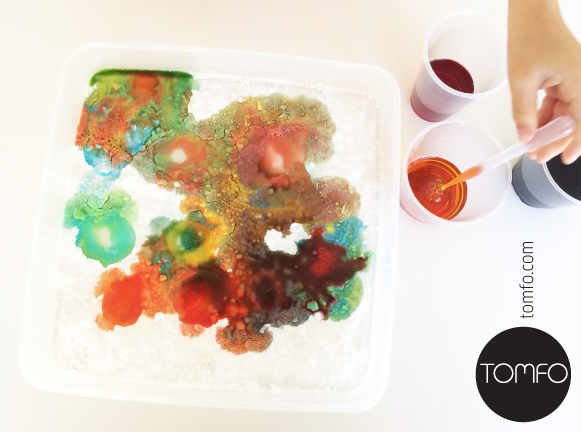 We'll be pulling this one out again, this holiday season, me thinks.
Are you a kid at heart too? Or do you just love watching your kids learn?
I think older kids would enjoy this too, such a great way to learn about mixing colours while watching them fizz before your eyes. I love a craft idea for kids that uses things you have on hand in the cupboard, this could even be a great time waster when minding the grandkids or hosting an art party or playdate!
Live with Love,


FOLLOW TOMFO ON…
FACEBOOK  |  PINTEREST  |  GOOGLE +  | TWITTER
Linking up with Made to be a Momma  + Pounds for Pennies  +  Sew Darn Crafty + The Pin Junkie
Tags: 2014 family organiser, art party games, baking powder fizz, creative play ideas for kids, easy craft ideas for kids, fun with the kids, kids crafts, kids party ideas, school holiday play ideas
READ MORE POSTS
---