How to hang wallpaper – world map custom wallpaper
This is an easy tutorial on how to hang wallpaper sponsored by Wallpapered.
We hung this in around 3 hours.
The secret…
is getting that first piece hung perfectly square.
Which is easy to do…
I found out.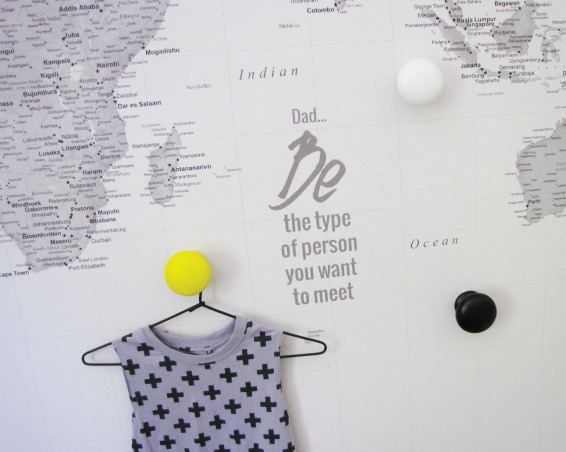 Head here to start at the beginning of my son's bedroom makeover
Firstly, we cleaned the walls down and moved away some toys.
Then, I lined up all the rolls to ensure we had measured the wall size correctly. (I measured the walls about 3 times prior to ordering to ensure we had the right measurements)
Phew… perfect fit, with leftovers to trim.
Each roll is marked page 1/7 (in our case) so you know which order to hang them in.
Once we started, I used an exacto knife to cut the green banner from the top of each roll.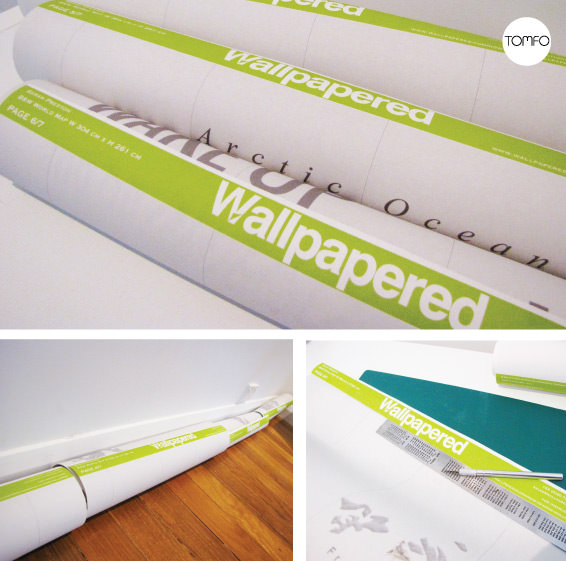 Did I mention…the secret is…
Marking a square line and hanging the first roll truly square.
Then the rest is easy.
What you will need:
Wallpaper mural (we used this custom black and white world map wallpaper)
Steel ruler
Paintbrush
Wallpaper smoother
Plumb bob
Spirit level (not pictured)
Bucket
1 litre of water
Wallpaper glue (supplied)
Exacto knife
Cutting mat
Chalk line (not pictured)
Seam roller (optional)
Ladder or step ladder
Whisk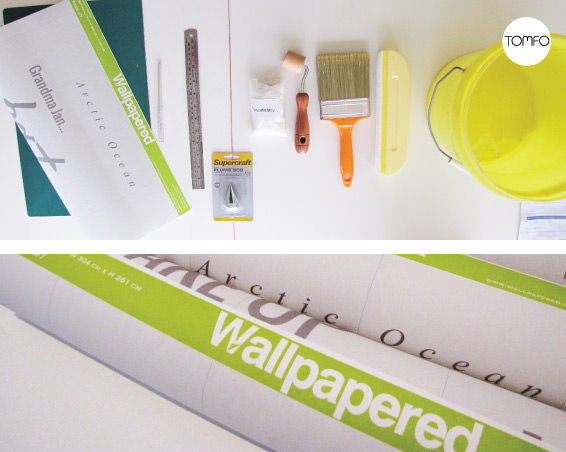 The important setup step..
We marked a line 50cm (or the width of your paper roll) from the edge of the wall using a plumb bob and a chalk line, to ensure it was square we confirmed it with a spirit level.
Then the fun began.
Mix the glue sachet supplied, with 1 litre of water and whisk until all dissolved.
Then apply with a paintbrush to the wall from top to bottom, wide enough to hang the first roll. (50cm in our case)
Apply the first roll exactly on your marked line and trim any excess off the top and bottom and left sides.
Most walls will not be perfectly square… our wall was slightly out on the left, so it meant we had to trim a bit off the left hand side.
Now each piece will match perfectly as you repeat the process.
Apply more glue to the wall for the second roll.
Then hang the second roll using your hands to match the seams.
Use a wallpaper smoother to smooth down firmly  on each roll once you are happy with the positioning.
Trim any excess with a sharp exacto knife and a ruler at the top and bottom.
See the end result and some pics of the big guy doing his first "wallpapering" below.
What do you think?

I wanted a twist to this world map.
So, I worked with the designers at Wallpapered to add some custom quotes.
The guys at Wallpapered sent pdfs for approval.
It was perfect communication…
Head here to see the story behind the kid's inspirational quotes 
Basically, I got some of the little guy's favourites to tell me a quote they would like on the wall.
This is the result…
Now he has a world map… which is pretty cool I think.
And the best bit…
It's got a lot of love etched on it too.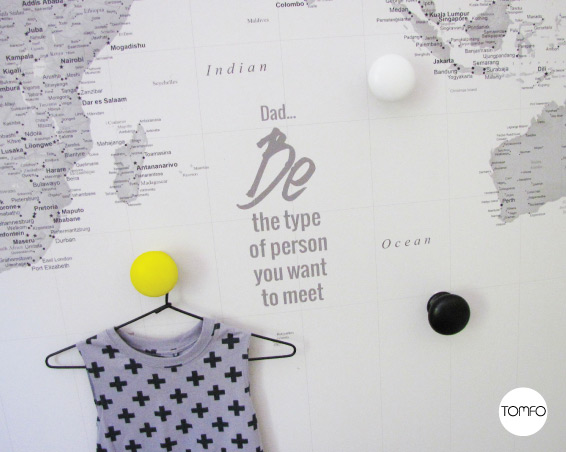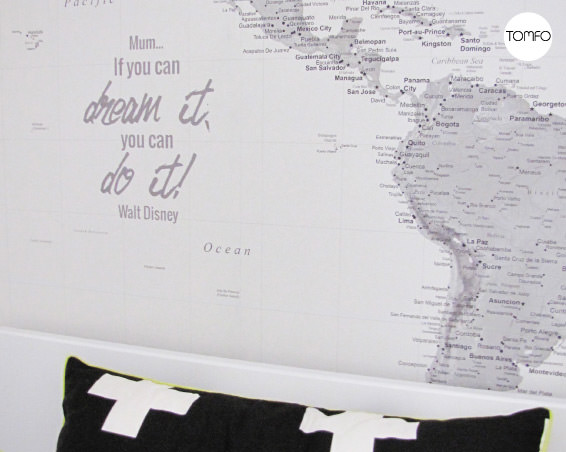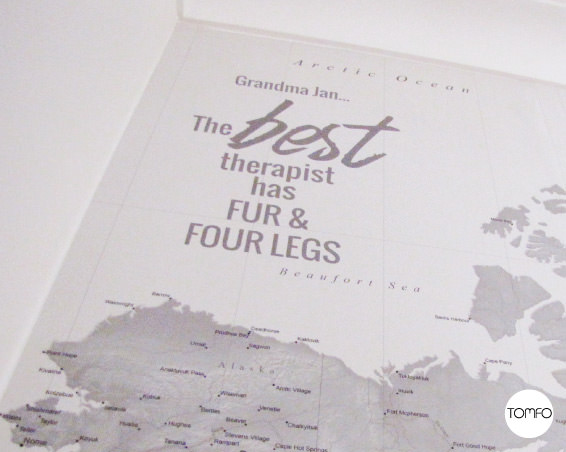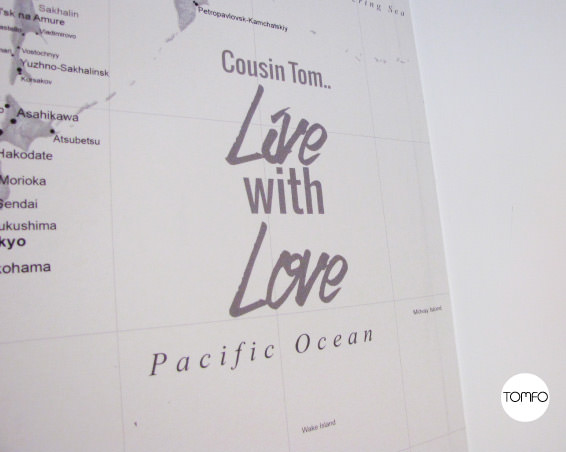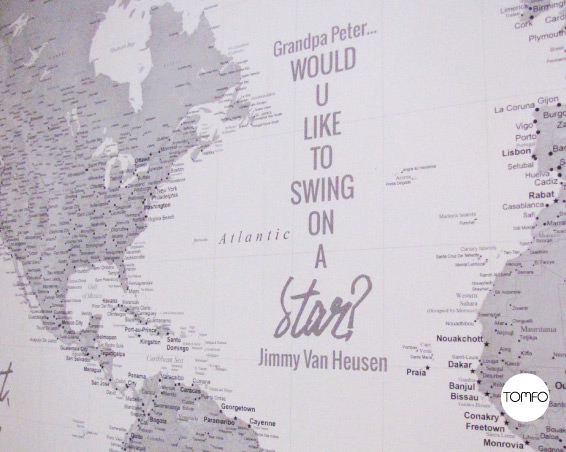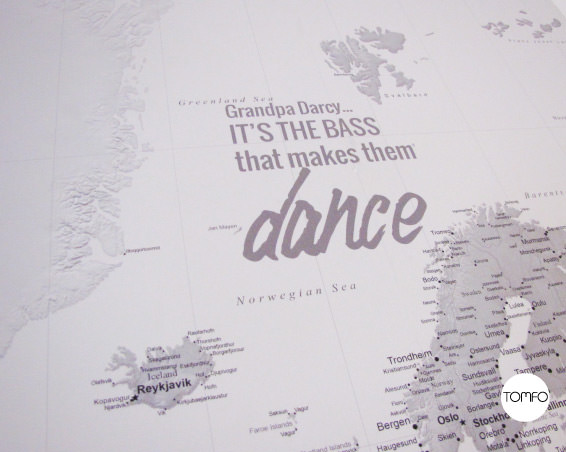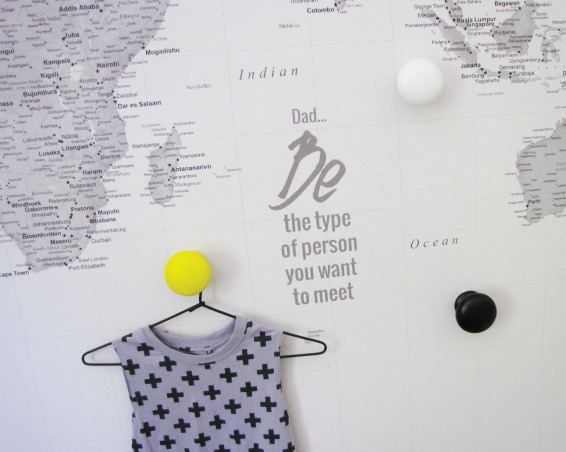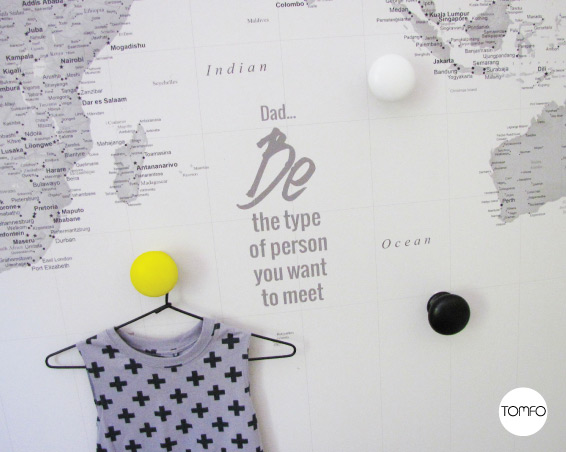 I added some coloured knobs in strategic places that will hold his clothers for the next day, special keepsakes and also add a pop of colour.
I'm sure there will be more garlands made for this room too.
The other night before bed, the little guy said…
"Have I been here?"
He pointed to Dutch Harbour…
I said, "That's the place where they catch all those big fish on the tv show daddy likes,"
He said, "When can we go there?"
Too gorgeous…
Every night we have to point to all the places he has been.
I can't wait until he hears and truly understands the story about the words on the map too.
That will be gold.
Have you ever hung wallpaper?
I was scared at first, but everyone kept saying it's a cinch….
And it was.
It's all about getting that first line square and the rest is easy.
Live with Love,

Disclaimer: This is a sponsored post by Wallpapered, I received a discount on this product for writing about my experience.
I researched the net and chose this world map, then I approached them directly and offered a post in return for a discount. I love doing sponsored posts for a product I would have happily paid full price for anyway.
You will only see sponsored posts on my blog from companies that I truly love and adore their products or services. If you are thinking of a world map mural, I can say from experience these guys are great and the product is totes awesome. Ask for Kat and tell them I sent you.
Looking for my 2020 family organiser printable? Click the image below to purchase your pdf to print yourself.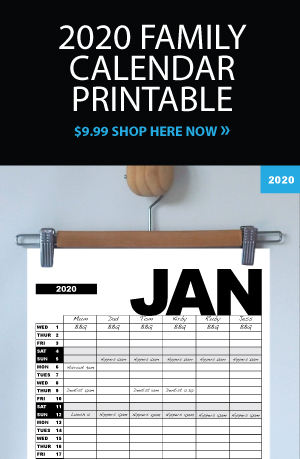 Tags: black and white custom world map wallpaper, diy wallpaper, how to hang wallpaper, world map mural, world map wallpaper
READ MORE POSTS
---