Merry Everything… Watermelon wallpaper for computer + iPhone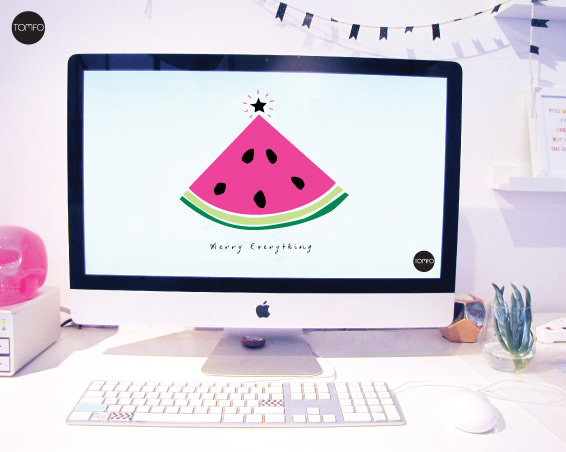 Merry Everything…
Seeing as there's only 17 days until Christmas…
I thought you  might like to get festive with this FREE Watermelon Christmas Tree Wallpaper download for your computer or iPhone.
There's an iPad version too, if you want to go crazy.
This is what my desktop looks like…
(It's not always this tidy, though)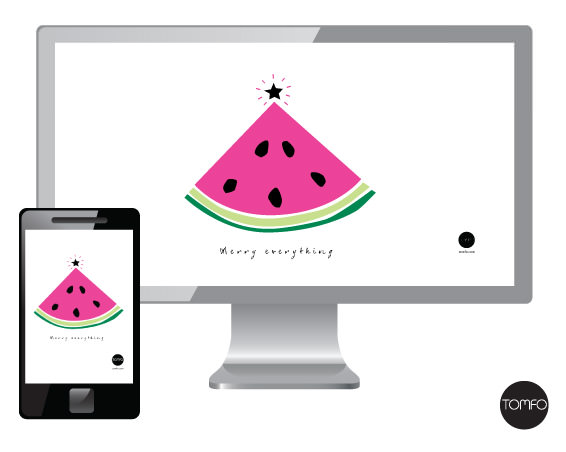 Download the Merry Everything (Watermelon) Christmas wallpaper below.
Don't know your Desktop screen size?
To find your Desktop screen size head here
It will tell you straight away, with just one click.
Then save the image to your camera roll or desktop on a computer.
Head to settings or personalisation and choose the wallpaper option.
Choose the correct desktop screen size above for the best results.
Here are a few links to show you how to add the wallpaper to a Mac, PC and iPhone in more detail.
How to change iPhone wallpapers
What does your office space look like?
I'd love to see if you use the watermelon wallpaper for your computer,
or even if you've decorated your desk with some other Christmas cheer.
Post a pic in Instagram and use the use the hastag #tomfomerryeverything
and spread a bit of merry in the office or at home.
Have a great week guys,
Merry Everything!
Live with Love,

Oh and here's a pic if you fancy pinning this to Pinterest for later.
(Scroll down to the bottom of the image to pin)

PS. Did you know I design a collection of prints and canvases called the Yamba Scandi Collection? Click the link below to shop online.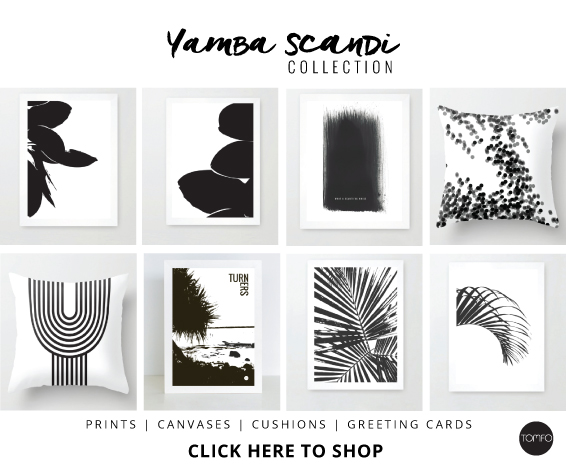 Why not subscribe here so you don't miss a FREEBIE?
Linking up with the Sits Girls + Sweetly Chic Events + A Simple Pantry
Tags: christmas wallpaper for desktop, free desktop wallpaper, TOMFO, tomfomerryeverything, watermelon wallpaper
READ MORE POSTS
---