Boys bedroom makeover + DIY art and pen holders
It's a bit exciting getting to big school age…
That's happening next year at our house.
So, I decided it was time for a makeover.
Excuse my fuzzy photo… and bad bed making…
I was so excited to make up the new furniture I didn't get many before photos.
But… I love seeing what something looked like before.
And I thought you would too.
We had a long storage bench, that really wasn't working…
Obviously.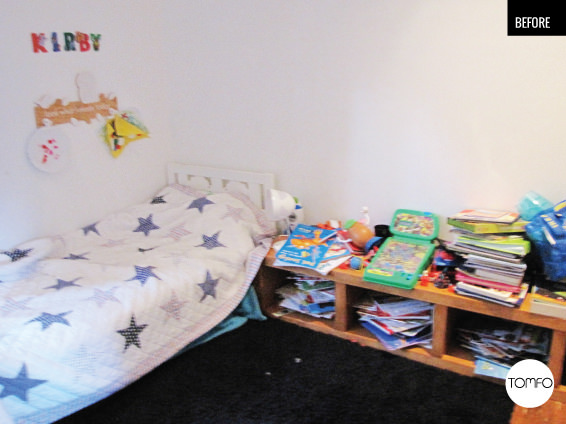 Firstly I ordered some new bedlinen for the new "big bed" coming soon… (It's arrived click here to see it)
I adore Aura bed linen, so, I got this as MY birthday present this year.
Looks so cool…I'm quietly  jealous!
The pirate kite is a purchase from one of our trips to Bali.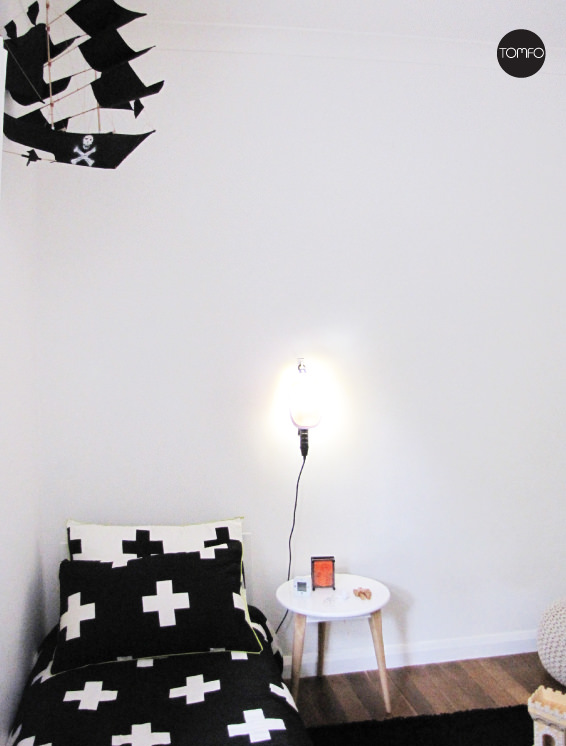 I also did this easy peasy bedside light in 5 mins from Handmade Charlotte
It's made by using a hand held work cage light then attaching to the wall with a 3M hook and then placing the mask over the top.
It's as simple as that… really.
The cage prevents the bulb from coming in contact with the mask, I've also tested it out during the day to ensure it's safe. The little guy loves it.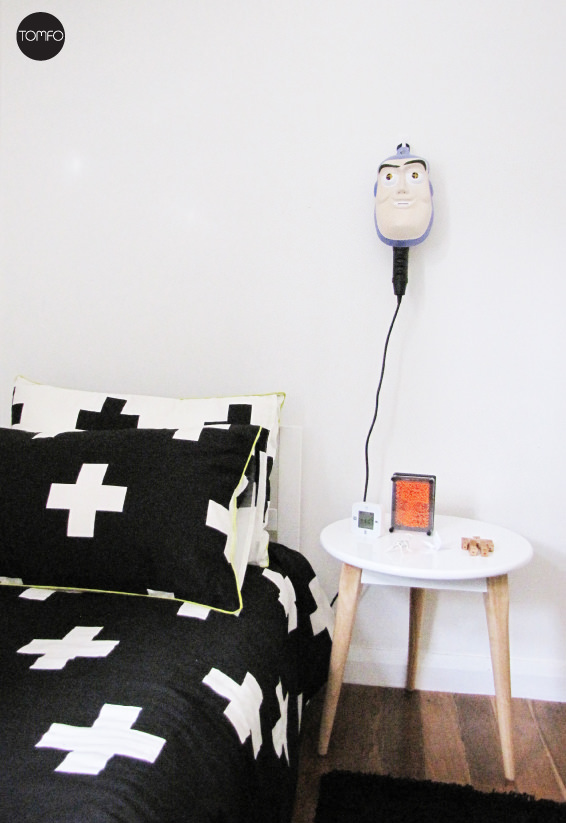 I used the Kallax Shelving unit from Ikea with doors and some storage boxes, and placed them on the opposite side of the wall.
Then added a couple of my prints….
"I love you more than all the sand in the world" Print and You're my favourite ( Don't tell the others) Print available in my shop here.

Everything now has a place and the toys in the boxes remove easily when you need to play with them.
The knotted ottoman is a find from Target… super cheap too!
We've just got to get working on cleaning up yourself…
This Pocket door holder is still storing all the tiny superheros so they are easy to see and play with, you can check out my post on this here.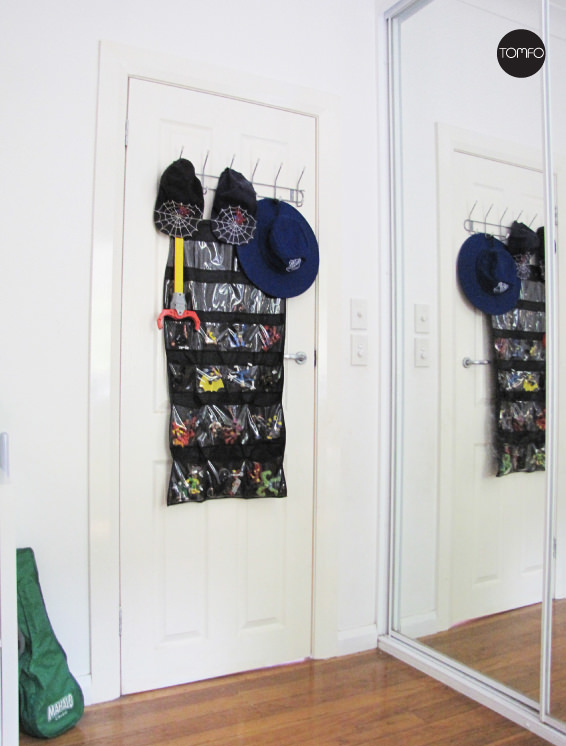 This corner of the room needed some love…
So I decided to make it a desk space.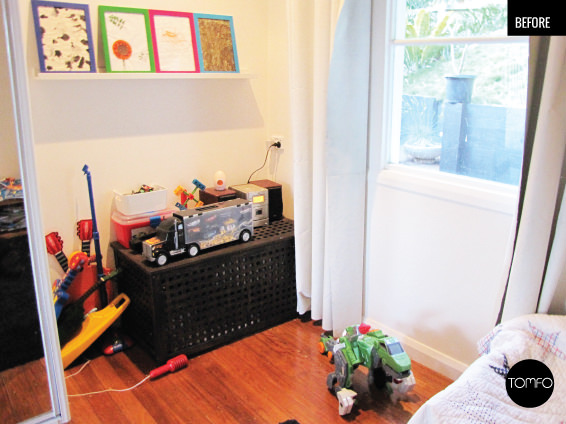 Using the Micke Desk and Vilmar Chair from Ikea.
I love that place… not so much the big guy… he hates making the furniture,
But… I must say, I made these ones myself!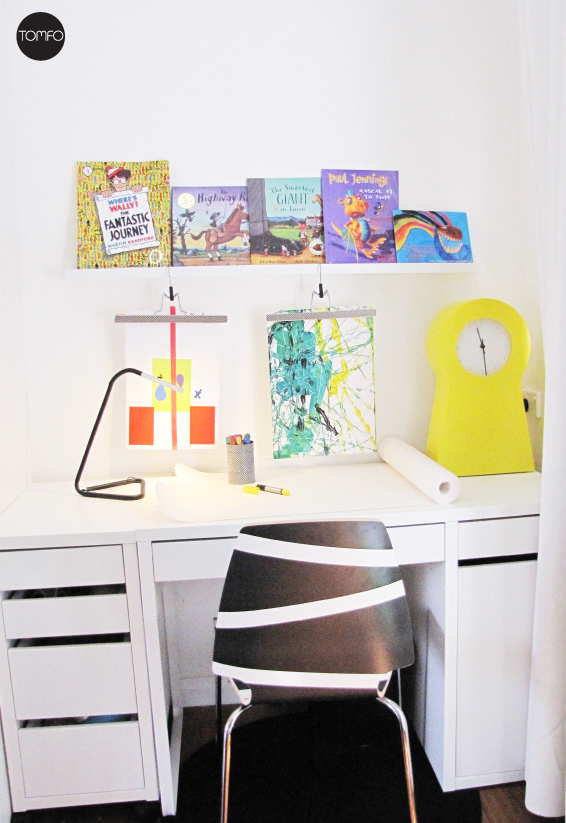 We've been putting up a few books on the shelf that we are reading to choose from at night too.
Then I made some art and pen holders using washi tape in 5 mins.
Check out the pics below to see how easy it is to do using washi tape, recycled tin cans and trouser hangers…
The pic on the left is the first collage from big school orientation… awwwhhh! love it!

I made the washi tape wrap over the top of the tin can and placed an inner layer to ensure there were no sharp edges for little hands.
This post was not sponsored by any of the above companies, I just love their stuff.
On another note…
I'm super excited to be working with Wallpapered to make a feature out of this white wall below in the coming weeks.
Stay tuned for more updates.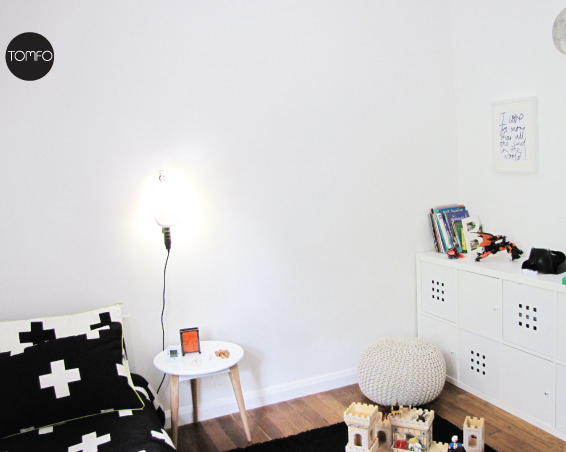 It's all about this guy really…
Just too gorgeous.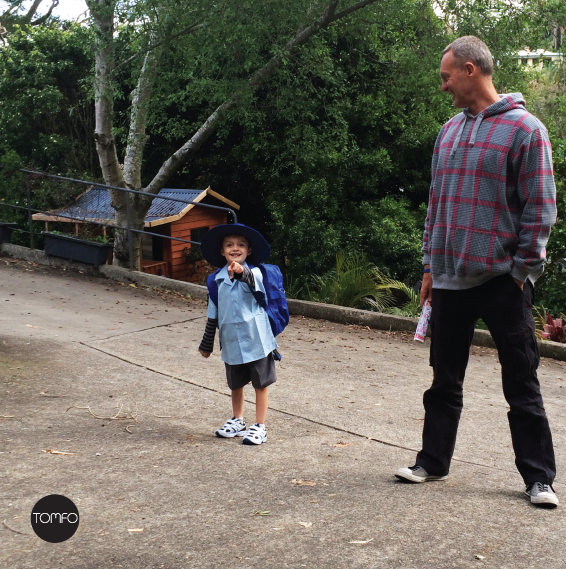 Both of them…
Did you makeover your child's room for big school?
Have a great weekend guys
Live with Love,

PS. Check out the latest update on this makeover, the big bed's arrived and we've put up a custom world map mural. Boys bedroom makeover – custom world map wallpaper.
Looking for my 2020 family organiser printable? Click the image below to purchase your pdf to print yourself.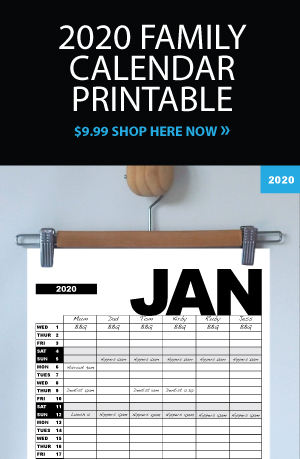 READ MORE POSTS
---