Repurpose your child's artwork onto tin cans and stick them on a magnetic knife rack!
I've been saving tin cans for a while now, here is a way to give them a facelift and then hang on a magnetic strip for more storage.
I scanned in some of our blow straw art from this post (and a few others that we did making butterflies by folding the paper on blobs of paint) to make our very own hanging, tin can storage gallery!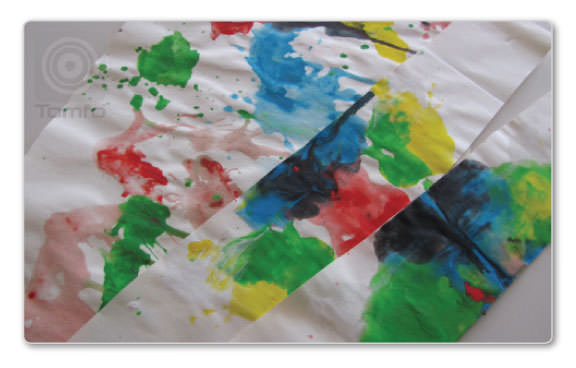 WHAT YOU WILL NEED:
Tin cans (I used 3 x tomato cans)
Scanner/computer/printer
3 x A4 Paper
Child's artwork
Ruler
Adhesive Glue (Elmers Spray Adhesive)
Stanley Knife
IKEA GRUNDTAL Stainless Steel Magnetic Knife Rack Strip (or strong magnetic strip)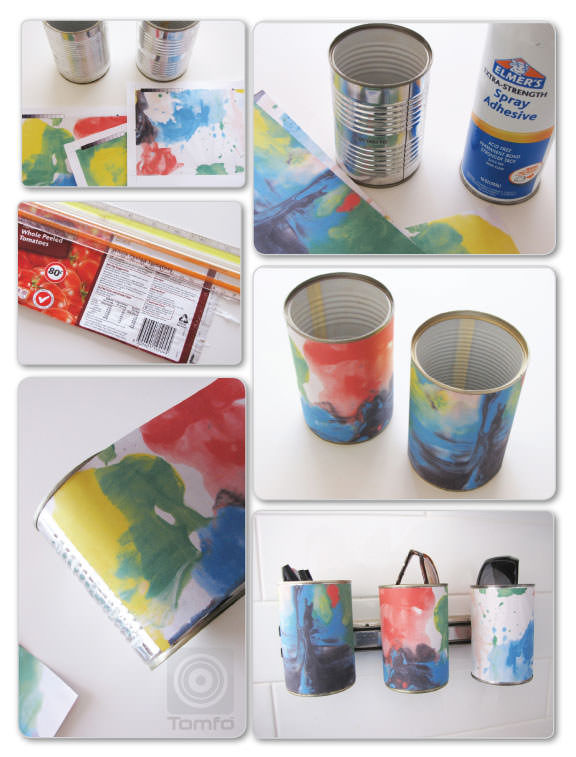 Scan in your child's artwork. (You could also simply cut the child's artwork to fit, but I wanted a smooth finish, so have scanned the art and made it fit the size required) I peeled the old label off and measured the width and length to get the label size. Then I set up a document the size of 245mm long by 102mm wide. (This will vary for different sized cans) then added my new scans into the document.
Print out your new labels and cut with a stanley knife for best results.
Then apply adhesive spray on the back of the paper and roll onto the cans, (ensuring you have an overlap to cover the can).
The cool bit… once covered, simply stick on your magnetic knife rack. We already had this magnetic knife rack to keep our keys on, it has a really strong magnet and will hold the cans with a fair bit of weight in it. I used this one from Ikea. We hung it vertically inside a window architrave, now we have our own mini art gallery by the little guy and more storage. I used the cans to store pens and sunnies, the possibilities are endless.
I Love children's art, it's so naive and colourful, now it has function too! I love it, but then I am probably biased. Can't wait to show the little guy!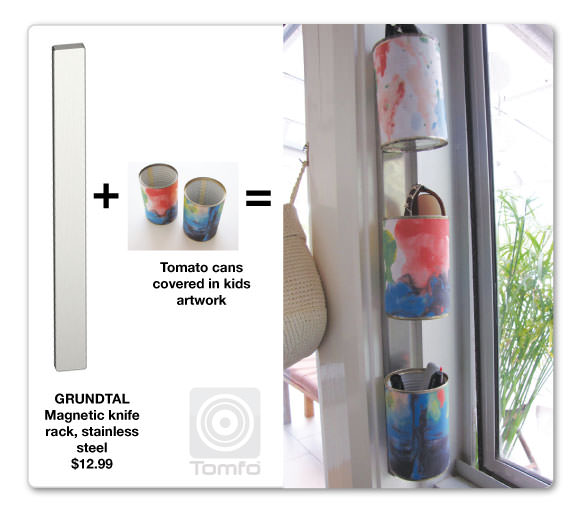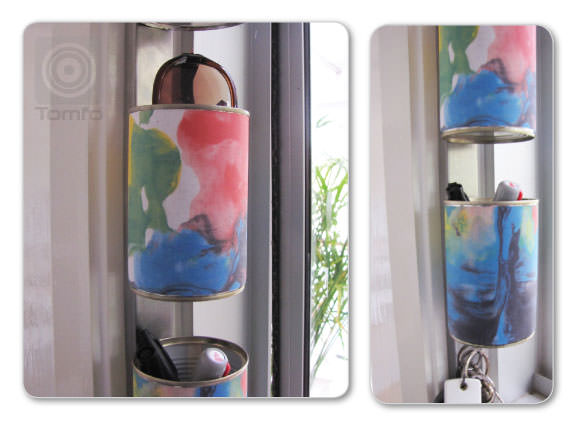 Don't have a magnetic rack? They look just as good sitting on a shelf with pens and brushes in them too.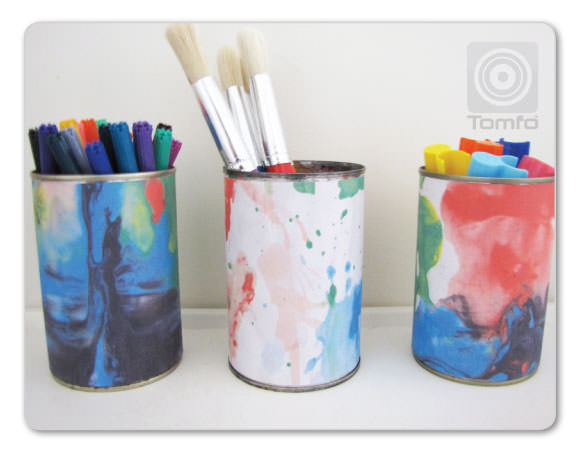 What have you done with recycled tin cans? I'd love to hear.
Thanks for dropping by and if you don't want to miss a thing, sign up for our email posts, scroll up to the top right and sign up!
Or drop me a drop me a line.
Or leave a comment on my facebook page.
Live with love,

Tags: cans on magnetic strip, Family Organiser, recycle tin cans, repurpose childs art onto tin cans, repurpuse kids art, things to make with tn cans
READ MORE POSTS
---