FREE Shamrock Printables for envelopes
Check out this fab idea inspired by St Patrick's day, simply download and print out for free, then wrap around an envelope to create a stylish mail piece.
The design features a four leaf clover and has the words faith, hope, love and luck. The other side of the label says.. Hello! From your most favourite person in the world. I thought that was a bit of fun, after all we have lots of favourites in this world.
There is a space to write your name and add the address of your special someone.
We're big fans of receiving letters and personal things in the mail and I'm lucky we have a few people who take the time to send us things in the mail that make us smile and remember how lucky we are to have people thinking about us.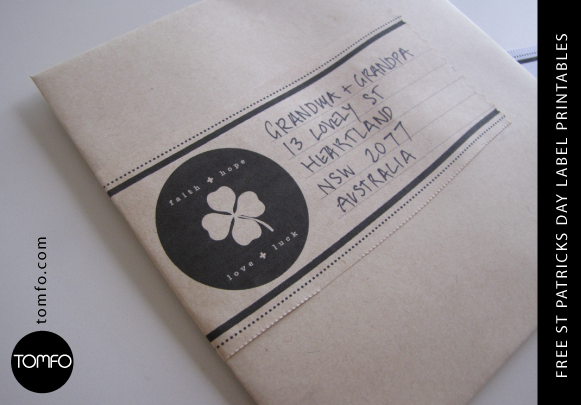 The story behind the design… my ancestors came from Ireland, (I'm a Collins), I've travelled there twice and loved it, I adore an irish accent and a bit of "Craic" too, DID YOU KNOW…"Craic" or "crack", is a term for news, gossip, fun, entertainment, and enjoyable conversation, particularly prominent in Ireland. Enjoyable conversation with friends and family accompanied by fine wine and laughter… my kind of way to spend time.
I thought we could extend that by writing a letter to some of the favourites who don't happen to live nearby, and who doesn't need a little bit of faith, hope, love and luck to brighten up their day? (what the leaves of a four leaf clover as a lucky charm can stand for.)
The labels can be printed out and used to inspire your youngs ones to write a letter to someone special… Double bonus! (We are learning to write for school here so it's right up our alley)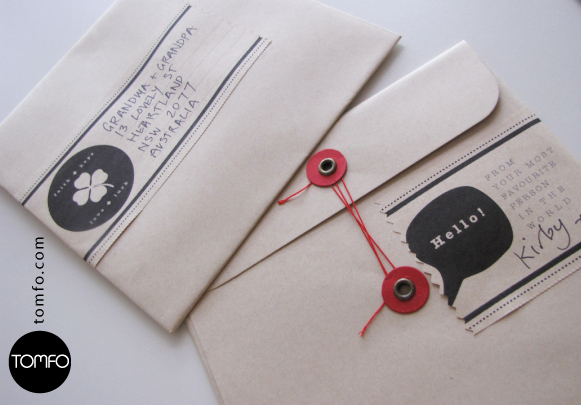 Here is the simple tutorial…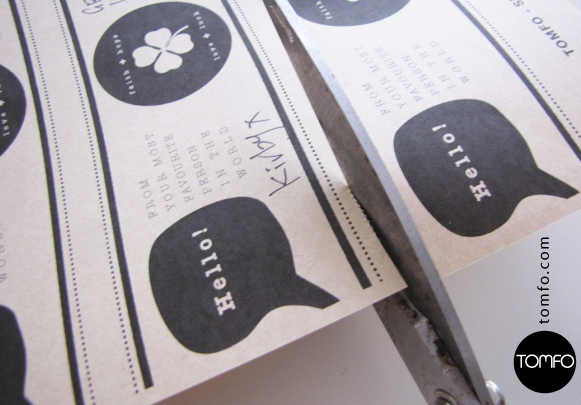 Print the labels onto A4 paper, (use borderless print option if you have it for best results), then cut between the printed labels as shown above, there's no need to be precise, it adds to the look of the label. There are 4 labels on each page. I printed some on white reflex paper and some on kraft paper, available at Officeworks or most craft shops, you could also go bright and print on green or fluro orange for other effects.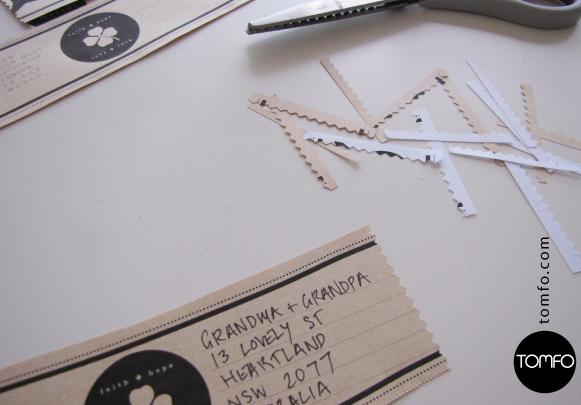 Trim the edges with some pinking shears if you have them, to give it a neat finishing touch.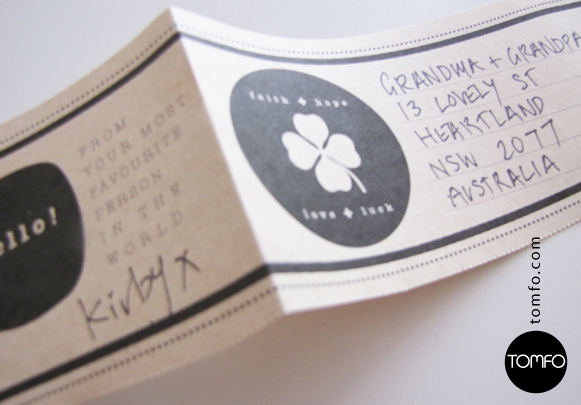 Address your label and fold as shown here.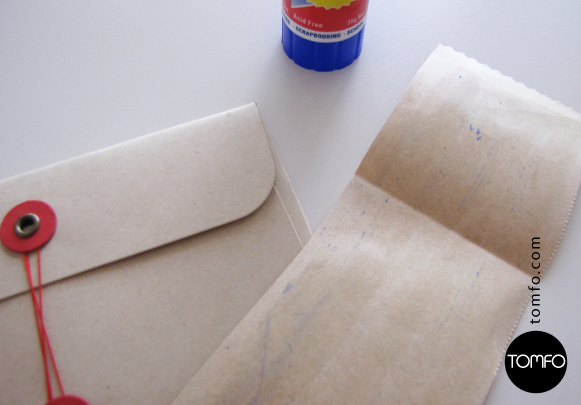 Then using a gluestick cover the back of the label with glue.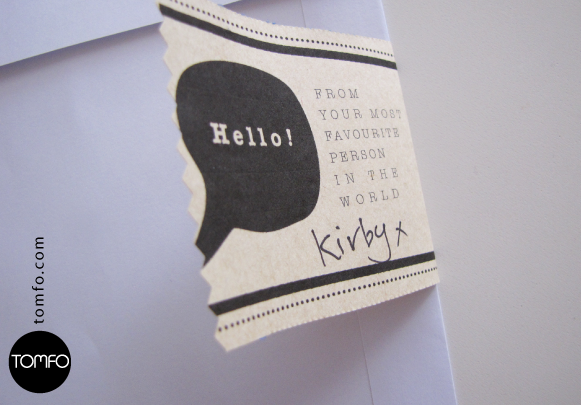 Stick on the envelope and fold around as shown, voila!… a personalised label you can use on a variety of envelopes.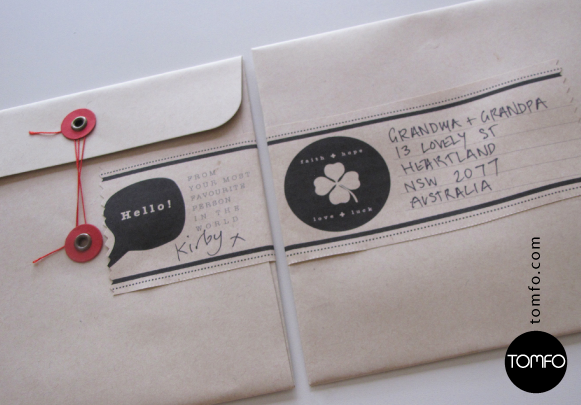 What a great way to encourage young kids to write letters, or simply send a letter to someone you haven't spoken to in a while. It's always lovely to get something in the mail, I think.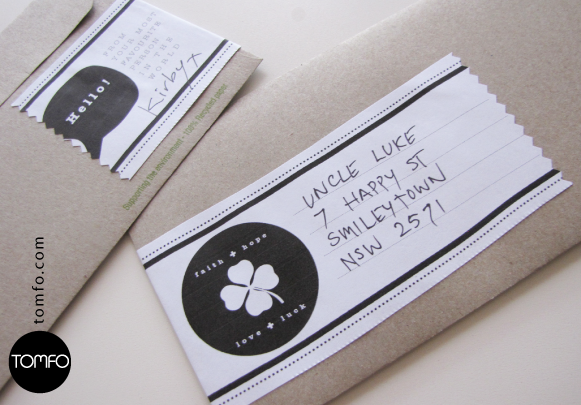 Use different colours envelopes with white labels, the possibilities are endless.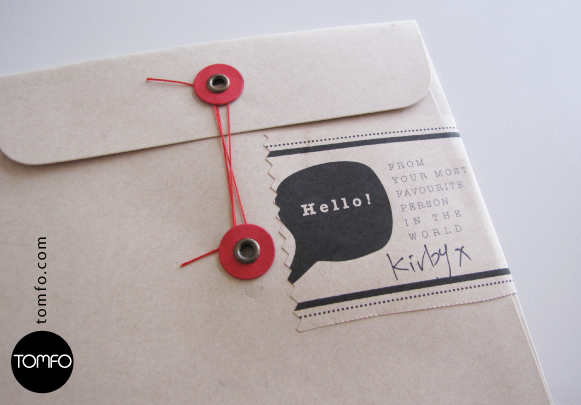 You can use this well after St Patricks day is over, this neat envelope above is available at Officeworks.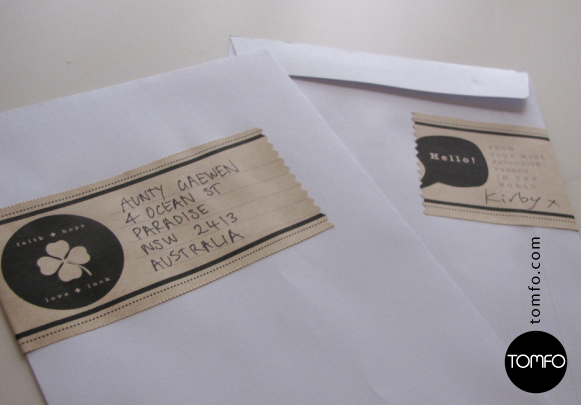 The labels also fit on A5 envelopes. They would look great on coloured versions as well.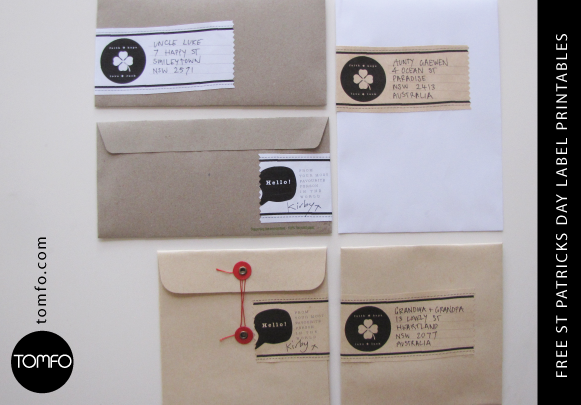 Do you send letters in the mail for no reason at all?
I think it is a lovey way to connect with friends and family. One day it won't be around… that's too sad I think. This weekend I plan to write a few letters with the little guy, and share a "craic" or two while we do it, we might even print out a few pics or add some leaves and collectables from the garden and send them too.
It looks like rain here so it will be a fab way to fill up our weekend and send a surprise to some of our friends from their most favourite people in the world, (in our opinion).
Download the FREE Four leaf clover Envelope Labels here
Do you think letter writing will be a thing of the past one day?
Live with Love,

PS: You may notice our logo has changed it's been a year since this blog started on March 3, 2013,  I've grown and changed over the last year, so has TOMFO, what do you think of the new look?
Tags: 2014 Family organiser Calendar, diy envelope wrap label, four leaf clover printable, label wrap printable, st patricks day free label wrap printable, stylish envelope wrap
READ MORE POSTS
---