Happy Valentines day, a quick sticker for my lover
We don't do valentines at our house… but I can't help myself,
I have to do something, even if it's a handmade card or a flower on the bench.
Last night I ducked outside and stuck a few heart stickers on the door handles and both mirrors on my husbands truck, just for fun.
The next door neighbours saw me doing that and all the kids kept riding their bikes over to check out how many I was putting on there.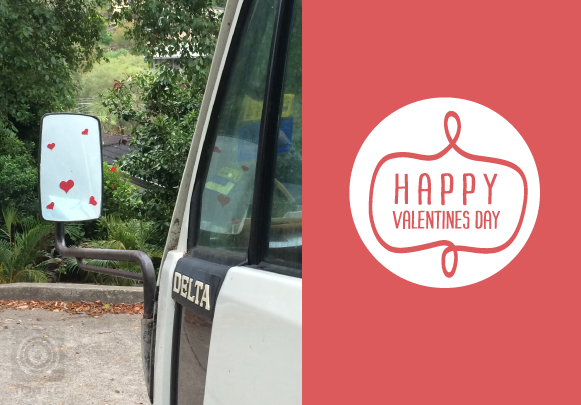 This morning we all went down to the truck to check out the mirrors,
(something we don't normally do, obvious giveaway)…
I may have told the little guy a secret…which he could hardly keep! lol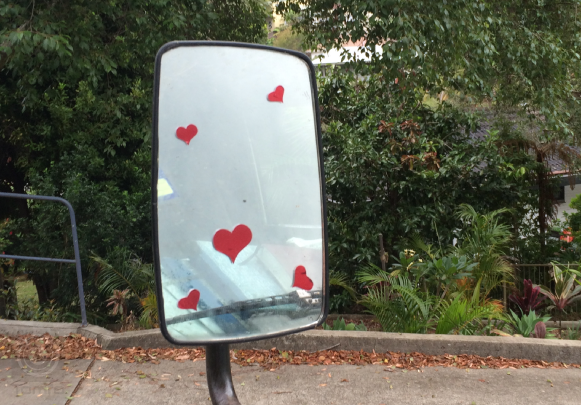 We all laughed and threw the ball for the dog, then the boys took a drive up the driveway to load the truck up for the day. Not a bad way to start the morning.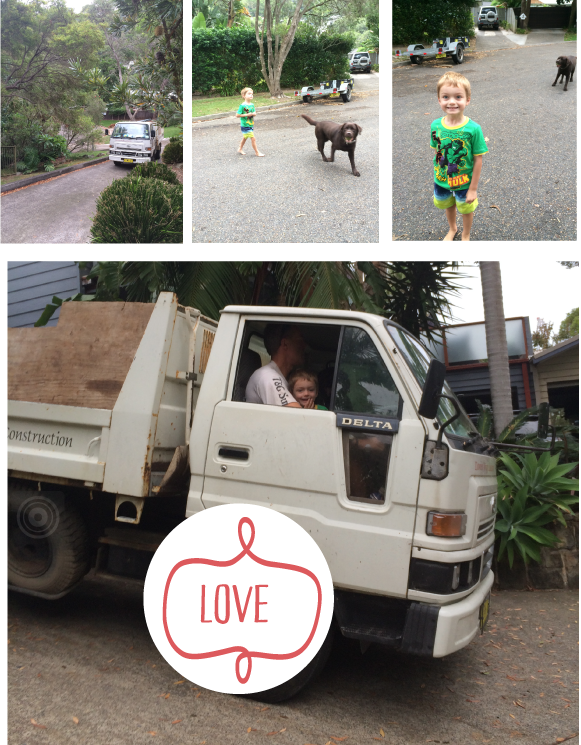 I remember our first Valentines day about 10 years ago, we headed to the beach and had our favourite hamburger, I set the rules way back then, so I can't complain about lack of  flowers or abundant, expensive gifts.
But then, I did marry a landscaper, who you think would have access to a large array of flowers or even branches that could be bought home by way of a romantic guesture.
Today my romancer came home,
then headed back out promptly for a quote,
I asked if his love hearts had brightened his day,
we both laughed and I mentioned that I'd pick up some schnitzel for dinner tonight.
When I returned I saw the big guy heading up the drive with a box in in his hands,
I was on the phone to mum and said, "Oh look, I think it's an expensive valentines day present coming up the drive"… nope, it was just a box with some pesticide in it.
My valentines guesture was upstairs… needless to say I didn't get those 3 things on the list,
but we do have schnitzel for dinner tonight!
We'll have a wine/beer and make our favourite meal, have a discussion about what happened today at kindy and perhaps watch a movie later on.
I don't need expensive flowers or romantic gifts really
(but my inner fairytale girl wouldn't say no),
just my 3 boys and fabulous family and friends,
this post it note makes me laugh though…
Happy Valentines Day x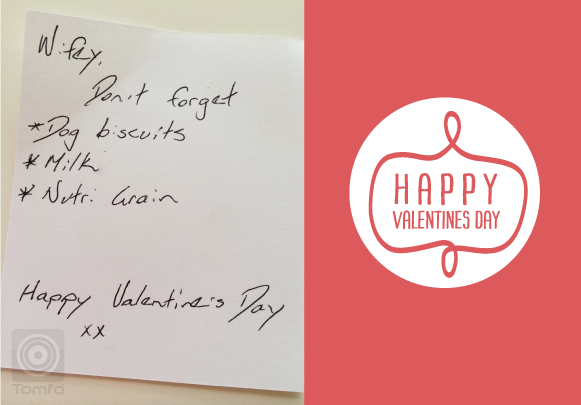 What's your favourite valentines day memory?
Live with Love,

Tags: 2014 family organiser, valentines day stickers, valentines diy idea
READ MORE POSTS
---