DIY Concrete Mozzie Coil Holder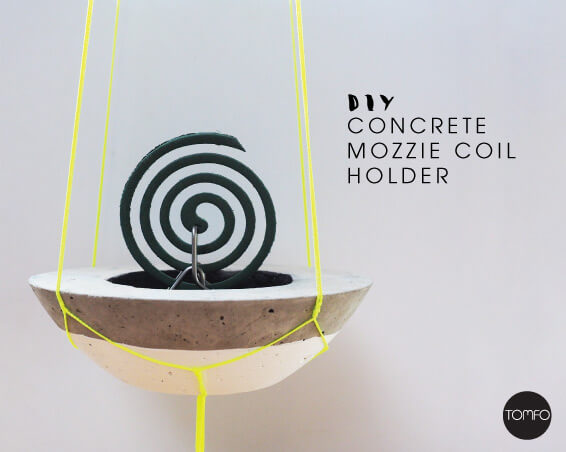 I don't know about you…
but,
I get bitten by mozzies something fierce.
We always seem to have a thousand mozzie coils lying around with no real home,
we'd burn them on rocks, saucers, anything we can find at the time, (and we'd always lose that little metal holder).
Until, now…
I've created my own mozzie coil holder with concrete.
(Just quietly, I'm in love with concrete at the moment.)
I found this amazing product called Crochead.
( A stainless steel device that holds the coils)
First win!
But I still needed a vessel to use to catch the ash.
(Or we'd be using saucers again.)
So, I created this concrete holder, with an optional hanging feature.
Double win!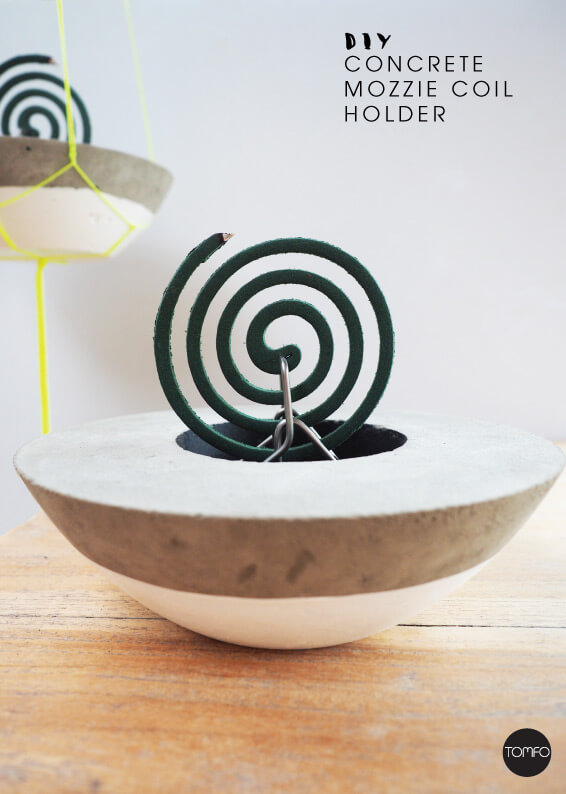 Here's how to make this DIY Concrete Mozzie Coil Holder
You will need:
1 plastic, shallow salad bowl
1 empty dip container
1 bag rapid set cement (will make about 3+ holders)
Cooking oil spray
Water
Wooden spoon
Black paint (I used gloss enamel)
White paint (I used paving paint)
Paintbrush
Palm Sander
1 Crochead (I found mine at the local hardware store)
Mosquito Coils
Yellow Builders String (optional)
How to make:
Clean your bowls and spray with cooking oil spray.
Then mix up concrete with water to a cake batter consistency.
Tap gently to remove air bubbles, (or don't tap if you like the bubble look.)
Pour into the large salad bowl, then insert the dip container in the middle and push down to form the centre holder.
You may add some rocks to keep it down, however, I just held it in place until it set.
Then, let dry for at least 24 hours.
Once dry, gently remove the dip container and turn upside down to release from the salad bowl mould.
Then, use a pam sander to smooth the top.
Paint inside the centre hole with black paint.
Then, flip over and paint with white paint leaving approx 30mm space at the top. (see tutorial pics below)
Let dry, then insert a Crochead with mozzie coil and you are done.
Love it, if I do say so myself!
I also did a variation, using my macrame planter tutorial with yellow builders string. See how to make the hanger here.
I love this idea, as it means we don't have to always have them on the table or the floor,
plus, I think it looks like a cool feature. (the string is well enough away from the coil so it can't catch alight, too)

You may notice some of our sanding work. (We're repurposing some of our existing furniture from brown to "Scandinavian blonde")
It's still a work in progress,
And…
we've been spray painting heaps of things white in preparation for our new Yamba Scandi home.
I'm loving the white look.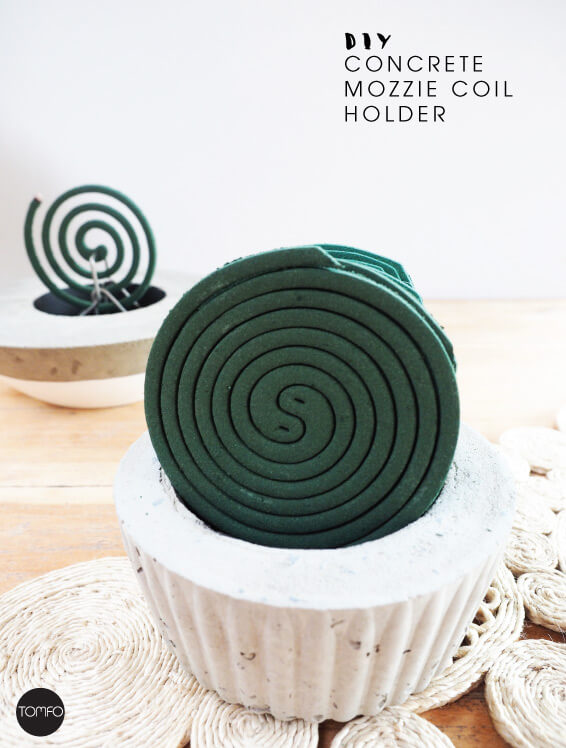 I made a stack of concrete holders and decided to use this one as the storage place for all those coils we had under the sink.
(This used to be one of those plastic containers that holds biscuits from the supermarket)
Do you get bitten by mozzies like me?
What do you think of these concrete mozzie holders? Reckon I should join forces with Crocheads and sell them at the markets?
Have a great weekend guys,
Live with Love,

PS: It's our little guys soccer party this weekend, and we've made a new party garland, I'll share it with you soon.
Sanding… still going, (but I can see the light at the end of the tunnel)
House plans at Council… Target date June 12, we'll be laying concrete before you know it!
Linking up With Some Grace, Life, Love and Hiccups, Maxabella,  Sarah Celebrates,  One Kreiger Click
Tags: diy concrete bowls, mosquito coils, mozzie coil holder, mozzie coils
READ MORE POSTS
---