DIY Big Fringe Garland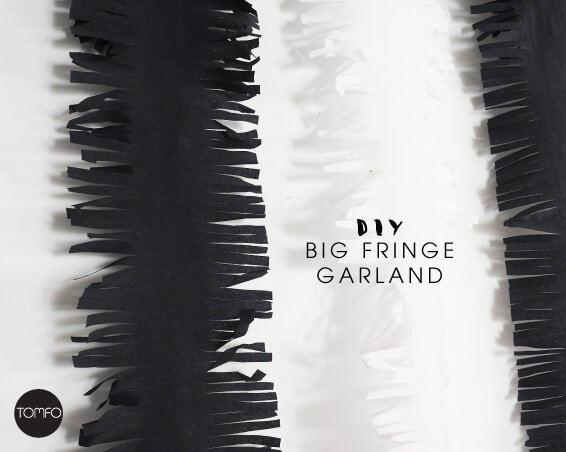 I've been eyeing off this Big Fringe Garland from one of my favourite bloggers Oh Happy Day for a while now.
We tried it.
Loved it.
And the best bit…
It's super easy to make.
It was the perfect backdrop for our recent Soccer themed party.
How to make a Big Fringe Garland
You will need:
5 x crepe paper (I used white and black, each one makes 2 strips)
Scissors
String for hanging
Tape, to secure if you are outside
How to make:
1. Cut the crepe paper in half.
2. Then unravel the piece and stretch with your hands.
3. Fold over 4 times.
4. The cut each side with scissors (see pics below).
5. Then unravel and hang across string, we secured with tape as we were at an outdoor venue.

The menu
Jelly Cups
Watermelon Pops
Soccer Ball Cupcakes
Cheese Ball Cones
Soccer Chocolate Bars
Platters of calamari, nuggets, pizzas and chips
Soccer Ball Cake
Here's a couple of pics from the big day.

We chose to have the party at our new local.
What a fabulous spot for a party!
Renee and Tiffany were fabulous and organising was a breeze, we bought a few items and they supplied the platters of food.
The kids agreed the food was great and had a ball in the playground.
Plus,
The bonus…no clean up was required of our house before or after, love it!
The activities
Face painting by the fabulous Kate from Fun2play
Kate was the master of Zombies, blood splatters and shark faces for the day, and there were a few beautiful butterflies too. She had a system where the kids had bands and after each one was painted they found the next person to paint, so they could keep playing and not have a line up. Clever girl!
Oh and talented too, check out the little guy below.
Draw on the table
We added white paper ontop of our black plastic table cloths and placed pens on the table so the kids could draw or write if they wanted to.
Play in the playground
(The kids spent most of the time here, it's the best playground.)
Balloons
We tied colour themed balloons on the backs of chairs, everyone loves a balloon!

Thanks for all my fabulous helpers,
I couldn't have done it without you.
Miss T for helping setup and decreasing stress, (lifesaver!)
Dot for the best cupcakes.
I love how she made them with no wrappers, less mess to clean up!
Our new, old friends (I,B,B,S) who were just there, supporting us, thanks guys.
Oh and the new mums who made us feel like we were right at home and part of the family.
(right down to the surprise selfies on my phone, priceless!)
I knew we were going to like it here in Yamba.

Thanks to Oh Happy Day for a fab idea. I adore all your party ideas.
Big Fringe Garlands rock, we'll be making them again.
Do you have a thing for garlands at parties?
Ever had a kid's party at your local?
Have a great weekend guys,
Live with Love,

PS: On the house front we may be ok'd at council mid next week, super exciting!
Sanding, still going… (when will it end?)
The big guy cracked a job today, happy days!
My Concrete Mozzie Coil holders… we're making more of these, so many people loved them, keep an eye out.
Love ya mum x
NB: This is not a sponsored post, just passing on my reviews from fabulous suppliers.
Linking up with With Some Grace Life Love and Hiccups, Maxabella Loves
Tags: Big fringe garland, diy garlands, diy party, soccer party
READ MORE POSTS
---