DIY Wardrobe art – photo wall art
How to turn a mirrored wardrobe into a photo wall art piece using large photo art applied directly to the mirror.
We turned our old bedroom into a second tv/playroom with storage.
The mirrored wardrobe made the room look like a bedroom still, so I came up with this idea…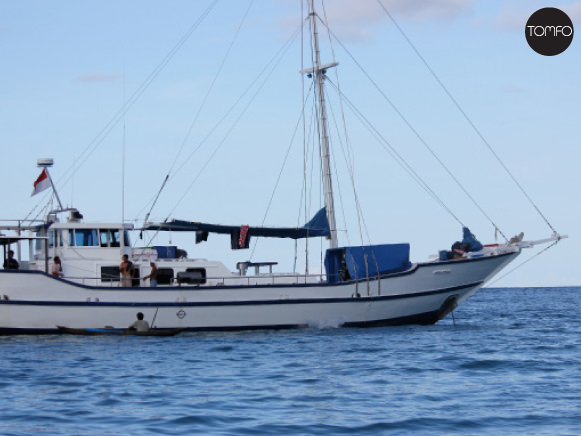 Firstly let me give you some background to the final result. My husband went on the trip of a lifetime to the Mentawis, (he's a mad surfer with a passion I wish I had, he'll get up in the freezing cold of winter at 6am on a weekend, EVERY WEEKEND to go for a surf, nuts!) he stayed on a boat, the Mangalui with 10 mates. It's a boat owned by one of the guys I went to school with, Matty Cruden, who runs surfing adventures at Latitude Zero with his wife and kids, check out the site here. That's the boat above, some people would say he is living the dream!
This was the trip of a lifetime, many discussions were held, 15 days away and a big expense, but it was his dream, how do you stop a dream? If there's a chance it can come true you've gotta do everything to get it. Right? When he got back he showed me the photos, we talked for hours about the trip and chasing the waves and the boys and the food and how they got the best waves. They were "living the dream."
I've always thought you should showcase your dreams, if you spend so much time and effort getting them they shouldn't be hidden away in a box or on a computer somewhere, after all it was on our Family Organiser for a year!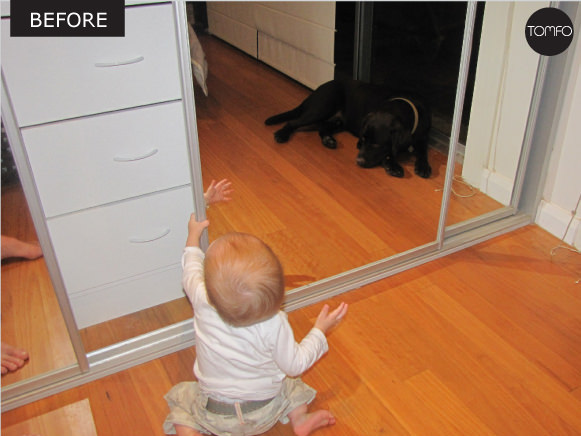 This was the room before, mirrors all over the place, that's our little guy  (a few years back now) and our Murph.
So… I picked a few different pics, measured the mirrors, there were 4 panels, I showed him my ideas and a smile came across his face. We discussed 2 options, many different effects, but decided on this series of pics in black and white, showing the wave of the trip (in his opinion) taken by one of the guys that was actually instrumental in us meeting, then I searched around for a signwriter to get some quotes to make the pic become a reality.
I found a local guy, who also liked a wave or two and we were on. You can check out his site here, tell Pete I sent you.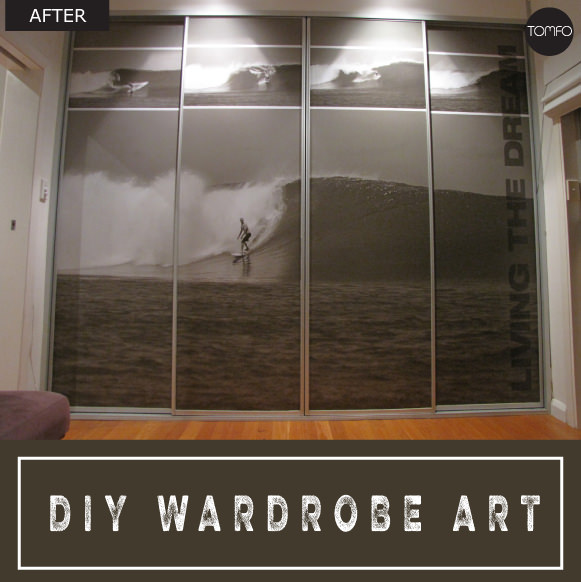 We made our final decisions, sent the art and then Pete came and put up the vinyl signs, they are actually matt finish, the same signs you would put on a car. They're super durable for tiny hands. You'll notice the sequence up top, thats my guy on a wave thats double the size of him, he's 6'4, this wave was at Lances Lefts. He's in the "green room" on the last frame.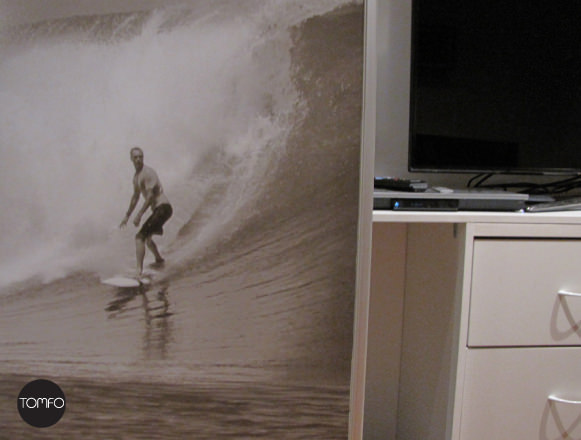 I headed off to get some storage for the sides of the wardrobe, we store our little guys toys in there, the drawers have craft and lego etc. These are from Ikea, they are called Antonius frame and drawers, see here.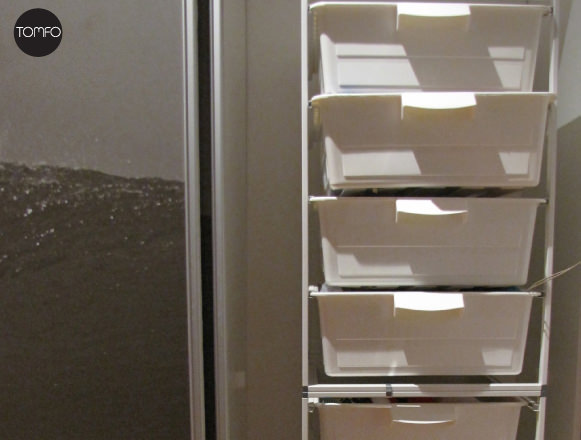 I used the line down the side "living the dream" that's what my husband said all day, every day before he left, it's a nice reminder of one dream fulfilled.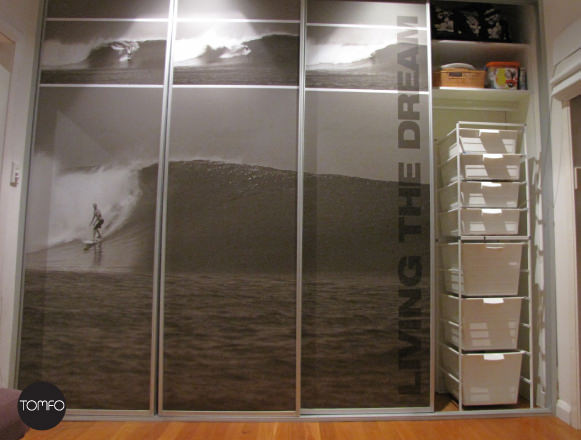 Who knows maybe dreams can come true more than once. I'm sure the little guy will love going with him one day. The good thing is if we ever leave the house, the signs can peel off and the tv can come out and the room can be a bedroom again with a built in wardrobe. Meanwhile we'll enjoy daddy surfing on the walls.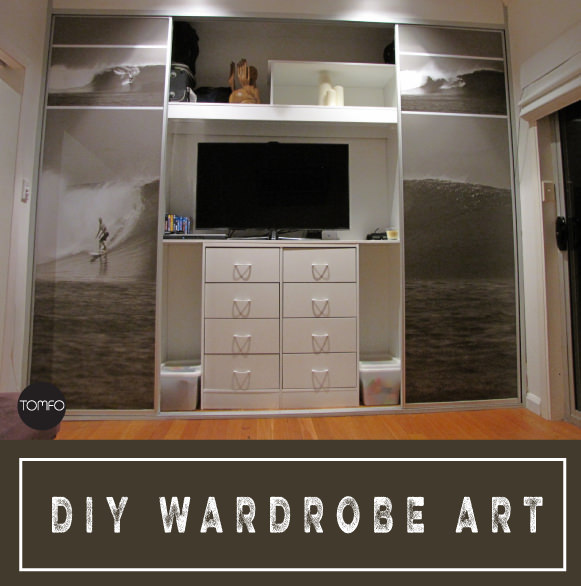 Do you think couples should have separate holidays? I think in a perfect world it would be great to have one boys holiday, one girls holiday, one couple holiday and one family holiday a year.
Would you turn your wardrobe into a large photo art piece?
Live with Love,


Care to stay in the loop? I'd love to have you!
Subscribe to my posts… scroll to the right and enter your email in the Subscribe Box
OR leave a comment below
Like on Facebook | Follow on Pinterest | Follow on Google + | Follow on Twitter
Tags: boys holidays, diy wall photo art, family holidays, family organiser calendar, ikea antonius, large photo art, living the dream, mangalui, mirrored wardrobe, what's your dream
READ MORE POSTS
---