Tomfo – Tomorrow's Family Organiser – our August pic
The year is flying by, before you know it… it will be Christmas! (That's crazy stuff)
I've been designing and producing these family organisers since 2002, that's 12 years, (when you count our new 2014 version) such a long love affair with a calendar.
Here is the pic that has been hanging on our wall this month.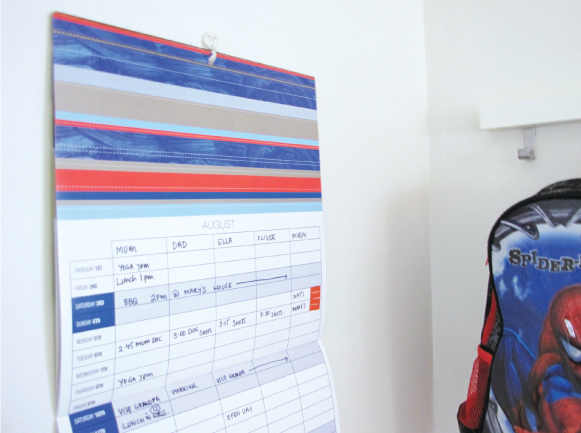 Why do you need a calendar like this? If you are a family, it's perfect, it has 5 columns, so you can write down what everyone is doing and see-it, at-a-glance. Some people even use the additional columns to note birthdays, write down meal ideas, etc and with 368 stickers included, you can mark public holidays, sporting events, birthdays, anniversaries, even recycling nights to name a few.
Our 2014 TOMFO, features 6 columns, for even more family members, it has arrived and is now available in our shop. …You could get really organised and pick up one today! Keep it on top of the fridge and you're ready to go come December, (when you need to see whats happening in January). It makes a fabulous Christmas gift too. (Here's a sneak peak)
To find out more, or purchase, visit here. Postage is free when you subscribe to my posts, (I'll send you a promo code once you have subscribed) so scroll up, top right and sign up.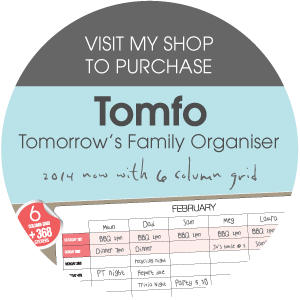 Our 2014 TOMFO is up for review over at Family Deal Friday, you could WIN a 2013 Tomfo + 2014 Tomfo valued at $25 each. (This competition is now closed)

Live with love,

Tags: 2013 family organiser, 2013 FAMILY ORGANISERS, 2014 family organiser, 2014 FAMILY ORGANISERS, family organisers, FAMILY PLANNERS, ORGANISERS, TOMFO
READ MORE POSTS
---