The "Yahtzee Challenge" play before dinner every week night – are you in?
So… one of my friends (Yahtzee Queen or YQ for short) told me that they play Yahtzee every night while dinner is cooking.
Every weeknight? I couldn't believe it … "Really?" I said, "Yep, we used to do it at my parents house when I was a kid and now WE do it, sometimes the kids even say… You haven't started Yahtzee yet have you?" if they are running late to get home, was her reply. Her parents have neighbours over to play Yahtzee to this day.
I thought this was way cool so off I scooted and got myself a Yahtzee game, read up on the rules, it's been a while…
I have set our house a challenge… Yahtzee every week night before/while making dinner!
Guess what? our little guy got 2 Yahtzees and won!
I hope we start this up as another of our traditions and it goes further than a week, (maybe Yahtzee thursday nights or something like that when the fun dies down, but every night would be cool)
Imagine… when girlfriends and friends drop over in 15 years time and we are still playing Yahtzee, how cool would that be?
Here are a few pics, our little guy was blowing the dice for luck… too cute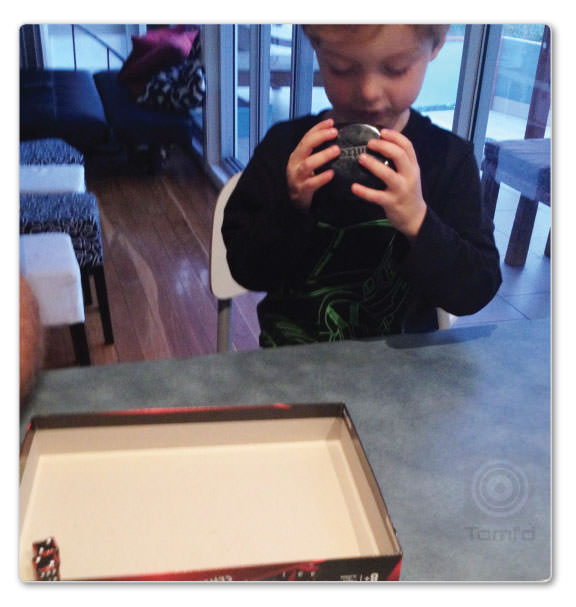 Saying "come on sixes" etc, did I mention he got 2 Yahtzees!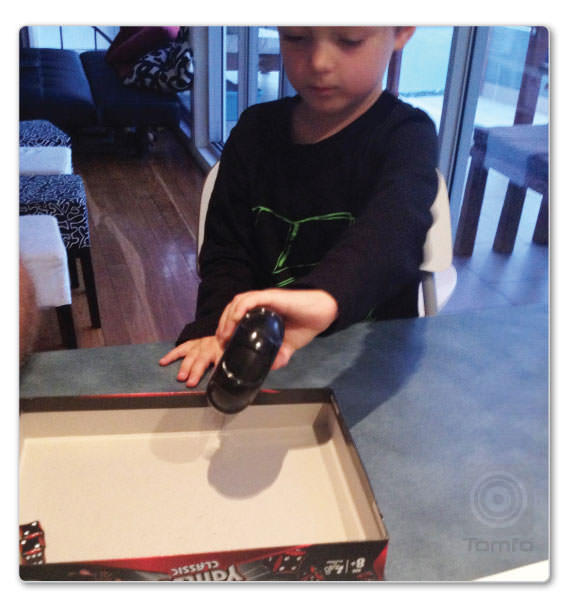 It will also help with learning what numbers look like, adding up, taking turns and letting others have a go, he's only 3. Oh, by the way we had the best meal too, one of my new favourites, Jamie Oliver's Fiery Noodle Salad with Satay Chicken. (my shortcut version)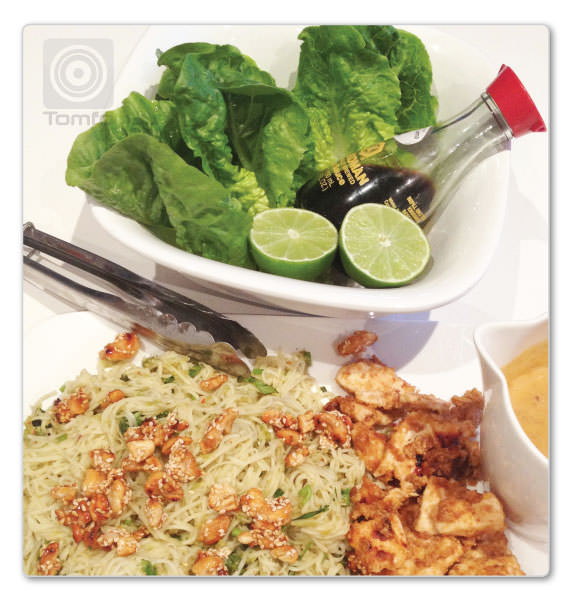 See my next post for the recipe.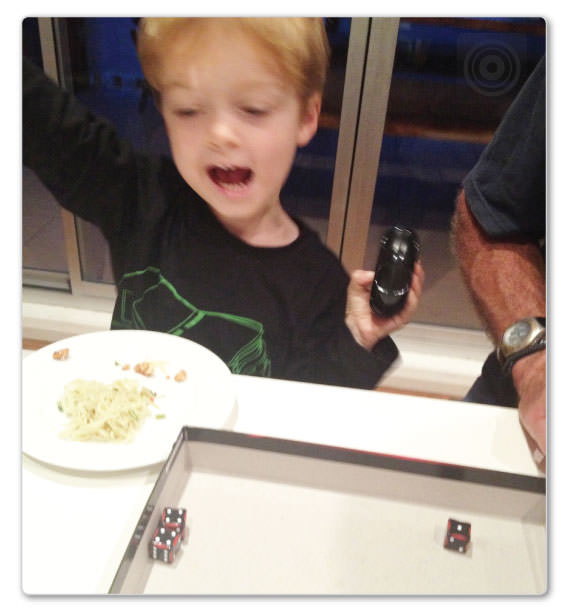 Too much fun, we had a great night, the suspense, the laughs, priceless.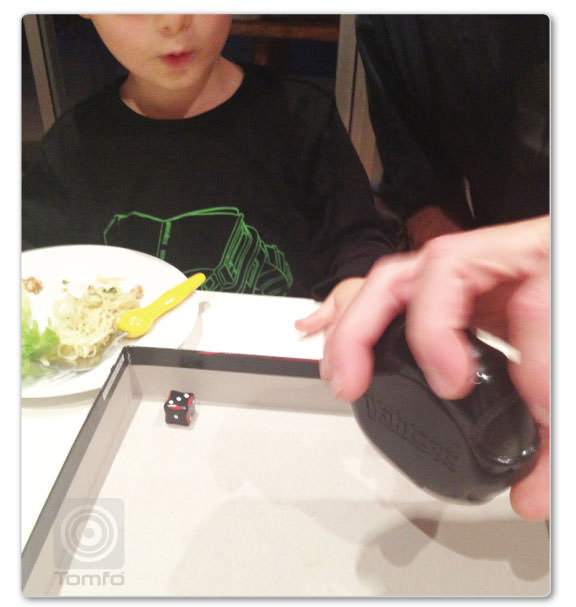 "A family that plays together, stays together!" My dad used to say that when we were kids, a wise man he is.
We went to grandma's on the third night and our little guy asked if we could take it over, so he could show them how to play. So we did!
RESULTS OF OUR YAHTZEE CHALLENGE: We've played 3 out of 4 nights so far (we had a dinner at a restaurant on the 4th night, (didn't think we should take the game there, although that would have been cool, an idea for later maybe?) tonight we are off again to play at grandma's, play Yahtzee and watch the footy)
I am such a fan of this idea! Thanks Yahtzee Queen, we will be playing every night we can from now on.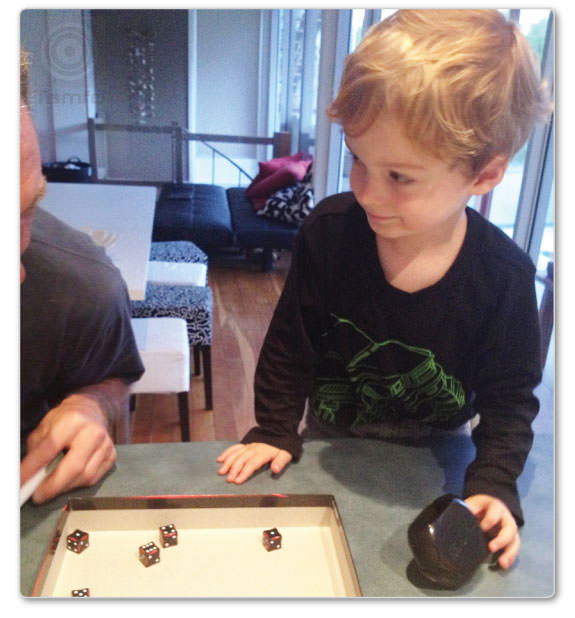 A FEW YAHTZEE TIPS from the YAHTZEE QUEEN
(Thanks for giving up some of your strategies, although I am sure you have more)
YQ: Use's a score sheet for each person, the card goes in the box and the next day players come back and reuse their sheet.
YQ: Marks high scores inside the box lid, needless to say the inside of their box is long gone, their top score is 625 beat that guys! She's even been know to leave a score on the wall while on holidays! (I love this idea a great way to keep track of high scores.)
YQ: You can get refills from the newsagent or photocopy the score sheets if needed. She's been known to write the Yahtzee score grid on napkins!
YQ: Try's to never take less than 3 of a kind in 5's or 6's in the top section, as it is too hard then to make your bonus 35.
YQ: Your bonus 35 up the top can win the game for you!
YQ: Leave the top section free as long as possible for Yahtzee bonus scores
YQ: Fill your 3, 4 of a kind on high dice eg: 5's x  6's
YQ: Try's to fill in the lower section first, (I asked about long and short straights, she said they just happen for her!!!)
YQ: Doesn't like taking full houses on 6's and 5's, she prefers to put them in 3 or 4 of a kinds
YQ: She has an option rule also, if the dice falls on the floor you can use the score, or not use the score, this depends on if the option rule is in play on the said game.
YQ: Is a stickler for the rules!
YQ: If you get 3 Yahtzee's, where do you place the scores on? (This was my question to her) Every bonus Yahtzee after your first is ticked in a box, she uses the dice score up the top first, if the top is filled in, she uses 3 of a kind or 4 of a kind, otherwise she scratches something.
YQ: Try's to keep the same strategy for the whole game.
YQ: In a perfect game of Yahtzee, if the YQ has: Chance, 1's and Yahtzee left to score at the end, she is a happy camper!
YQ: Never scratches a Yahtzee – she gets really cranky if people do, she said… "It's the name of the game!!!!"
YQ: Says she can't throw 1's or 4's they don't like her, but she can roll 5's or 6's, she says these are her dice, go figure!!! Luck is on her side I reckon!
ARE YOU UP FOR THE YAHTZEE CHALLENGE?
Do you have any strategies that you can bear to part with or pics of your Yahtzee Challenge? I'd love to see them. Drop me a line here, or visit our facebook page and leave a comment.
Think we better get practising our strategies so we can have a Yahtzee Challenge with the YQ, our chances are slim though, of beating those pros!!
Thanks for dropping by, and remember if you don't want to miss a post, sign up to our mailing list, you'll get the post before everyone else does, (scroll up to the top right hand corner to FOLLOW US and enter your email then hit join) or like us on our  facebook page so you don't miss a thing.
Can't wait to hear your Yahtzee stories,
Live with love,

WE'VE GOT 25 FAMILY ORGANISERS TO WIN!
A great family organiser to keep your busy family organised!
Click the image below to find out more and enter – only 8 days left!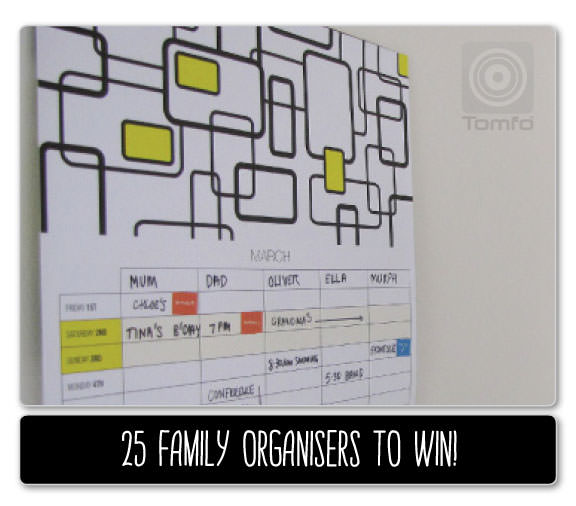 READ MORE POSTS
---