Repurpose Art Challenge #7 – Gemma's new prints
Introducing this beautiful artwork by Gemma, my challenge was… how to make this better, is that possible at all? I think it is perfect just the way it is, however, a challenge is a challenge.
So, I came up with the idea of making a print of this beautiful drawing.
I love the strong black lines and the beautiful lips… gorgeous!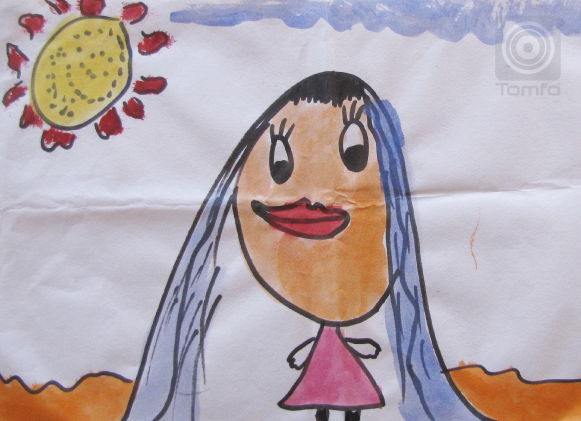 I decided to do a take on an Andy Warhol "Marilyn" print.
I deep etched the pic so I could add in different coloured backgrounds, then used a few different shades of blue and green to compliment the pink dress of the original image.
Lastly, I positioned my nine squares into the new design, added in a name and date at the bottom, printed it out on some matt card 200gsm and framed the new print using an Ikea Ribba shadow box frame.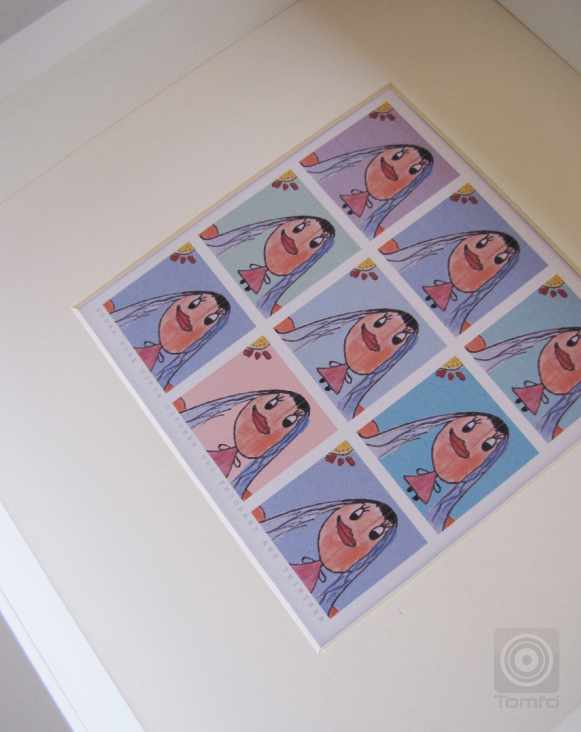 I was originally only going to do one piece for this challenge, but as I played with the shapes I saw that the reverse of the image looked pretty funky too, and… the amount of squares was the exact number letters in my little peeps name, it was a sign!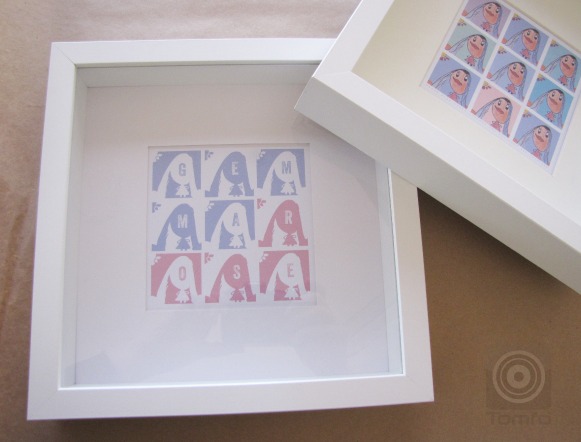 This second option then emerged and I couldn't choose between the two, I think they make a cute pair.
Although the original is still perfect I reckon.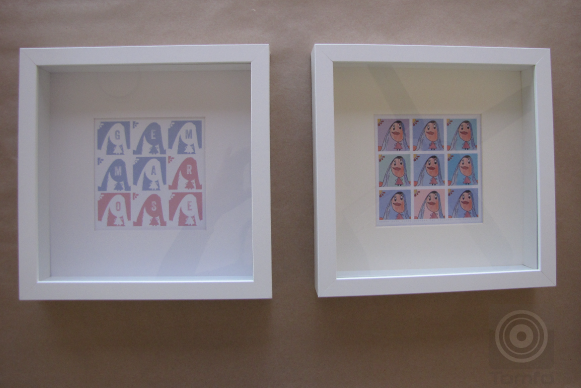 To wrap this up, I used brown paper, printed out 2 copies of my scanned image of the pic, then taped together the two pages and cut with pinking shears into long, thick strips. I taped them altogether to make one long piece of ribbon approx 6cm wide, wrapped the repurposed ribbon around the present and made two loops at the end to look like a bow and secured with more tape. Lastly roughly cut a circle with the pinking shears, add a name and you're all wrapped up!
Gemma still has the original artwork she can keep, and now two new prints to hang on the wall. I hope they look fab in your room Gem!
I enjoyed doing this and seeing the two prints evolve, and more importantly, loved giving this gift.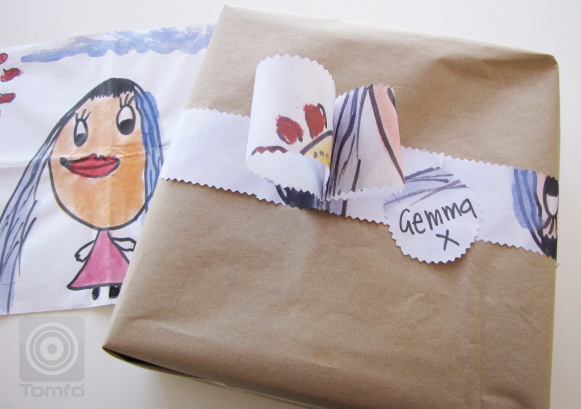 This could be a great idea for a Christmas present for someone special this Christmas, you could have a go at scanning in a pic and doing something like this yourself, it's a pretty unique gift.
Can't deep etch? No problems, why not get a few pics, select complimentary colours, (or even scan in as black and white, I am a big fan), then place them into 9 squares, print out and frame. The Ribba 23 x 23cm frame fits artwork 12cm x 12cm if that helps. (Allow 1cm all around so it can sit nicely behind the supplied matt)
Or Don't have a scanner? Just cut out 9 squares from one pic and stick, using spray adhesive for best results, onto a 12 x 12cm piece of card (Allow an extra 1cm all around so it can sit nicely behind the supplied matt). You can try muddling them up to see what shapes and patterns you can create. Then frame your new art, even easier!
Or you could get the kids to draw up some christmas drawings and use them as your wrapping paper ribbon this year? You can select the colours so it's all co-ordinated, gold on white, silver on white, or green and red or just let them go wild! Plan to do it now and stash the ribbon away, then you're all set when you need to wrap for christmas later!
I hope I have inspired you to make a unique gift for someone, they will treasure and bring you even more joy in giving this Christmas!
Drop me a line on my facebook page, or email me sarahpreston@tomfo.com I love it when I inspire others! (PSST: You could save some cash too and have a bit of fun with the kids at the same time, priceless!)
Live with Love,

Why don't you Subscribe so you don't miss a post? There is a promo code for FREE postage in Australia on 2014 TOMFO when you do.
Tags: 2014 family organiser, 2014 family planner, Family Organiser, REPURPOSE ART CHALLENGE, REPURPOSED KIDS ART, REPURPOSED WRAP IDEAS, repurposing children's art, repurposing kids art, TOMFO, tomfoapp
READ MORE POSTS
---