A quick halloween decoration
Halloween is fast approaching and I thought we better get with the program. We have some Americans in our street and they always go all out with witches and pumpkins and all the kids in the cul-de-sac knock on the doors for trick or treat. So… I thought we'd give them a surprise when they knock at our door on Thursday night.
It's simple to do, promise!
YOU WILL NEED
Scissors
Orange roll of clingtape (I used Henkel Powertape 48mm x 4mm)
Black roll of clingtape (Henkel Clothtape 36mm x 4.5mm)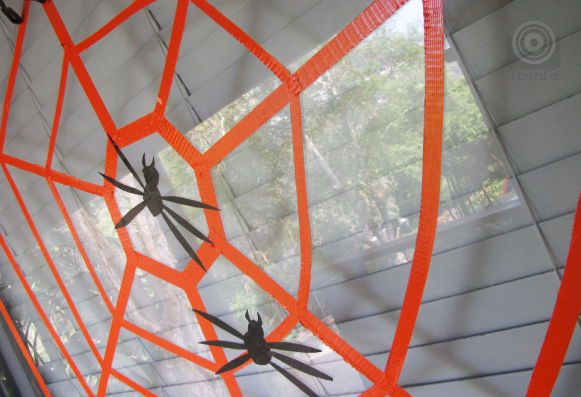 To make the tape go further, I snipped it into 3 even widths with some scissors, then ripped as I went.
Then I made a circle with seven sides on our window using the tape.
Added the long strips, starting from the point of the seven sided circle.
Then simply taped around the web in a circle.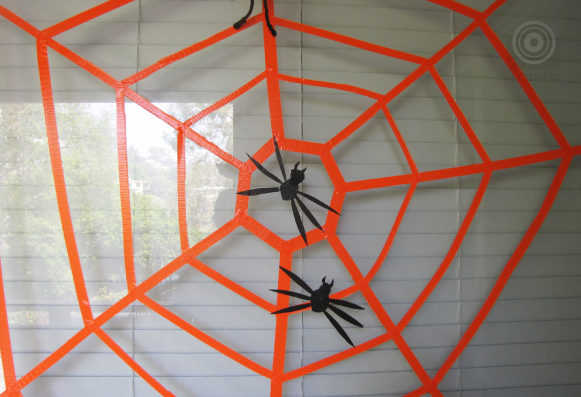 We decided to make a few spiders too, I used some black insulation tape and cut out a face and body, 6 legs and a couple of fangs. (A stanley knife was easier than scissors)
Little did I know that dad had also been asked to make a spider, by the little guy (and was actually doing it, amazing)…  his is quite cool, a few pom poms from the craft box, legs and googly eyes. We used some fishing line to hang it up.
You could even use some plastic ones that you might have in the toybox.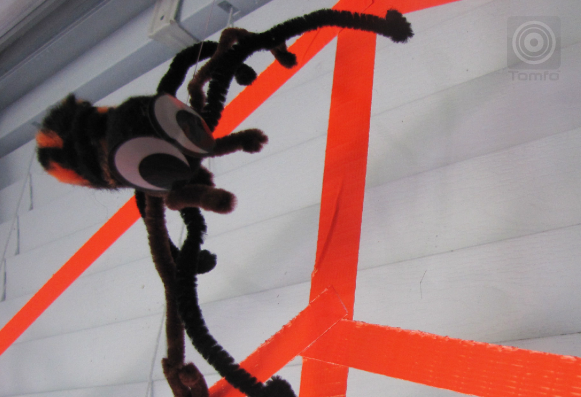 Phew… we are ready for the trick or treaters now, the little guy has already checked this morning that the web is still there!
We've marked the date on the calendar, thank goodness it's only 3 nights away, (he wanted to trick or treat for breakfast this morning!)
We might add a few orange balloons as well on Thursday, now we  just need to decide what costume we'll be wearing, (Superman is looking like the winner at the moment)
Happy halloween, will you be decorating the house for trick or treat this thursday?
Live with Love,

PSST….I've got a giveaway at the moment, 10 of our fab 2014 TOMO (Tomorrow's Family Organiser) Calendars, click below to enter. It's super easy, just like Tomfo on Facebook and answer a question, closes 20/11/2013 at 1pm AEST.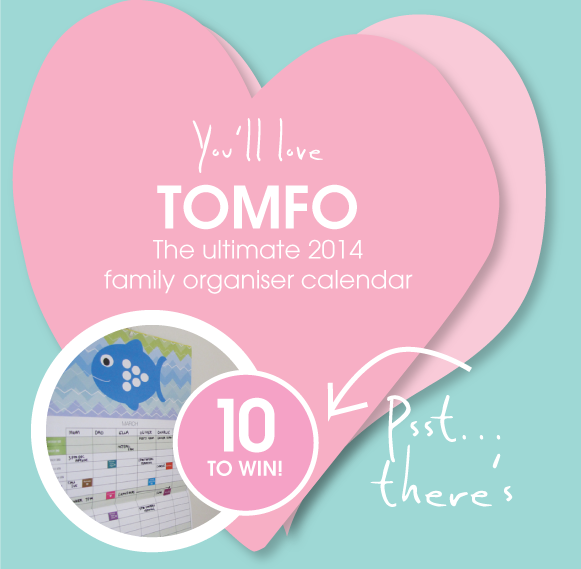 Tags: 2014 family organiser, 2014 Family organiser Calendar, 2014 FAMILY ORGANISERS, 2014 family planner, 2014 tomfo, easy halloween decoration, halloween window decoration, quick halloween decoration
READ MORE POSTS
---