Ideas for a DIY kids superhero party – Batman themed party
My little guy turned five last week and we had a superhero party to celebrate, (it was a Batman themed Party!) Invitations were sent in the mail and then the big day arrived! I had such a great helper to help me make all the goodies. (Plus a few big guys to help on the day too!)
Here are a few pics from the big day.
THE MENU
Personalised Masked Water Bottles
Masked Fruit Bowl
Kapow Cheese Balls
Super Jelly Cups
Cupcakes & Fairybread
Superhero Cake
PARTY DECOR
We used this easy DIY Tissue paper Tassle Garland and personalised Superhero Bunting for decoration along with Tomfo Superhero Personalised Party Printables for water bottles, cupcake toppers and cheese ball holders and favour bags.
Here's the low down on the food and party decorations!

The masked fruit plate, was super easy to make, we used grapes and watermelons and some blueberries for eyes in a few tubs of yoghurt, and everyone loved their own cheese ball cones!
THE SUPERHERO CAKE
The cake turned out well and in the end it was super easy….
2  x store bought cakes, (stacked on top of each other, with icing in between) then iced all over with Betty Crocker Chocolate Icing, then cover them in black and yellow smarties from Candy Bar Sydney and placed a superhero and some candles on the top. You could do this in any colour theme for a birthday party, I think.
Please note: I added the smarties at the last possible minute and kept the cake out of the fridge so the smarties didn't discolour.

SUPER ENTERTAINMENT
We used Kapow Parties, The Dark knight came to entertain the kids…. that was too exciting!
I knew these guys were good as I had seen them at other parties, however batman was even more amazing than I'd imagined….
From the moment he arrived, he made my guy feel like the most important person at the party, (he is a bit shy and would usually be at the back of the line), Batman was always asking where he was and making him the centre of attention, awesome job Batman!
I highly recommend getting in touch with Kapow Parties for your next party, they have so many characters to choose from and Christina is fantastic, (if you are looking for a girls party character, their sister site Fairy Crystal has the best fairies too!)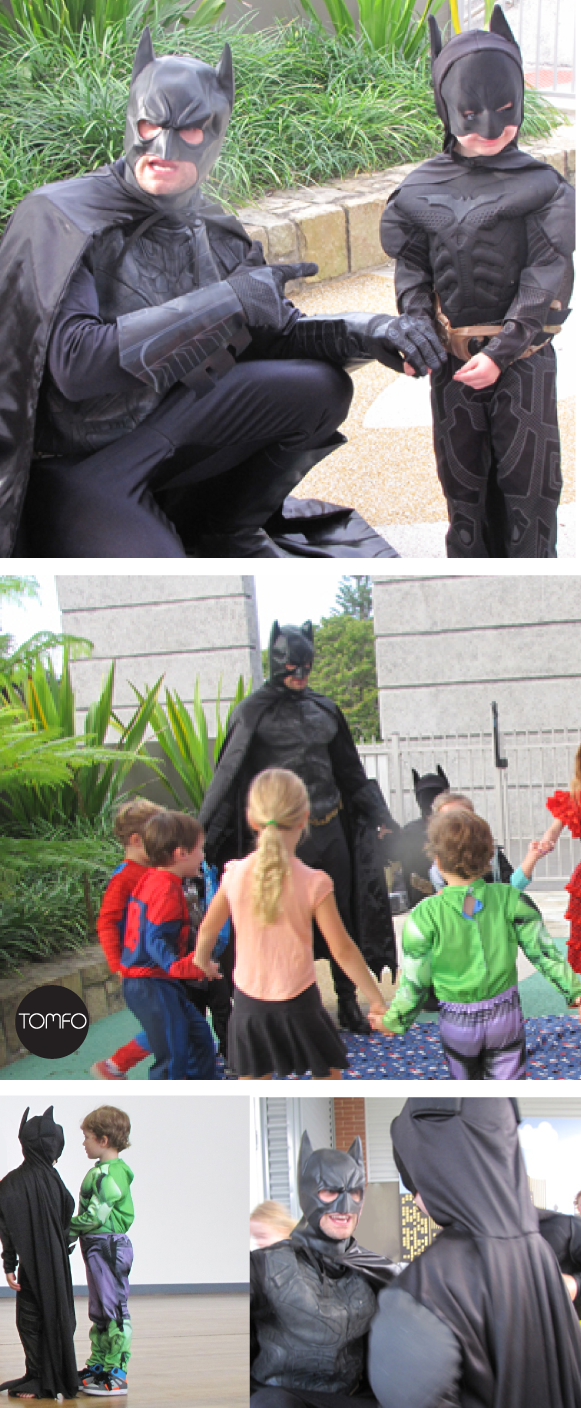 Batman played pass the parcel, tug of war, red light green light and entertained the kids the whole time, it was magic stuff. (Perfect for a host, I got to chat with the other mums and dads and just enjoy the entertainment!)
When I asked the birthday boy what was the best bit about batman coming to the party he said.. it was, "When we all pulled Batman over on the rope!"
Batman was a super character, he engaged the kids and asked them questions, then if they didn't answer loud enough he asked them again… so much fun to watch!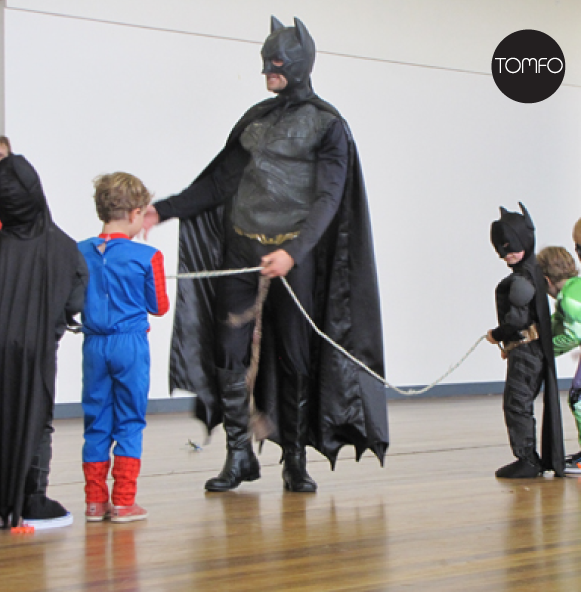 The entertainment was like our own personal show… here's my favourite bit, when Batman says to all the kids "Show me your game face….No…. really, is that all you've got?….Show me your game face!!!!" Check them out… too cute!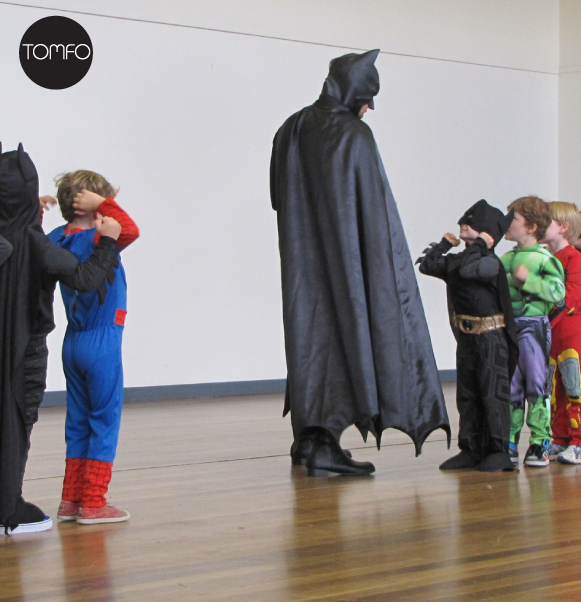 Oh sooo….. much fun!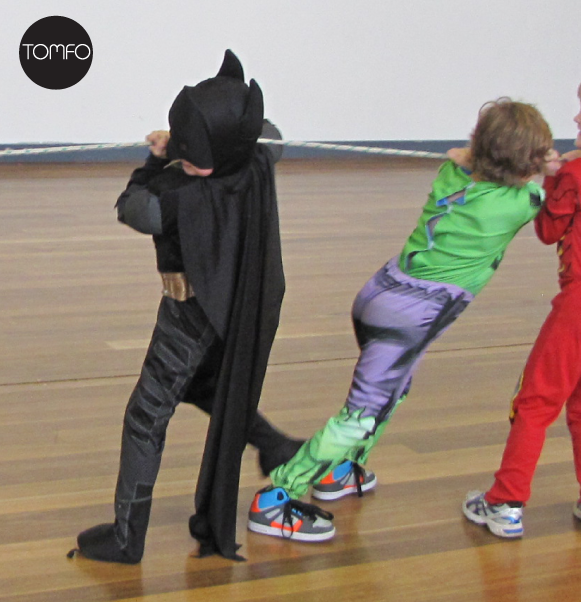 Then the guy from Gotham City guy made balloons for everyone…even more awesome!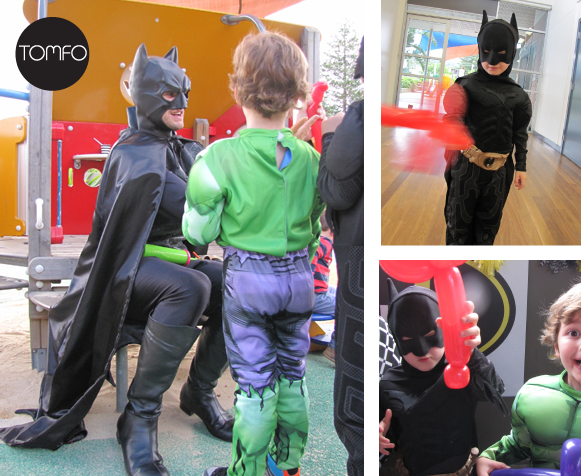 So much fun, I loved organising this party.
Sometimes you just have to eat chocolate though… even when it's time for a pic with batman!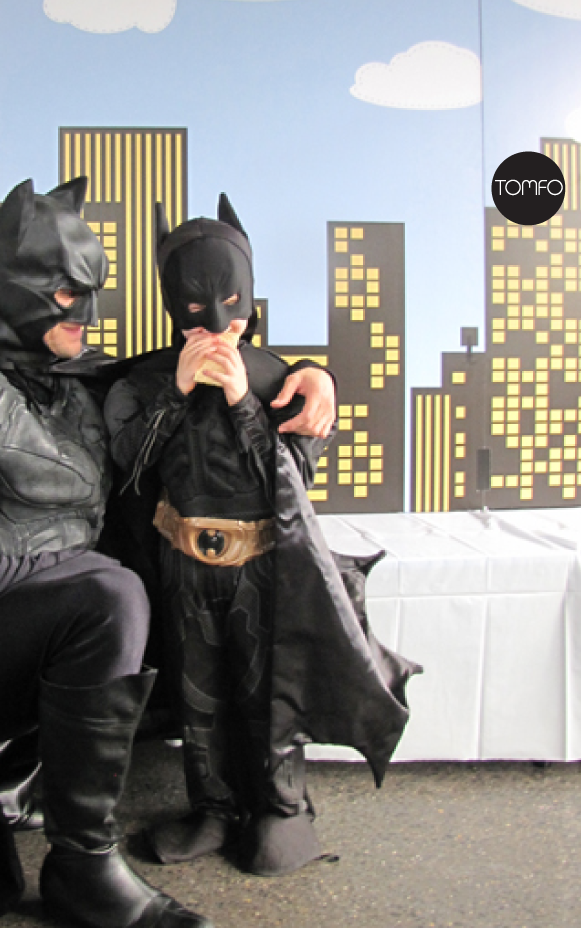 Then Batman headed off and it was time for cake…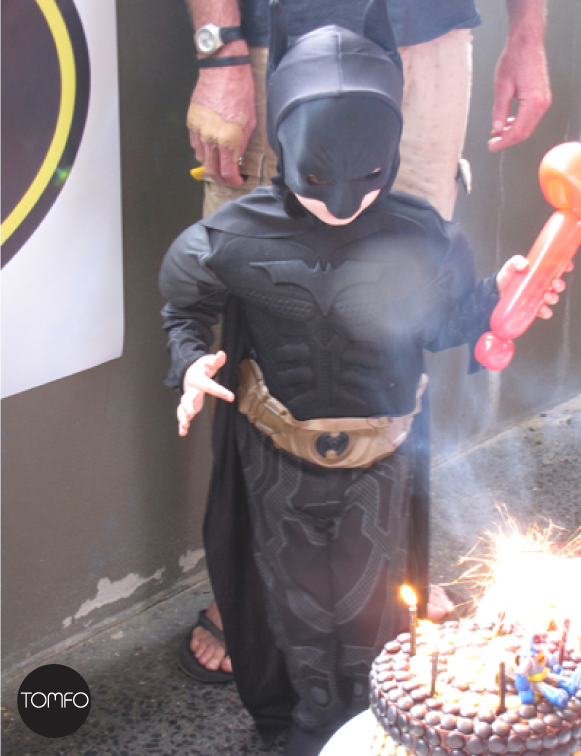 We made thank you bags the night before and added a mask for the kids to colour in when they got home. Then it was time to open all the presents, what a magic day with  friends that will be at "big school" next year.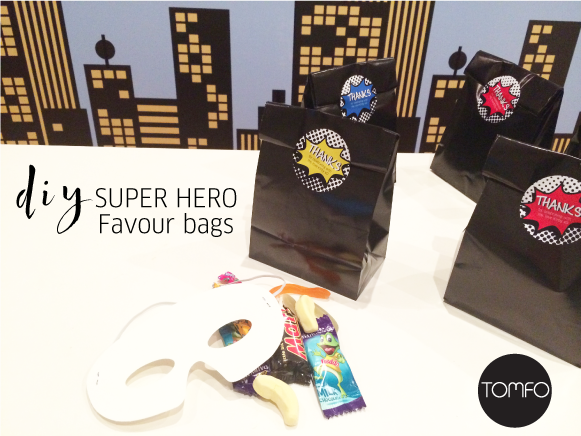 You can see the Personalised Superhero Party pack here…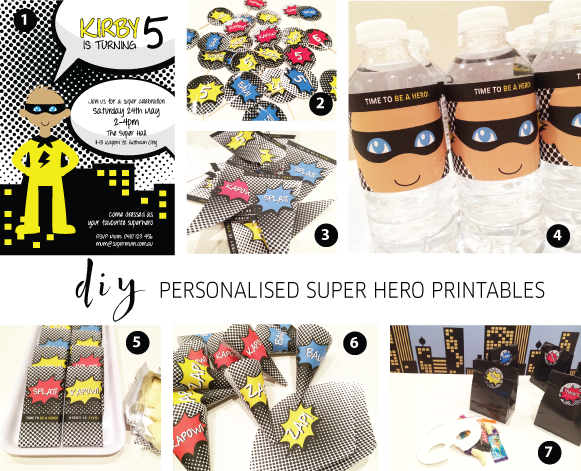 We had the best time, I loved the excitement and build up for this party and making it special for my little guy, obviously I am just a big kid at heart.
Thanks to all the helpers and fabulous friends that made our Superhero Party one to remember,
SUPERHERO PARTY INFO
| Dessert table styling and creation, paperie & invitations: Tomfo
| Cake: Tomfo
| Party Entertainment: Kapow Parties
| Cake lollies: Candy Bar Sydney
Live with Love,

Linking with Mom's Small Victories + Tip Junkie + Moms and Munchkins
READ MORE POSTS
---