A birthday party for a 4 year old! The Malteser Chocolate Cake + Tissue Pom Pom Balls + Party Games
I do love organising a party, and especially for my little guy. Here's a few of the things I did for his 4th birthday. The theme was blue this year.
Everyone knows a party is really all about THE CAKE and my little guy loves chocolate, so we made this malteser chocolate cake. I saw it on Pinterest here's my easy version. I am not the best cake maker, but this was so easy and looked great.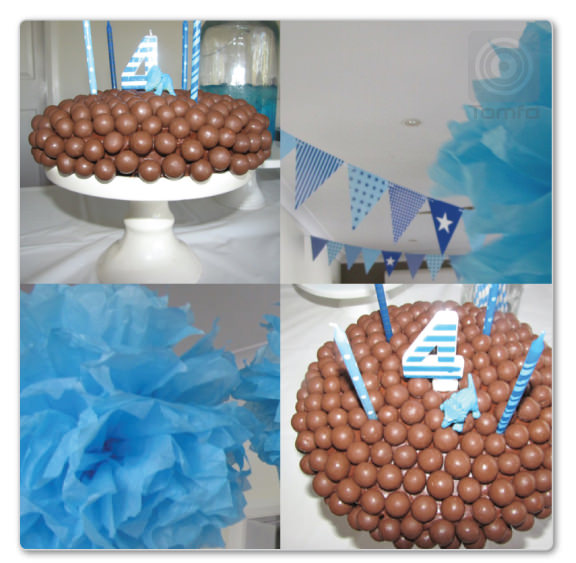 Malteser Cake 
2 x packets of chocolate cake mix
453g Betty Crocker Creamy Deluxe Milk Chocolate Frosting
2 x packets 280g Maltesers
Mix the cake mix to directions and pour both into a 20cm round cake tin and bake. (We made it the night before).
Then the next day, ice the cake all over and then cover all over with Maltesers. (I started in the middle and worked my way around, then added a blue dinosaur and some candles.)
You could even cheat more… buy a chocolate cake already iced then cover with Maltesers. The stand makes it really, (I borrowed that from my sister). It was perfect and we had a ball making it too. One for you and me and one for the cake!!
I've always wanted to try to make these tissue pom poms since I saw them on Martha Stewart. So this was the perfect excuse, it was super easy, here's how I did it.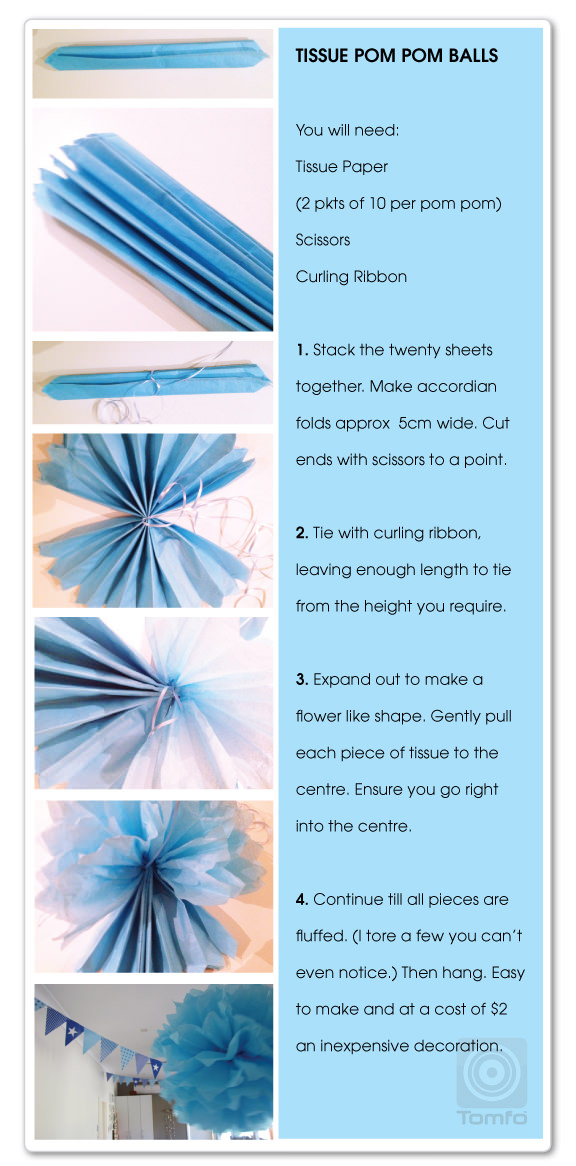 I found some great bunting from Schmick – 50 party flags for $5.95, there was heaps of flags and even enough to go around the edge of the table. It came with 3m of string, there were enough flags to make about 12m of bunting, I used some extra curling ribbon I had.

Blue Lemonade (Lemonade and a drop of blue food colouring and ice in a Monarch drink dispenser from my office)
Popcorn (2 min microwave in blue striped patty pans)
Fresh Rolls with Ham and Egg and Mayonnaise
Blue Jelly with Swimming Fish (3 pkts blue jelly with fish cut out of coloured sour straps)
Fruit Skewers with Sarshmallows
Cupcakes
Chocolate Crackles
Singapore Noodles (10 x lunchtime specials served in blue takeaway boxes served 20 people, who needs to cook on the party day?)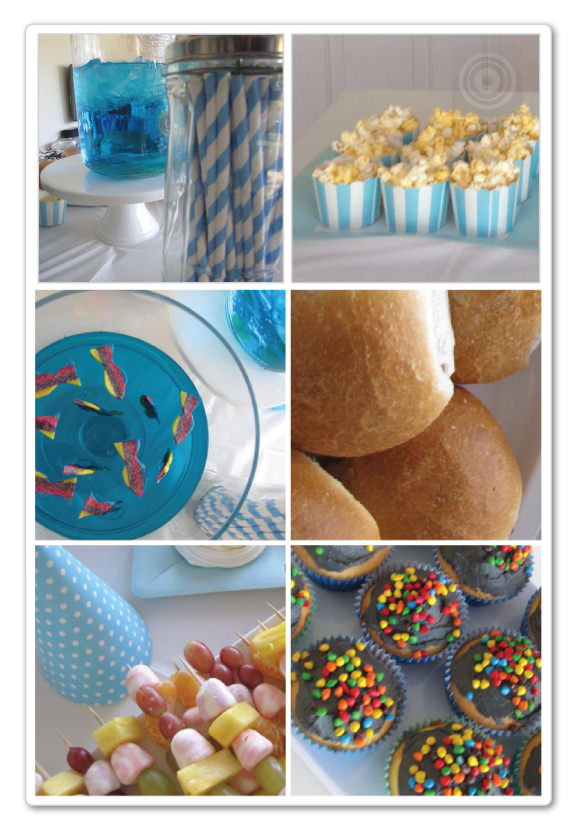 Meet the birthday boy… we set up the games together in the morning.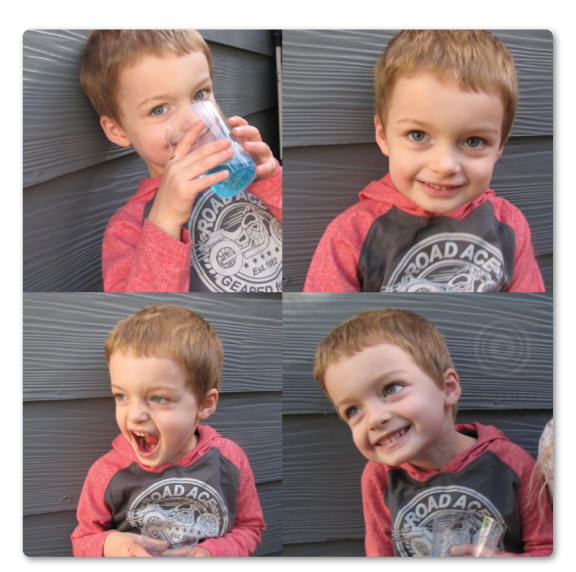 1. Chalk drawing on the steps – the rain washed it away a few days later.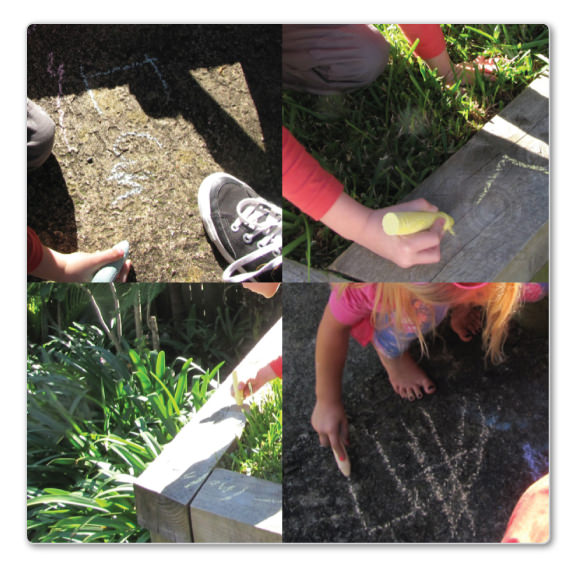 2. Draw yourself on the wall!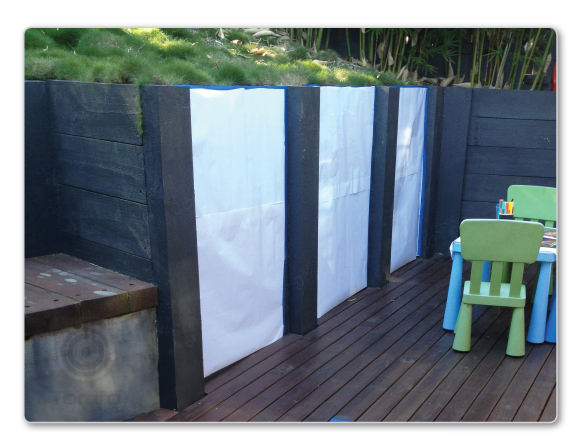 We put up some white paper on the walls and stuck it with painters tape, then I drew around each child and they got creative and coloured themselves in.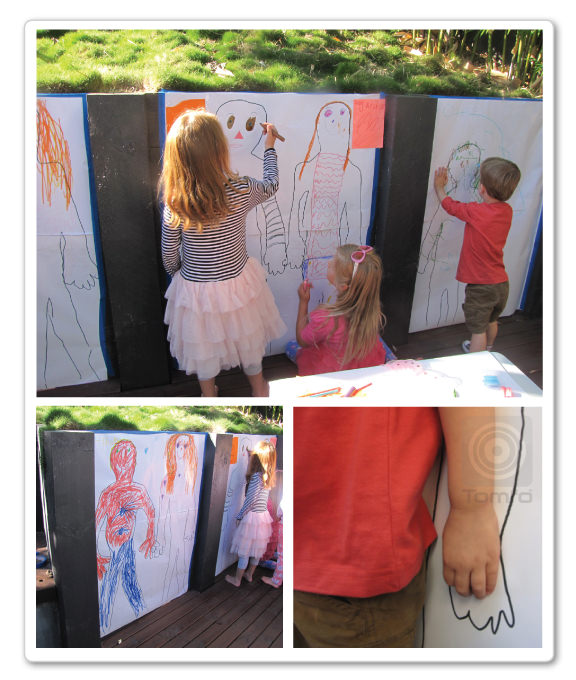 I loved this, was so much fun, the kids did too, a creative bunch!
3. Dinosaur Dig
4. Blue Race Track – for car racing on the deck (using painters tape)
5. Pass the Parcel – a request from the party boy.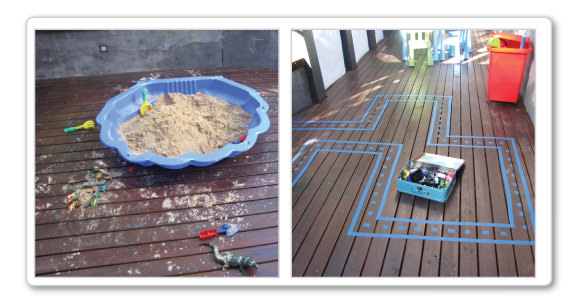 I grabbed some cheap mini dinosaurs $3 from Kmart and hid them in the sand box, it was a bit messy but the kids loved it.
We also made a track with blue painters tape for "brumming" with cars.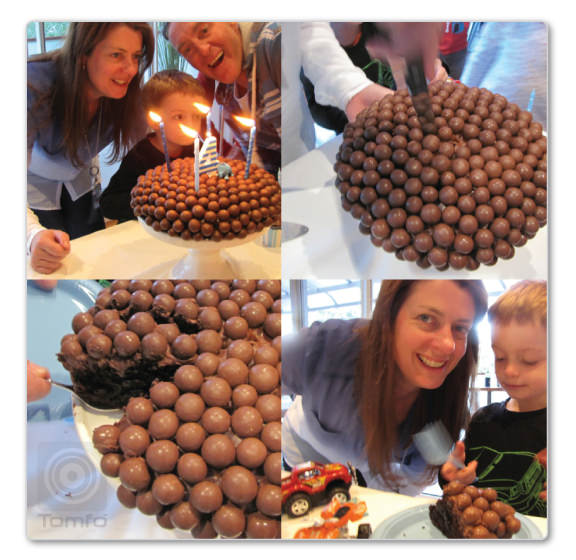 Before you knew it… it was time to eat cake. Yum, wasn't too hard to cut, (lost a few Maltesers but not as bad as I thought) very chocolatey, even more yum!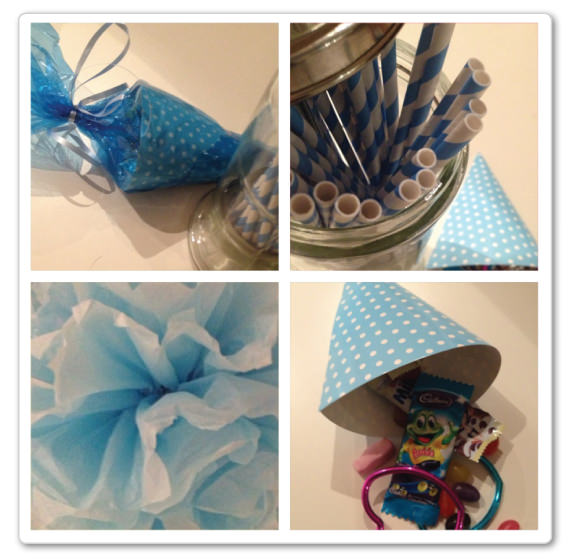 The treat bags were popcorn holders tied with some blue cellophane and curling ribbon.
After the party was over, I wanted to send a thank you to all the kids, I took down their beautiful pics and cut them all up individually. Check out our straw painting art we repurposed as thank you envelopes here.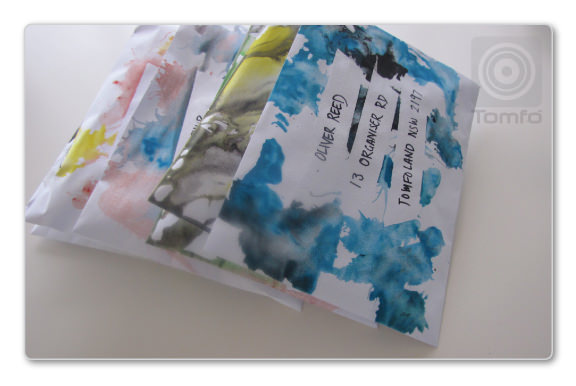 I'd love to hear your party ideas, What's your easiest cake to make? drop me a line.
Or leave a comment on my facebook page. Thanks for dropping by and if you don't want to miss a thing sign up for our email posts, scroll up to the top right and sign up!
Live with Love,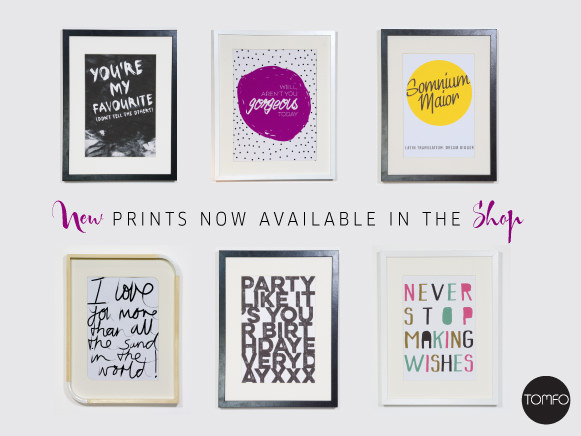 Tags: Blow painting, Malteser Chocolate Cake, Painted envelopes, Repurpose children's art into envelopes, Straw painting, Tissue pom pom balls
READ MORE POSTS
---