How to make a modern macrame plant hanger with venetian blind cord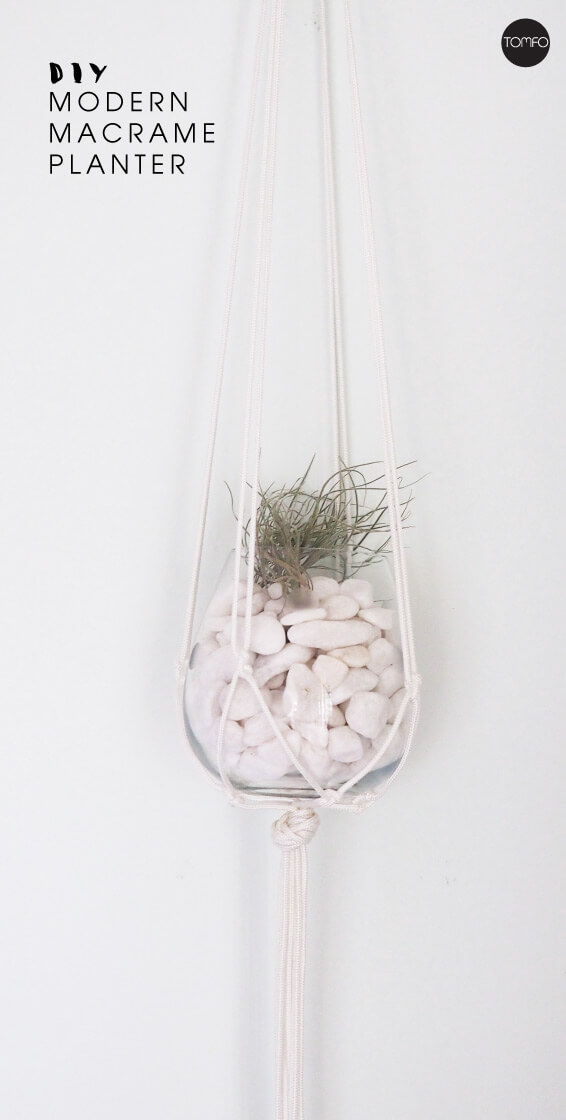 How to make a modern macrame plant hanger with venetian blind cord, a stemless wineglass, an air plant and some decorative rocks.
It's super easy to do, check out the tutorial below.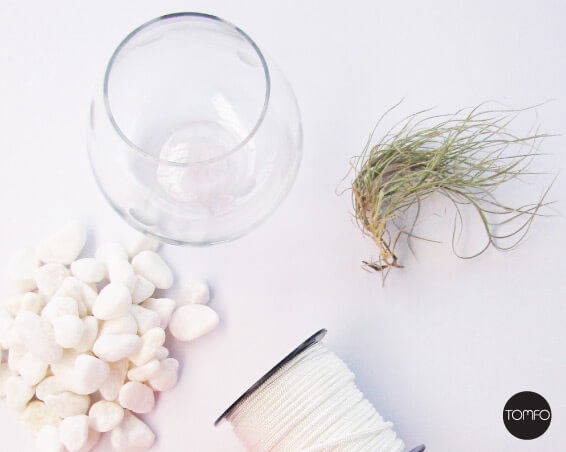 You will need:
Stemless Wine Glass or similar vessel
Decorative rocks from the $2 dollar store
Air Plant (I got mine from Bunnings)
Venetian Cord (also from Bunnings)
Scissors
How to make: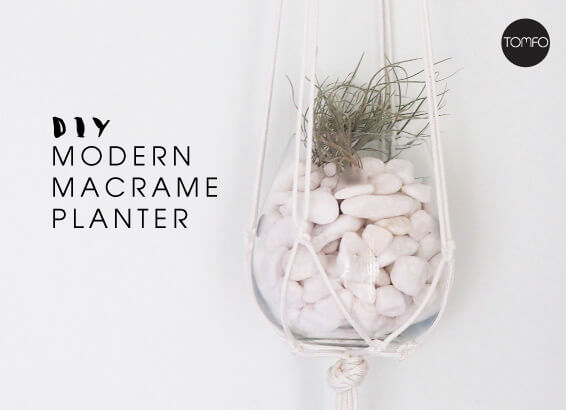 I filled my glass with white rocks, and tucked the air plant in between the rocks to secure.
Then cut 4 lengths of string, (double the length you want your planter to be).
Fold them in half.
Then make a knot at the top.
This will form the hanging loop.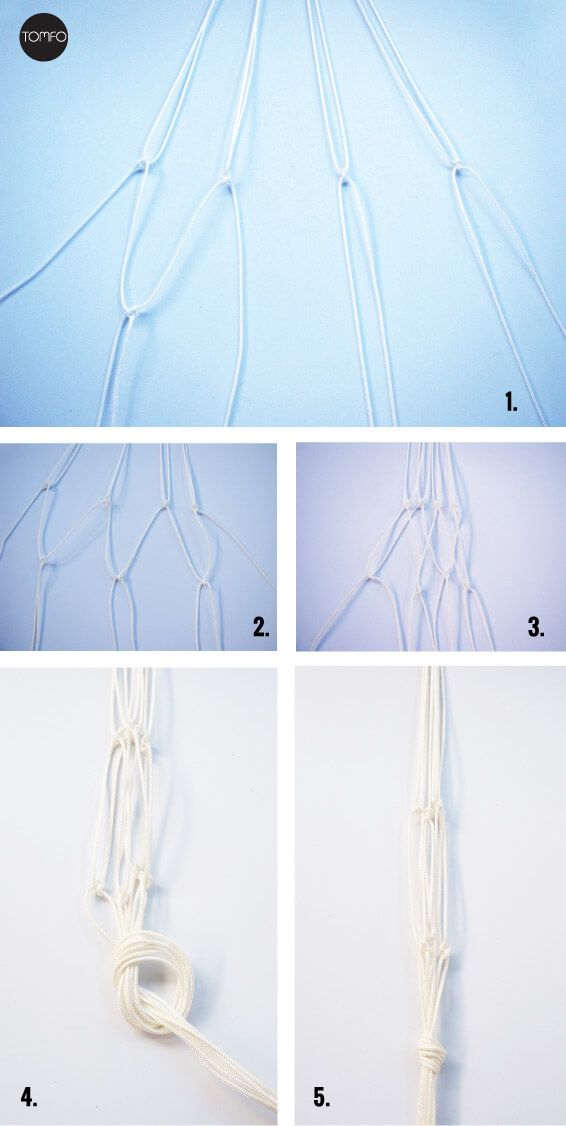 At this point I popped the loop through the leg of a stool so it was secure and I could pull the lengths of string taught, you could also use a door handle.
Separate the eight cords, into four groups of two.
1. Make four double knots at the length you want your planter to sit, (I made mine 47cm down from the top loop)
2. Using alternate cords, (see pic above) make a second row of knots at the same length, (I used 7cm down from the first row as my measurement), make three knots, leaving the two sides unknotted.
3. Now it's time to join them together. Tie double knots using the side cords to form the holder, at the same lengths as above, 7cm down.
4. Then simply tie a knot at the bottom using all the cords.
5. Secure the knot, you could also fray the cord at the bottom if you wish.
Insert your plant and hang.
This is an air plant so it only needs a mist of water every now and then. Love it!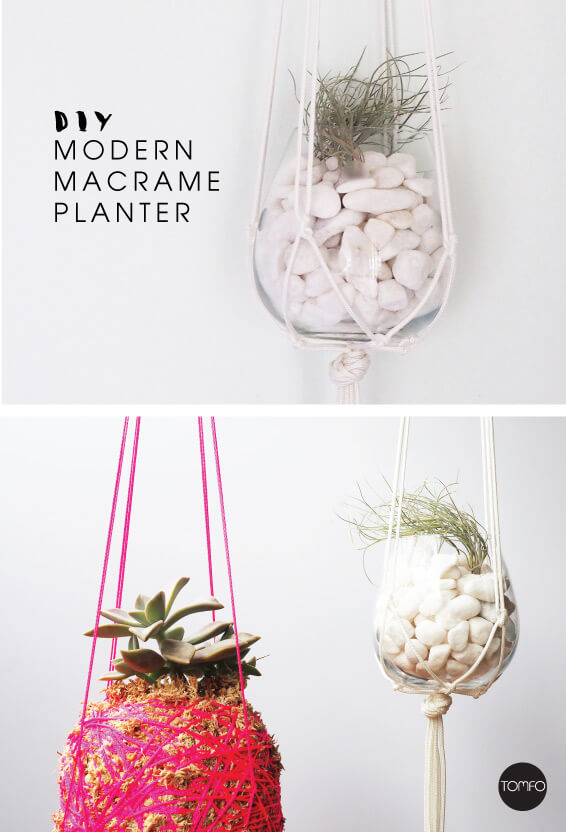 It's a perfect match for my Spaghnum Moss Ball Planter. I used the same method above to hang this planter.

This tutorial doesn't use an official macrame knot, that's why I've called it a modern macrame planter.
I've seen these around and have been wanting to try one of these for ages.
It was easy to do.
Plus I've never had an air plant before. (Pretty cool things I reckon)
I remember making macrame owls when I was a kid, (that's showing my age!)
Did you do macrame when you were growing up?
Live with Love,

Linking up with With Some Grace and Life love and Hiccups,  House of Hipsters
PS: Did you know I also design prints and cushions?
Head to my shop to check them out.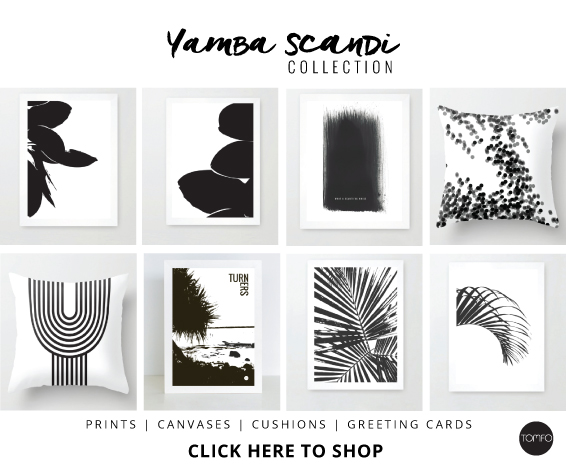 READ MORE POSTS
---