DIY Santa Christmas Countdown Advent Calendar
Get ready to countdown to Christmas with the kids with this Santa Christmas Countdown Calendar.
Print this instant printable, then use cotton wool balls to make santa's beard… see the easy tutorial below.

We're getting ready to put up the tree at our house (I think I am more excited than anyone, I'm hoping we can wait for a friend whose coming this week and we can put it up together, that would be cool… early but cool!) The little guy has already started crossing off the days on our regular calendar,  I thought his might be another way we can get excited about the big day – minus a chocolate a day… he gets enough already!
HOW TO MAKE YOUR SANTA COUNTDOWN CALENDAR
Download the Christmas Countdown Calendar here 
Once you receive the download simply print out on A4 paper, a 200gsm card stock will be best as you'll be using it for a month, (the colour will vary depending on printers and the stock you use),  punch a hole in the top and add some fancy ribbon, or just attach to the fridge with a magnet. I printed out the pdf twice and used the lid of a mason jar to make a face template to put all the cotton wool in…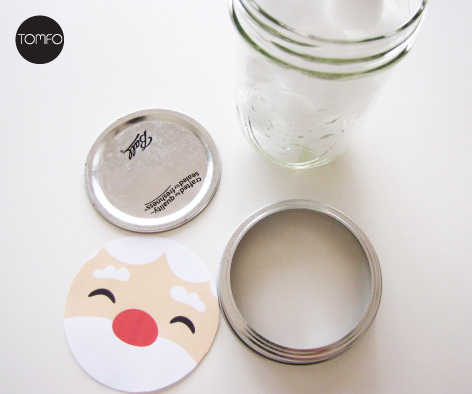 Then using cotton wool balls and some glue you can stick on a piece of santa's beard every day…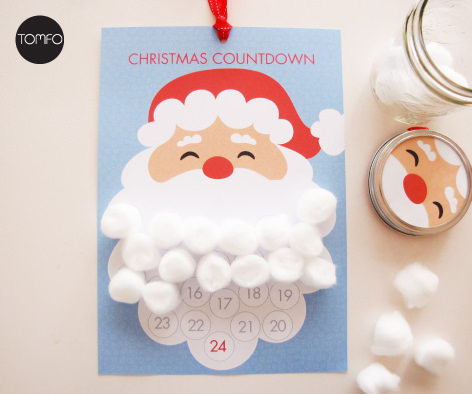 On Christmas eve you will have made santa's beard complete and he'll be arriving the next morning.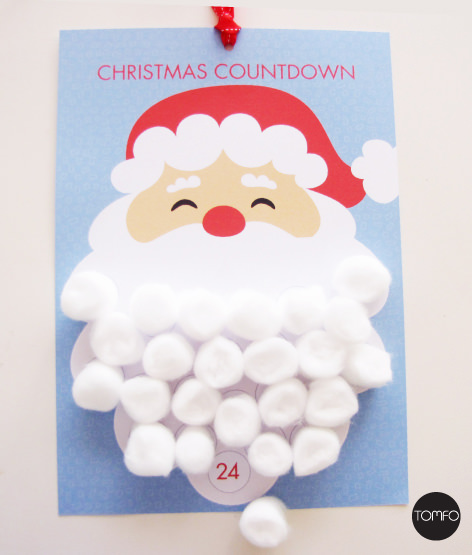 I hope you have fun counting down the days to Christmas.
We've got so much cool stuff on here… parties, catching up with friends, (old and new), dinners, some booked and some impromptu I'm sure, birthdays, parties, end of year parties for work and kindy… I'm pledging to relax and enjoy them all, I think the suspense and time catching up with friends and family is the most important, I don't want us to wish away the time at all, it's such a special time of year. A time for friends and family and remembering all the ones we wish could be here too.
Download the Christmas Countdown Calendar here
Thanks again for following and coming on my DIY journey and I hope you'll stay along for the ride.
I think Christmas is the most wonderful time of the year,
Enjoy.
Live with Love,

Please note: This printable was free for 3 years.
Last year it actually cost me money to supply it for free, so instead of removing it all together, I decided to add a small fee to the download. Please consider supporting me on Etsy.
When you design and create printables there are always things you need to buy, like paper, printers, ink, computers, cameras and props to shoot with. By supporting me you will help me to continue to create Christmas content like this and share my DIY ideas with you.
But the best bit is….
apart from the lovely new Christmas prints you will have for your home…
you'll be helping a mum with a small business too. x

Looking for my 2020 family organiser printable? Click the image below to purchase your pdf to print yourself.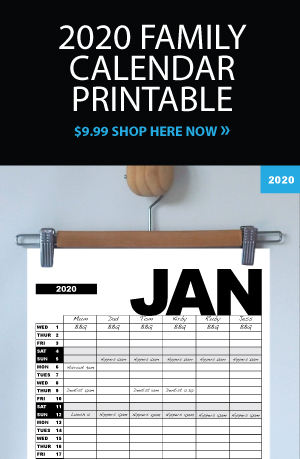 Tags: christmas countdown calendar, diy santas beard advent, printable christmas countdown, Santa advent calendar, santa beard calendar, santa beard countdown, santa's beard christmas countdown
READ MORE POSTS
---