Free DIY beach party invitations – folded 3D triangles
I went for a walk on the beach…
and got inspired…
That's not hard with a view like that.

It was the weathered wood that caught my eye and I snapped a few shots…
Last week I made these triangle  boxes that were so easy to make, I wanted to explore that more.
Here's what evolved…
an easy DIY beach party invite you can make.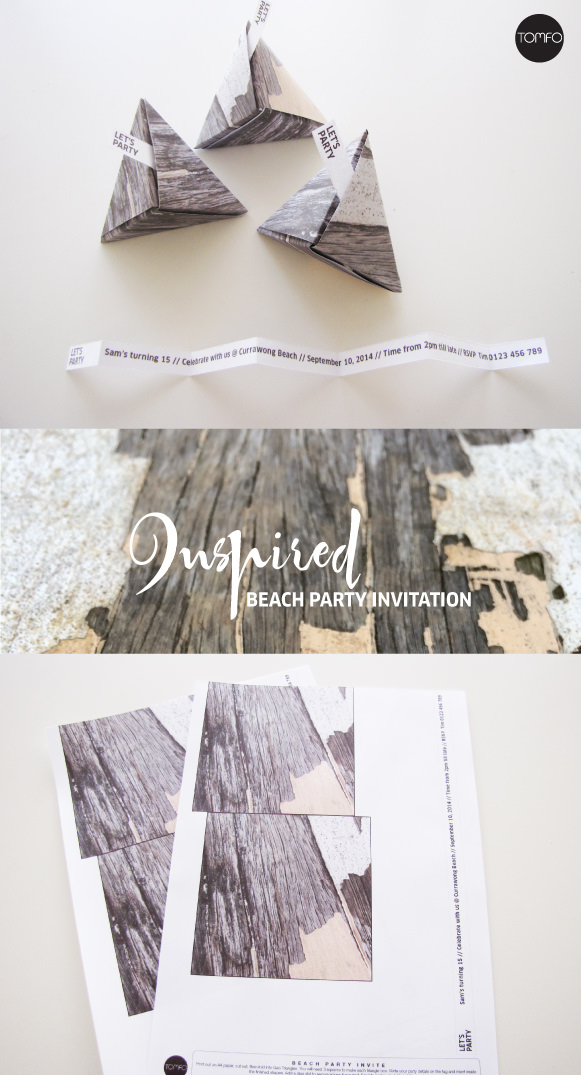 DIY 3D TRIANGLE BEACH PARTY INVITE 
To make one invite you will need:
3 x 11cm squares of My Beach Party Invite template + printer or use your own patterned paper
Download the FREE 3D Triangle Beach party Invite here
2 x A4 copy paper
Scissors
Glue dots or similar
Pen

Follow my pics above or head  here for a video tutorial on how to fold these. After searching for the easiest 3D Triangle or pyramid to make, I found this one was the easiest. (it's in a different language but you can easily follow)
Cut out 3 squares (I made mine 11cm x 11cm)
Then fold as above, I used a few glue dots to secure my finished triangles.
Then cut a thin strip of paper and write your party details on it, (or print your own strips)
Fold the strips accordian style, (leaving your message visible at the end) and insert into one of the sides of the triangle.
A cool party invite for a teenager I think…
Or a wedding…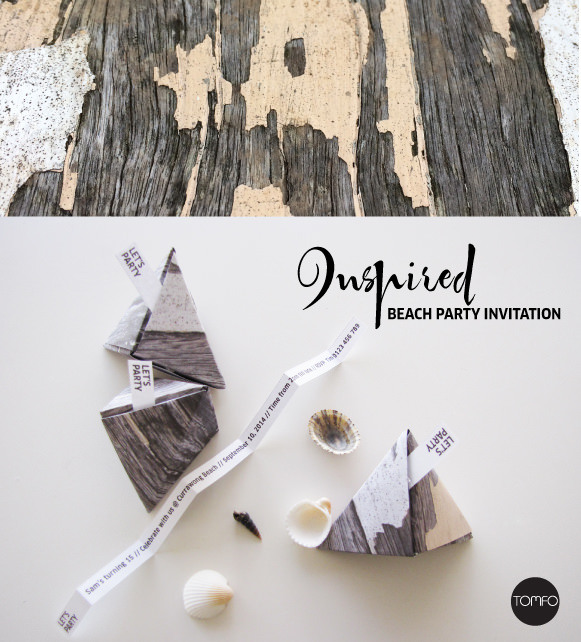 Every box was different…
Because of the wood texture.
I love the colour and texture of the wood, it reminds me of the beach,
…and summer
It's on the way here, I can feel it.
Glorious….
The perfect excuse for  a beach party.
You could use so many other textures or themes to make these invites, they could be great party favours too.
I have a friends 40th coming up at a beach destination, these DIY beach party invites would be great for that, I best get organising…
Download the FREE 3D Triangle Beach party Invite here
Does the beach inspire you too?
Live with Love,

Care to stay in the loop? I'd love to have you!
Subscribe to my posts (so you can see what I make each week)…
OR leave a comment below it makes me so happy to hear from you.
Subscribe here so you don't miss a FREEBIE!
Linking up with With Some Grace + Life Love and Hiccups
READ MORE POSTS
---