How to make this triangle box from cardboard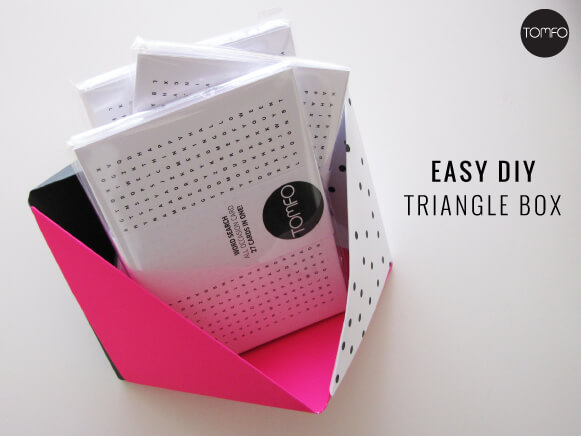 We've got another party on this week and I thought I'd share some cute wrapping ideas with you (+ a super easy tutorial on how to make this gorgeous triangle box.)
I make up lots of these pom poms and use them for wrapping embellishments.
(See how easy it is here in my easter hat with pom pom tutorial)
And tassels….
And washi tape too…
I keep them in these cute cardboard triangle boxes. So when we need a present wrapped we are ready to go.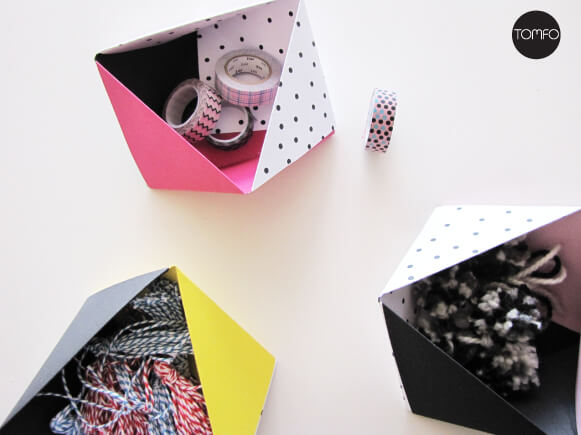 I only have one roll of paper… it's white,
so it can be used to wrap up presents for anyone.
Or write on with the kids,
Or make your own patterned paper…  (I think we'll do that soon)
Just for fun…I thought you might like to see how easy it is to make your own triangle boxes…
It's a cinch and sooo cool, it would be great for a party favour idea too.
Or… to hold your bits and bobs on your desk
Or…. to sit on a bookshelf …. they're pretty funky.
I used some large fluro cardboard to make the boxes that hold my card packs, (just cut into larger squares to begin with)
If you fancy my dot and colour paper in a pdf  let me know in a comment below and I'll email you the pdf.
DIY TRIANGLE BOXES
You need 3 sheets of paper, these are 210 x 210 square, I used 200 gsm card and printed out 3 colours for each box. (Black, pink + yellow, light pink and polka dots)
Then fold them into triangles.
Then follow the pictures below, or if you get stuck check out this easy to follow video.

Keeps everything neat and handy for quick present wrapping.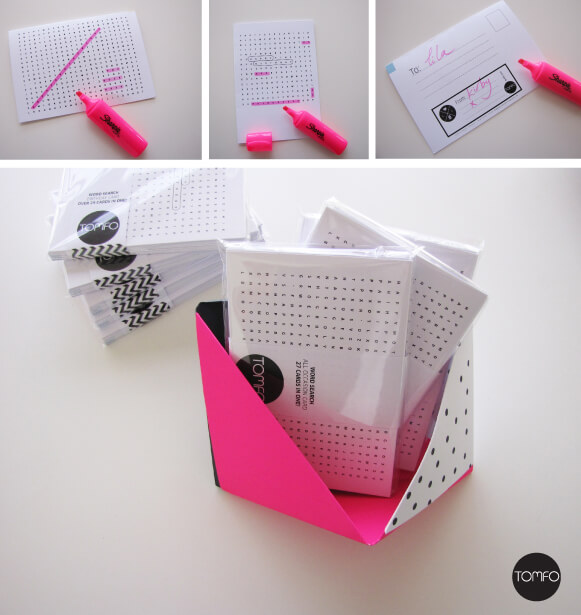 Let me know if you make up some triangle boxes, I'd love to see what you use them for.
They are so easy to make,
Go on….give it a try now with some white paper, it's easy.
Have a great weekend,
Live with Love,

Why not visit my shop for greeting cards and Scandi Style prints? Click the link below to shop now.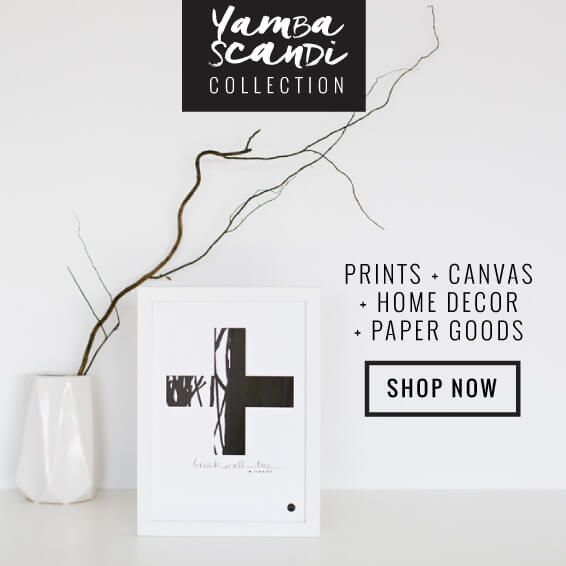 Linking up with With Some Grace + Just a Girl and Her Blog + Life Love and Hiccups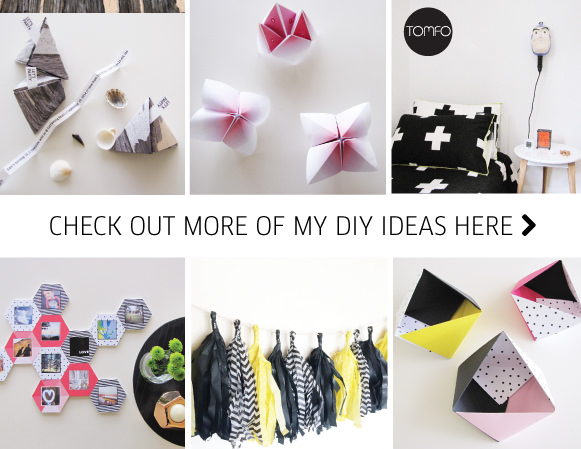 Tags: greeting card packs, online greeting cards, Tomfo 2015 Family organiser, Word search greeting cards
READ MORE POSTS
---