DIY Balloon Invite + a Free Printable
Bought to you by Nuffnang and Spotlight – Home of National Craft Month 1-31st March.
Need a super easy party invitation that will pop?
I've got just the thing.
Literally.
Try this DIY Balloon Invite.
There's a free printable for you too!
It's super simple and could be used for all kinds of parties,
we used this as a party favour for our Ultimate DIY Party.
Try different coloured balloons for kids parties or even those big "0" parties, like 20, 30, 40, 50, etc
The possibilities are endless.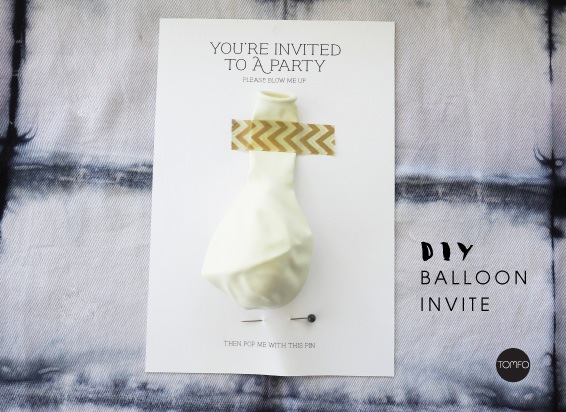 DIY Balloon Invite – Makes 18 invitations
What you will need:
2 x A4 Copy Paper
Printer
Scissors or preferably a Scalpel and Cutting Matt

You can shop the supplies to make this DIY at Spotlight online or in store.
To make the message: Print out the party message template on page one of the free printable.
(There are 9 messages on a page, so print 2 x A4 pages on normal copy paper 80gsm bond)
Then cut out with a scalpel and ruler on a cutting matt for a perfect finish or use scissors.
Fill in your party details.
To make the backing card: Print 9 x copies of page 2 of the template on 240 gsm card and trim to size.

Time to assemble:
Push a pin  above the words on the bottom of the card.
Roll up each message and insert into the balloons.
Then tape the balloon onto the card with washi tape.
Insert into envelopes and you are done.
Because it's National Craft Month, and I'm an ambassador for Spotlight,
I decided to host the Ultimate DIY Party for the big kids.
We used this DIY Balloon Invite idea as the party favour.
Our cards had a message inside saying… thank you for creating with us.
We invited eight friends over for a spare-of-the-minute party,
they were told they were going to make something and to bring a bottle of wine.
"How exciting, what is it?"
They said.
"Just come, you'll love it," we said.
When they turned up they found boxes with this Balloon Thank You Party Favour
and some blank material on some Shibori placemats.
"We're tie dying these, Shibori style." We said.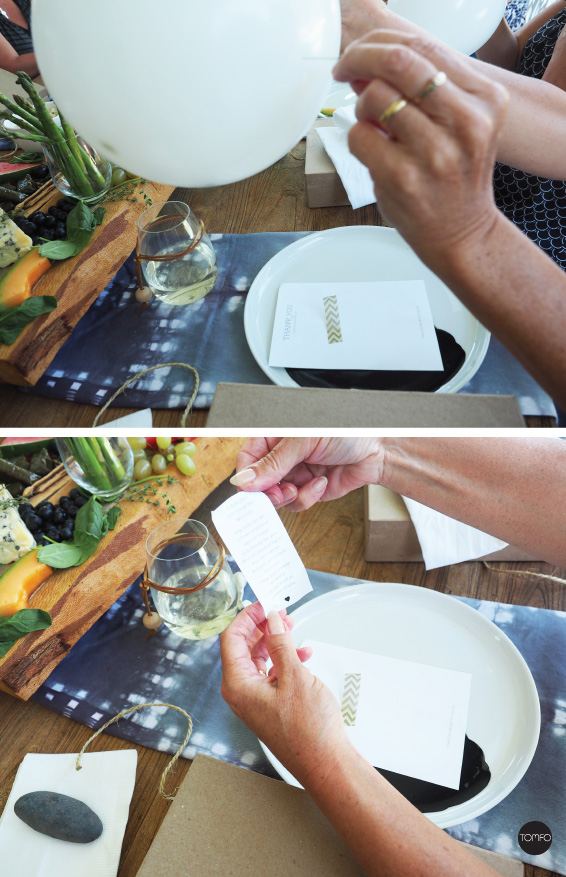 Everyone started chosing a design they liked.
And we ate.
And they watched as I showed them how to wrap the different patterns.
Some even tried their own.

Then they wrapped their own pieces and we ceremoniously dropped them in the dye and sat down and ate some more.
And we talked.
And laughed.
It was exciting, we were creating something together.
How wonderful does that food look?
One of my talented friends just whipped that up.
I think we might be doing that again,
and again.
Thank you lovely x  (I couldn't have done it without you.)

What a fabulous party, people who would not normally make something, did.
The fabulous Phyllis dropped over for a celebratory wine,
she made the DIY Outdoor Curtains last week and hemmed the blanks for everyone to dye at this party.
I saw the smiles when they pulled out their work.
Each one was different, unique.
Making something yourself is good for your soul, I think.
But making it with friends is PRICELESS.
Thanks for trying something new everyone!
And to my wonderful helpers, thank you.
I think we might have to do it again.

Ready to join the "Make it yourself Movement"?
Did you notice those plates and drink ties?  You can make them too.
Head into Spotlight for National Craft Month from 1-31 March,
you'll be amazed how you feel when you make it yourself,
even more so, when you make it with friends.
Did I mention, It's good for your soul.
Don't forget to pin this DIY Balloon Invite for later.
It's the perfect start to your Ultimate DIY Party.
Have a wonderful week guys, I hope you'll drop by next week.
Live with love,

Subscribe here for weekly DIY ideas
Looking for my 2020 family organiser printable? Click the image below to purchase your pdf to print yourself.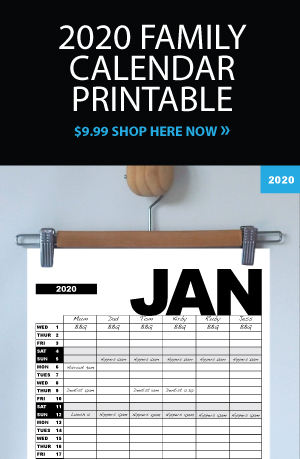 READ MORE POSTS
---