DIY Outdoor Curtains – Yamba Scandi Style
I've always wanted some outdoor curtains.
You know the kind,
see through,
tropical oasis like,
your own resort style curtains,
for special events and parties.
And I wanted to make them myself.
But what I got was more than that.
I found out about neighbours and friends.
And the barter system.
And a couple of girls over the road,
that are two in a million.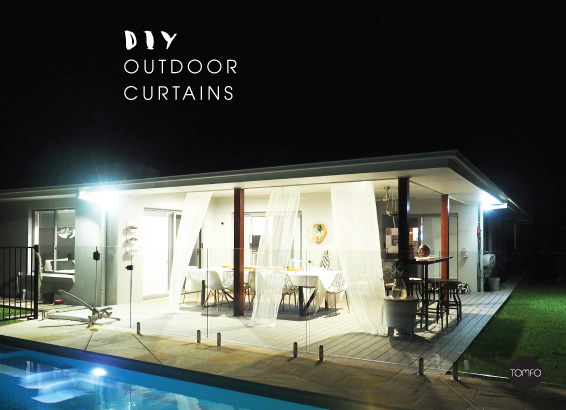 I bought 10 m of muslin.
Did a bit of measuring and cut my material into 3 m lengths,
as straight as a die, or so I thought,
and walked over the road to see Phylis and Joan.
(Because I can't sew.)
"Hello" I said,
(With seemingly straight cut material in hand.)
"Come in, take a seat."
They said.
And we talked.
(They have such wonderful stories and they're always laughing.)
And then I told them my idea.
(And that my husband thought I was crazy.)
"But could they help me?"
They said, "No problem, Phylis can do that for you on the machine."
And right there and then, we went to the sewing room and she started overlocking.
But not before she re-cut my very "unstraight" cutting.
And we laughed some more.
While I watched her, I spied this wall hanging by her machine.
She told me she got this from one of her tenants many years ago.
"How beautiful," I thought.
"I'm going to have to remember that one."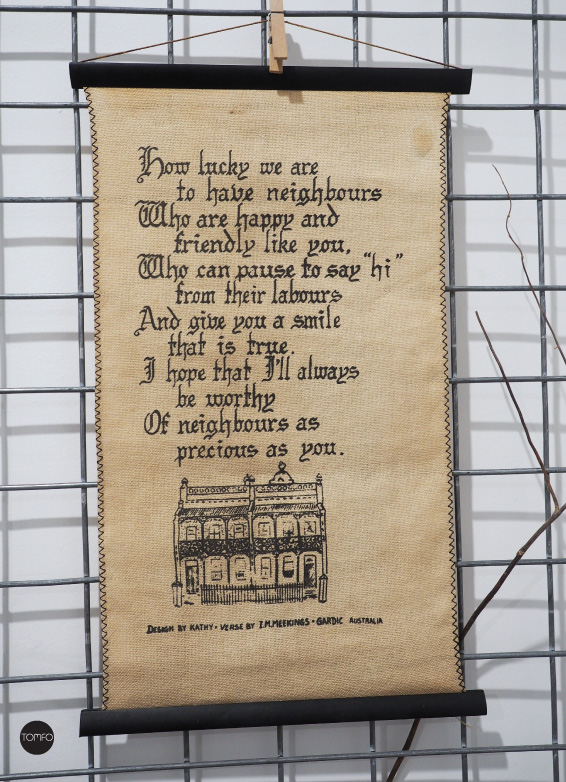 I walked back across the road and asked my guy to book in a time to put up 5 cup hooks and some curtain wire.
"Next week," was the answer, apparently these things can't be rushed you know.
And the week after he put those hooks up.
It was a one beer job.
And then we hung the curtains.
And I fell in love,
with the flow and the way they draped and gently floated in the breeze.
And the beautiful story my neighbours helped us create.

DIY Outdoor Curtains
You will need:
5 Cup Hooks
Muslin and a neighbour like Phylis (or pre made curtains)
(Try these pre made Rod Pocket Curtains, if you can't sew like me and don't have neighbours like Phylis and Joan)
We used a drill to make a small pilot hole, then hand screwed in the cup hooks.
Place them at even intervals across the width of your space.
Insert the eyelet screw into one end of the stretch wire (these come with the pack above). Then attach this end to the cup hook, now, the stretch wire to the width of your area, pull taught so there is no sag, cut the stretch wire and add in another screw-in eyelet and attach to the last cup hook.
Thread the curtains on, (I used 4 x 3m lengths which my neighbour hemmed and rod pocketed.) Hang them flat for a modern look.
Viola, instant, sheer beauty!
Back to my story…
I realised we needed one more curtain, and a few blanks hemmed for next weeks party.
So,  I knocked on my neighbours door again with more material and asked for another favour.
And I got the same reply.
"No problem," and this time I borrowed that wall hanging to share it with you. (See above).

You should see them at night.
It's like, peaceful,
and calming.
Thank you Phylis and Joan, (I think you come as a wonderful set of three now) x.
You see, I designed and printed her birthday invitation, Phylis is turning a fabulous 90, (I'm sure she won't mind me saying so, because she looks years younger than that, and the girl can sew!)
As I left this time, she said,
"Now, we need a special chart, you got the first cross, and I got the second.
That's how we'll pay."
I love it, only I think I may get more crosses than her!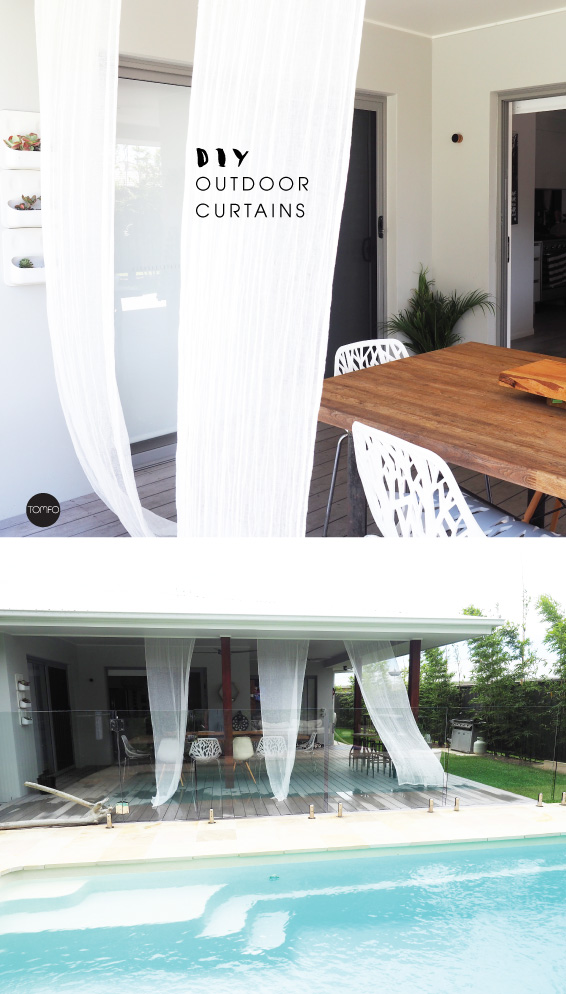 And we put up the last curtain and the story was complete.
How lucky are we to have such wonderful neighbours?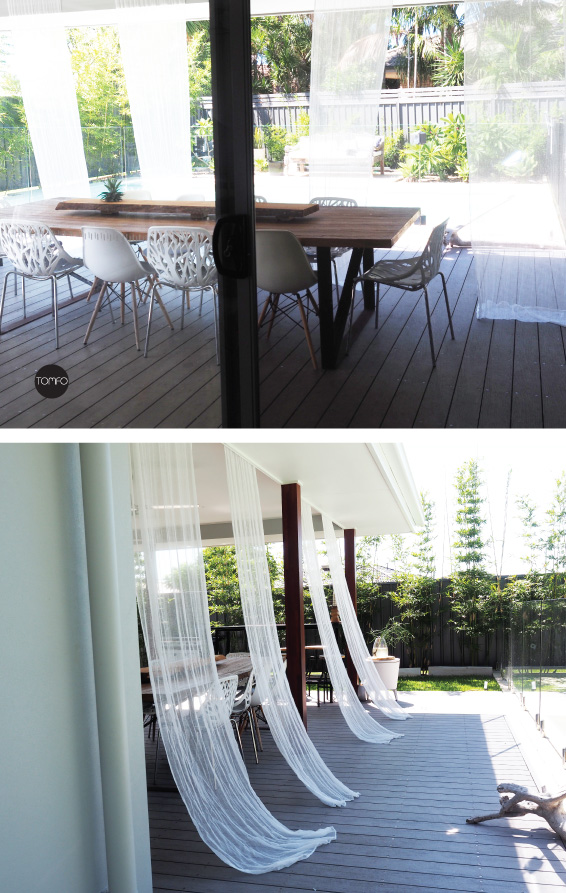 We've been getting ready for the ultimate DIY party because it's National Craft Month, so do drop by next week to see what we make.
Because Phylis helped me there too.
Are you lucky enough to have wonderful neighbours like me?
Can you sew?
Cut material straight?
Fancy a set of DIY outdoor curtains?
Now, I know you don't know her,
but I thought you might like to drop a Happy Birthday message to Phylis in the comments below,
I'd love to share it with her.
My little guy and I are dropping over for a game of Euchre on Sunday and I think we might even have a bubbly toast for 90 years to celebrate her birthday, it's in a couple of weeks!
Have a wonderful weekend guys, I hope you'll drop by next week.
Live with love,

Subscribe here for weekly DIY ideas
See the entire Yamba Scandi Collection here.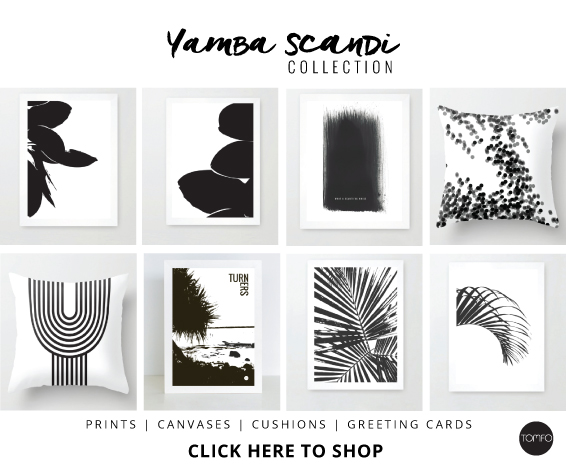 READ MORE POSTS
---