Two super easy DIY Halloween pumpkin ideas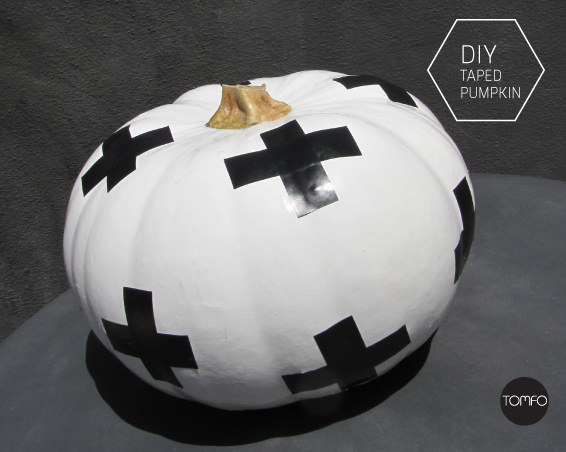 Halloween keeps growing bigger and bigger here in oz…
I'm a fan, as is the little guy, of course…
I thought I'd share a quick way to… get your halloween on this year, with some spray paint and washi tape,
and of course… some pumpkins.
See the tutorial on these 2 easy DIY halloween pumpkin ideas below… they're super easy… promise.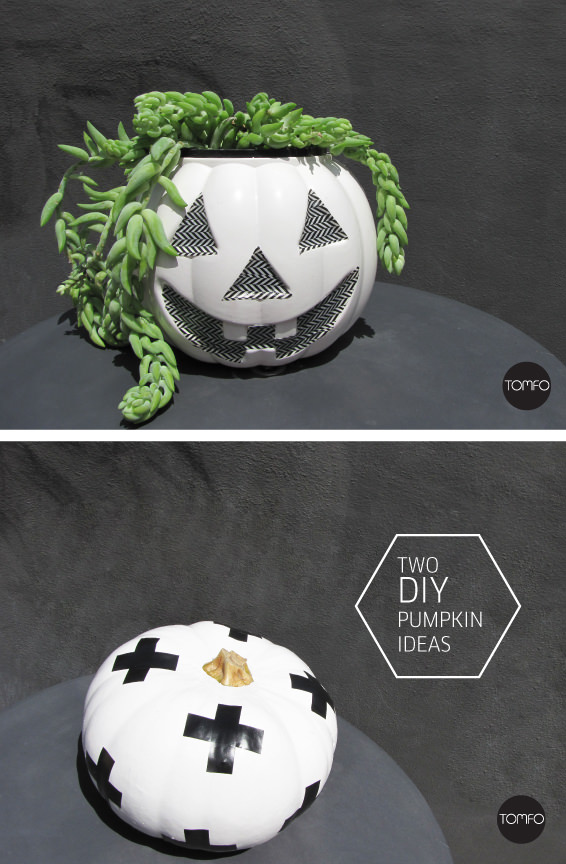 Taped Pumpkin with black crosses
1 pumpkin
White spray paint
Newspaper
Black tape (I used insulation tape, but washi tape would also be great)
Stanley knife
Cutting board
1. Clean your pumpkin. Then tape up the top with some insulation tape so it stays the natural colour.
2. Place some newspaper down. Then, in a well ventialted area, spray the pumkin all over with white paint. I sprayed a few coats and left in the sun till completely dry.
3. To make the crosses. I measured 6cm on my cutting mat and drew some faint marks to note the beginning and end.
Then placed strips of tape slightly longer than this and cut with a stanley knife and ruler to make 6cm strips with perfectly square ends.
4. On a table make up all the crosses, just softly placing in the centre of each piece. Ensure they are centred. I used 12 crosses for this pumpkin.
5. I softly placed the crosses on the pumpkin, 4 at the top, then 4 around the middle, then 4 at the bottom.
6. When I was happy with the placement, I stuck them all down.
And you're done… too easy.
I think this would be awesome in reverse too, ie: a black pumpkin with white taped crosses.

DIY Pumpkin Planter
Pumpkin loot holder from the dollar store
White Spray paint
Washi tape (I used Scotch Expressions washi tape)
Stanley knife
Cutting matt
Baking paper
Pen
Plant in pot (I used a succulent called Burro Tail in a black 6 inch pot)

How to make…
1. Remove the handle from the Pumpkin.
2. Tape up the eyes, nose and mouth with washi tape.
3. Spray paint lightly all over, I did 3 light coats and let dry thoroughly.
4. Once completely dry, remove the washi tape.
5. Use the baking paper to trace the eyes, nose and mouth and roughly cut out the shapes, ensuring they fit over the existing spaces.
6. Then, lay the washi tape on a cutting mat, and secure the templates with a few small pieces of tape. Cut with a stanley knife to the shape.
7. Then carefully remove the shape from the mat and stick to the pumpkin.
8. Do the same for eyes, nose etc.
9. Lastly, insert a potted plant in the top. A 6 inch pot fitted in my pumpkin perfectly leaving space below for water to drip into. It can easily be removed to water or plant after halloween.
I think some flowers would also look good and then use as a centrepiece.

Halloween falls on a Friday night in Oz this year, so I think we'll extend our evening celebrations and have a few adults over to help celebrate with us too.
These easy DIY Pumpkin ideas just got the party started…
Last year I decorated with orange tape on the windows for halloween and forgot how many legs spiders have… (silly mummy)
You can bet they will be 8 legged this year!
How do you decorate for halloween?
Live with Love,

PS: Thanks for your support of my 2015 family organiser calendar, I've had so many orders from UK and USA and Oz, truly gratefull for your support. xx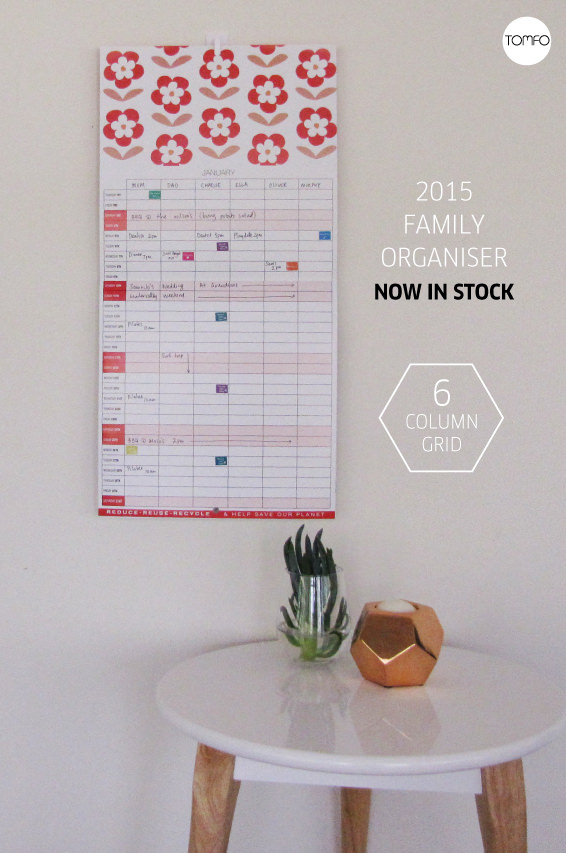 Linking up with Made to be a Momma, Life Love and Hiccups and With Some Grace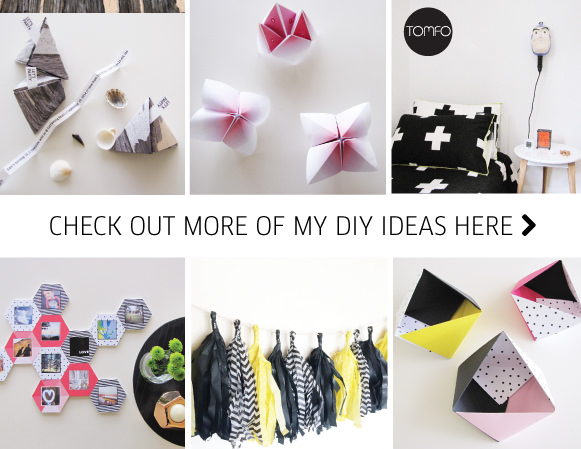 READ MORE POSTS
---