Super easy Spaghetti Boscaiola + stylish new menu planners in the shop
We've been meal planning at our house, such a fabulous way to save money and time every night. I've added 2 new stylish meal planner designs in the shop too. The guys are happier, and I'm feeling so organised, we've been trying some new recipes to boot. Check out this Spaghetti Boscaiola we've tried and loved.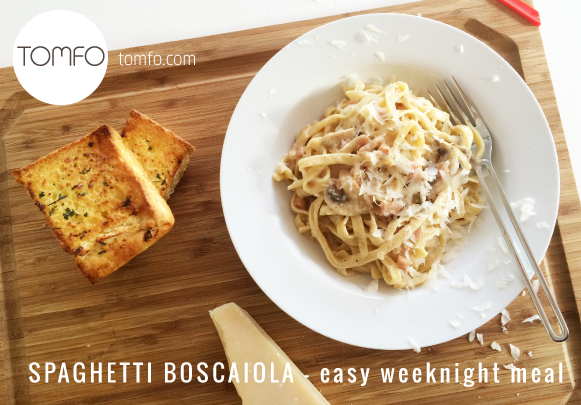 Spaghetti Boscaiola
Serves 4
375g dried spaghetti (I used fettucini)
1 tbs olive oil
1 brown onion, finely chopped
2 garlic cloves, crushed
4 middle bacon rashers, chopped (I used 6, love bacon)
6 button mushrooms
1/4 cup dry white wine
300ml cream
grated parmesan to serve
1. Cook pasta as per packet directions in a large saucepan of boiling, salted water. When cooked, drain in a colander.
2. Meanwhile, heat oil in a frypan over medium heat, add onion, garlic and bacon. Cook for 3-4 mins until onion has softened. Add mushrooms and cook till soft. Add wine, reduce by half, approx 2 mins. Add cream and reduce heat to low. Simmer for 5 mins until thickened.
3. Add pasta to the frypan, season with salt and pepper. Cook and toss until heated through. Serve with grated parmesan, garlic bread and a green salad.
Yumo, it was easy to make and got the tick of approval at our house, next time I might try a reduced fat cream for a healthier option. I found this recipe in the Taste Weeknights book, a new book that has awesome family friendly meals, you can pick one up at Coles, I'm a fan of the magazine too.
BTW: I've added a few new designs to my Meal Planners in the shop, you can check them out by clicking on the pics below.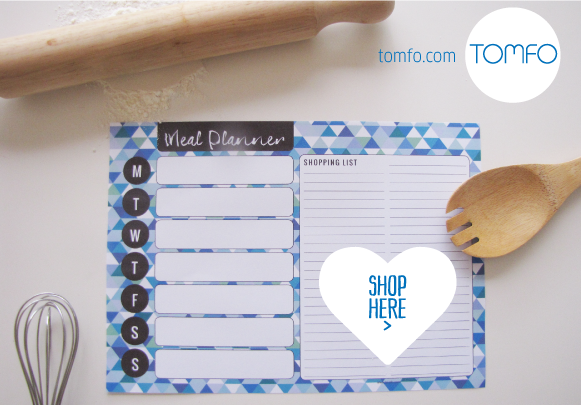 One of the new menu planners features the handwritten music of our little guys grandpa who is a super talented bass player, he played this song for a couples wedding. I love his beautiful handwriting, so I incorporated it into the planner, designing things with a special meaning behind them makes me happy and I think music and food go hand in hand. The song is called "I Fall in Love to Easily", it's so romantic and from such a magical era, we are truly blessed to have such fab grandparents in our lives.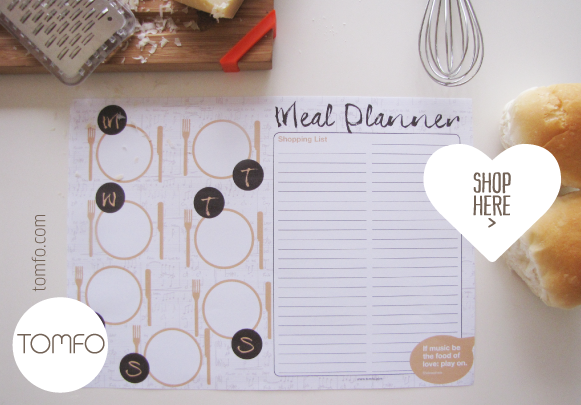 You can check out Chet Bakers version of the song here https://www.youtube.com/watch?v=3zrSoHgAAWo
I used to think meal planning was for people with too much time on their hands, but these babies actually SAVE you time and money, we don't get tempted to go to the shops to buy things we don't need, because we have all the ingredients in the cupboard when we meal plan, so apart from bread and milk and a few perishables, we keep away from impulse buying.
We swapped a few days around on our planner, (the guys liked being able to choose the recipes based on what they felt like each day, too easy). Even when I was busy and had to make dinner late, it was so much easier because I knew what I was making, we've tried a few other recipes that have made the list too, I'll share them soon.
My easy recipe section is a place where I keep a record of all the things we've tried and loved so it can become our online recipe book, one that I will leave behind for the little guy and who knows the big guy may even get inspired to make dinner from these in the not to distant future. Wouldn't that be amazing? Give the Boscaiola a try, it was a winner at our house, even the big guy could make it I reckon!
Do you use meal planners to help you save time and money?
Live with Love,


FOLLOW TOMFO ON…
FACEBOOK  |  PINTEREST  |  GOOGLE +  | TWITTER
READ MORE POSTS
---