My first Easter hat parade as a mum – (who has to help make one!)
Hello everyone, and thanks to Sarah Preston for having me guest blog on Tomfo. My friendship with Sarah goes way back in time, and when I think of her she always makes me smile.
My pen name is Grace Lee. I am relatively new to the motherhood thing. Not new to families though – I have one of the best, if not a little lopsided. Apart from my Dad's sister, my Mum's family are my only family. My Mum's side has a reunion every year – Aunties, Uncles, cousins, children – and it's a fabulous day. One of my cousin's is a pretty talented and experienced news photographer and if he can make it home from the US the photo he takes of all of us is spectacular.
Which brings me to me – I also had the most wonderful grandmother whom I was very close to (she started the 'Lee Family Picnic' idea once a year, and we keep it going). Her middle name is Grace and married name is Lee. My mother, her daughter, obviously had a maiden name of Lee, and her first name is Heather. My daughter's first middle name is Heather and second middle name is Grace. My own middle name is Lee. The two women who have made my life are now with my daughter. I love the fact that our ancestry can reinvent itself over – it means a lot to me.
My darling daughter is the apple of my eye. Sure she can drive me nuts, but I am glad she's inquisitive and pushes the boundaries a little. I was a 'late bloomer' like Sarah Preston in having a child. Little Miss was born when some of my other friends were waving goodbye to theirs from the nest. I had different ideas when I got married and was pretty sure I was going to coast through life being footloose and child-free.Funny how life deals you some weird cards, and how they form decisions you make – it's all about how you play what you're dealt. Live With Love.
So, I draw you into my blog with my first Easter Hat Parade. Little Miss is 5yrs old and began kindergarten this year – oversized hat, bag and uniform at the ready. I had read horror stories about the competition between which parent can do the best hat. I am not nearly as crafty as Sarah Preston, so I was bewitched and befuddled at the thought of making an Easter Hat. However, through the wonders of modern technology (the internet!) I saw a picture and showed Little Miss. She LOVED it.  I thought I would share with you my adventure at trying to make a hat without instructions.
You will need:
1 large piece of cardboard – any colour (I used purple)
Smaller piece of thicker cardboard
Scissors
Sticky tape
Textas
Craft glue
Cotton wool (or craft pom poms)
3 Pipe cleaners
Single sheets of all different coloured paper (including one sheet of pink and one sheet of white for the bunny)
A handful of shredded paper or coconut matting
Yellow craft pom poms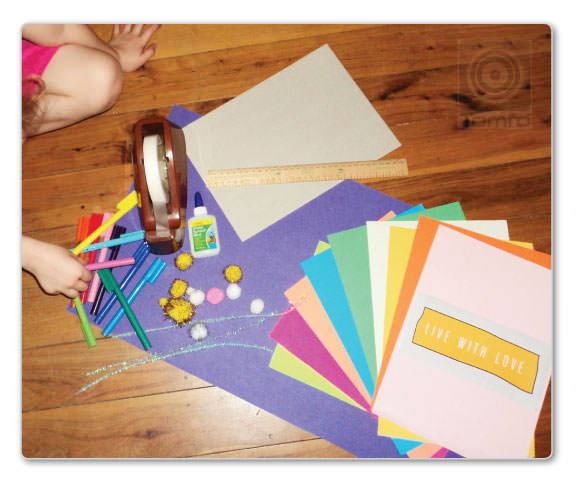 First, I made the rabbit's face to put on the front of the hat. This was a bit too tricky for Little Miss, so it was the only thing I did without her. I cut out a basic rabbit shape face and separate ears, stuck on the whiskers (pipe cleaners) cheeks (cotton wool) and nose (small pom pom) with craft glue, cut out some eyes in a kids activity book, and stuck on the ears and teeth (two small white paper squares). You'll see it at the end.
Colour code it however you like – boys can have blue rabbit and girls pink, etc.
I wrapped the cardboard around Little Miss's head to gauge the circumference of the hat and cut it. Then I laid it flat and cut the top off one side to use as a brim (needs to be a square that you can cut a circle out of that will fit the circumference of the head). I then wrapped the big piece into a cylinder and affixed it. Stand the cylinder on the brim square and draw around it, then allow about 3cm space for the brim.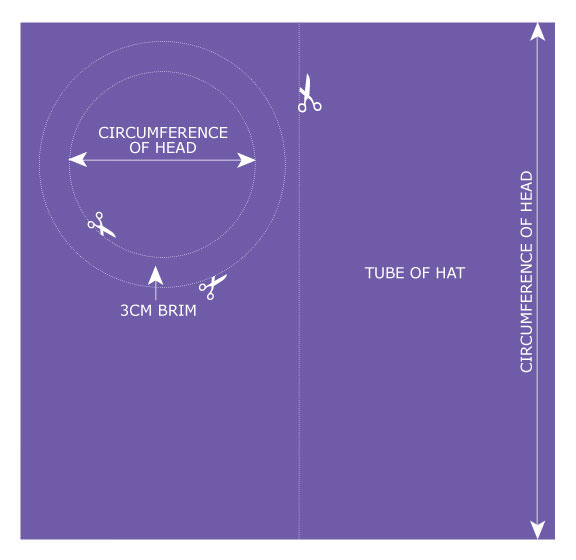 Cut the inside circle out and lay the cutout onto the thicker cardboard piece and trace. Tape the cutout to the cylinder. You should have something that should resemble the Mad Hatter's hat. Then cut out the thicker cardboard circle, place it inside the cylinder toward the top and stick it. This will be the base for the nest in the top.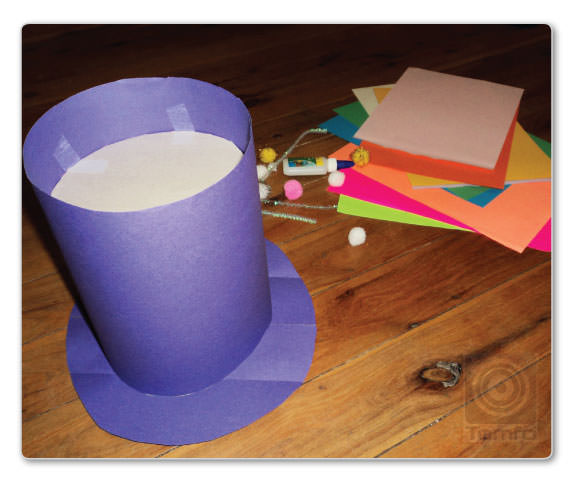 I then gave Little Miss some stiff templates of egg shapes. She used the single coloured sheets of paper to trace around the template and cut out all different colours and sizes. If you don't have coloured paper you can use magazine pages instead, or try some tin foil, or if you've already got into the chocolate eggs maybe try the used wrappers. Little Miss then chose texta colours to make the designs on the eggs. I gave her some ideas and she did the rest.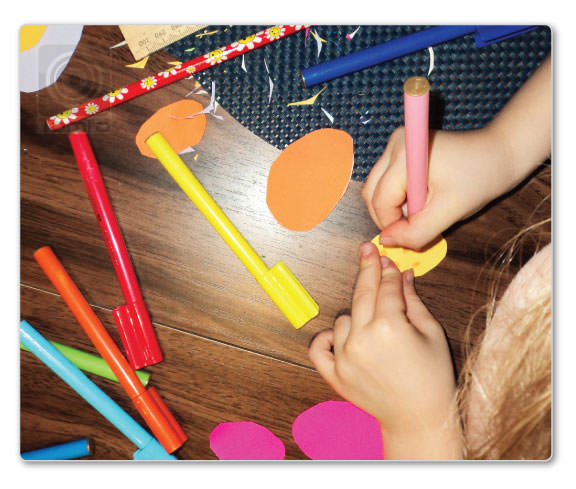 I gave Little Miss the glue stick and she stuck the eggs on wherever she liked.
She then stuffed the top with shredded paper, I dabbed some craft glue on the yellow pom poms and scattered them in the shredded paper to make it look like little chicks. I sprayed the nest with hair spray to keep in place and added a slight drizzle of craft glue to really secure.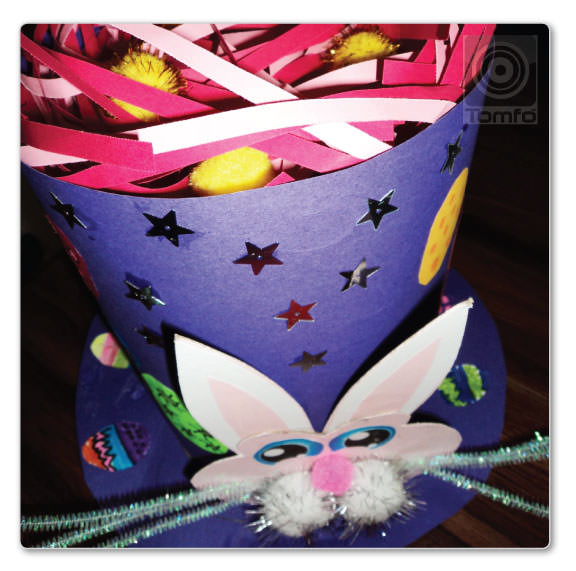 Here's the end result. Not bad for a newbie!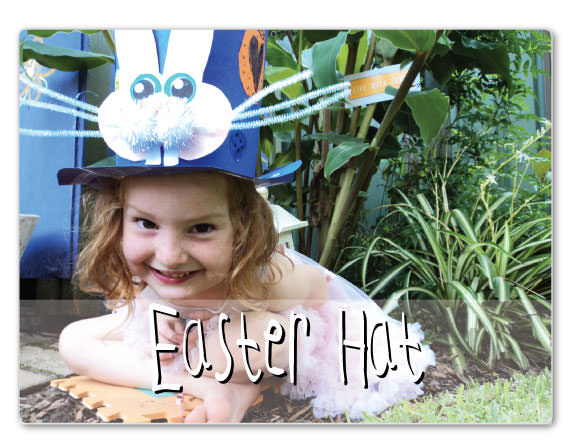 It's absolutely gorgeous…
And I love that you made it together… and let your Little Miss get creative too!
Thanks my fab friend, I am so chuffed that you wanted to write a blog because of my blog, that is the whole message and now we've captured a little bit of you in our spiderweb, thanks for sharing a piece of yours!
Your "Little Miss" looks beautiful and I dig her beautiful egg patterns.
Live with love

PS: I love that you used my mission in the background on the tree! Far to cute!!!
READ MORE POSTS
---