Dream Bigger + Abundance designer cushions by Tomfo
You may not know this but…
I don't mind a designer cushion or ten!
And I love creating stuff.
I've extended my word search greeting cards (we are printing some packs at the moment which will be available in the shop soon.)
…to include cushions and prints.
Here is my story of the "Abundance designer cushion"…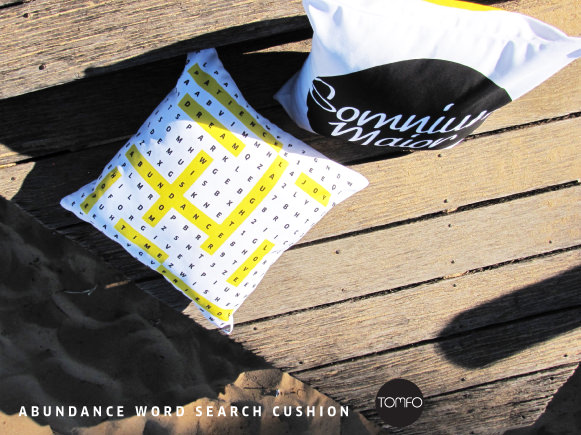 This cushion design came to me as I walked out a door.
There was a piece of paper with some handwritten numbers on it…
I asked my friend, (who happens to be a Bowen guru extraordinare )
What do these numbers mean?
She said,
"It's the code for abundance"
And then it began…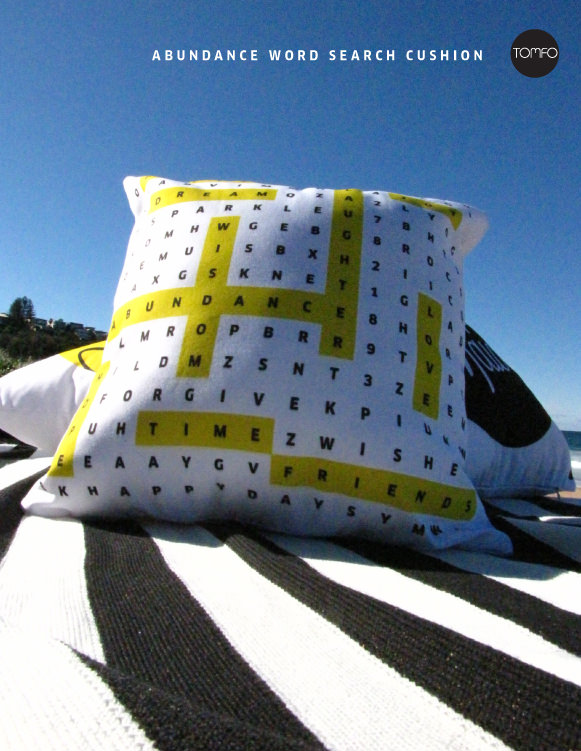 That night all I could think of was the code of abundance…
So I designed a cushion inspired by the code (the numbers are in the cushion too)
and a few of my favourite things that I'd like to have an abundance of,
like…
Love
Time
Friends
Hope
Wisdom
and Laughter,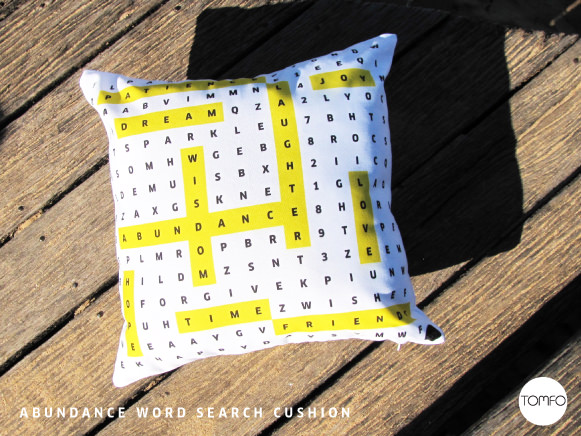 I highlighted some words and left some to find in the cushion too, (it is a word search cushion after all.)
I'm into Will.i.am at the moment (because he's on The Voice),
so you'll find and an abundance,
of Dope… (as in awesomeness)
of Carpe Diem
of Joy
of Patience
of Sparkle
There's a few more in there, you can also find my favourite one Tom  too.
As I took this photo,
a local surfer, happened to stroll out of the the beach and into my shot, (his last name's Carroll)
…so there are two Tom's in this shot.
I love how stuff like that happens…
An abundance of Tom's… neat!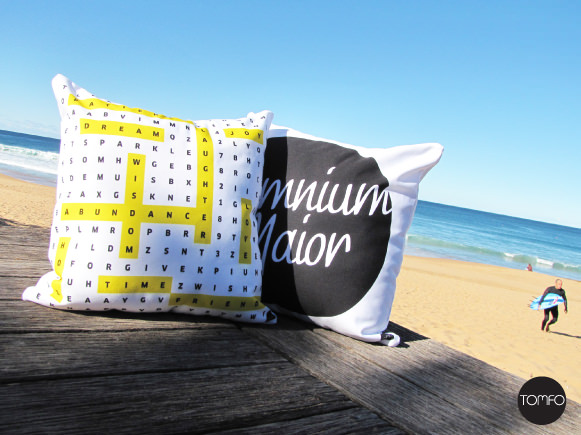 I fluffed around on the platform taking shots of my new cushion designs,
There were surfers watching the waves…
I didn't care if they were looking at me,
I didn't look at them.
Although, after a while, one guy caught my eye,
and he said…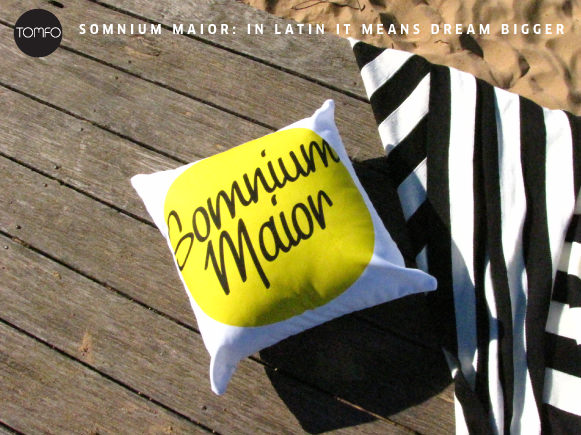 "Hey, what does that mean?" (pointing to the cushion)
I said,
"It means…
Dream bigger in latin."
"Oh…that's cool man!"
I smiled quietly on the inside, a young surfer dude, thought that was cool…
That's so Dope!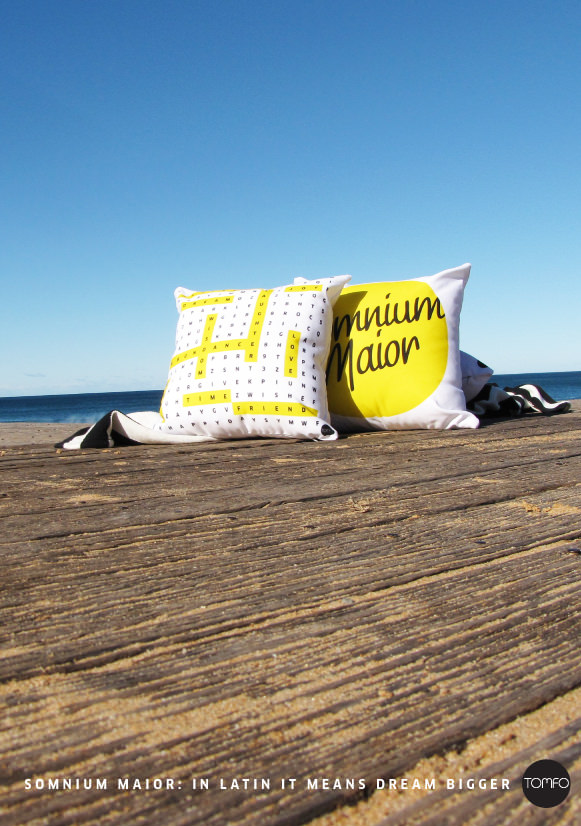 The Somnium Maior designer cushion story…
(I posted this on Facebook as a teaser a while back,) came from the saying "Carpe Diem."
A friend had these words at her front door when we were growing up,
and I always remember seeing them on my way out.
It was a nice way to start the day (even if it may have been tinged with slight "hangoverness" most times I left her house).
So this design is inspired by the latin language and another phrase I love…
Dream bigger…
I googled what is latin for dream bigger and got Somnium Maior.
That was that…
Dream Bigger in latin was born!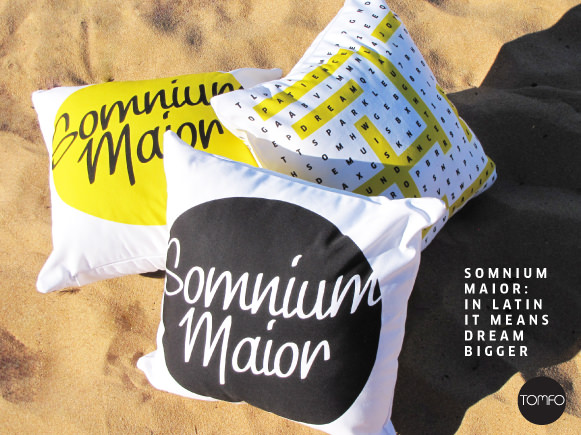 I love a design where people have to ask you what something means…
it gives you a reason to tell your story and why,
You can make it the long version…
or short version.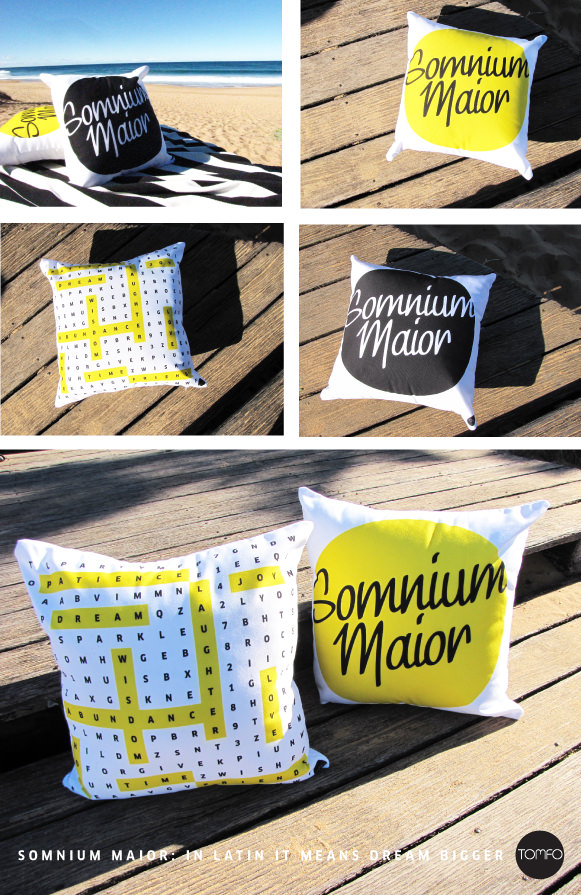 I think they'll look fab in our bedroom, I 'll keep you updated with a post on that soon.
If you love them, you can check out these new cushions in the shop here
They have been designed, printed and handmade in Australia. I'm thinking of doing some colour options, like soft blues and natural on white too.
Yesterday, I also sent one of my cushions to Kuwait.
Get out of town!…
One of my (1) Personalised Map Art Cushion Designs is now on a courier to Kuwait, for a party in Marbella, Spain.
It's going to be a special gift for a lady's friend,
(they're all meeting in Spain to celebrate her birthday)
What a fab gift idea! I can't wait to hear what she thinks of it.
…(2) Another lady got me to do up a print of the place her husband proposed to her in Cambridge as an anniversary gift.
…(3) And a  print celebrating the first ever meeting venue for a company, as it celebrated it's 10 year business anniversary in Massachusetts, has been created.
…(4) I designed a print for a lady who lives at the postcode 2101 and placed a dot where all her family houses had been from both her and her partner.
(that proves people on the peninsula don't move much!)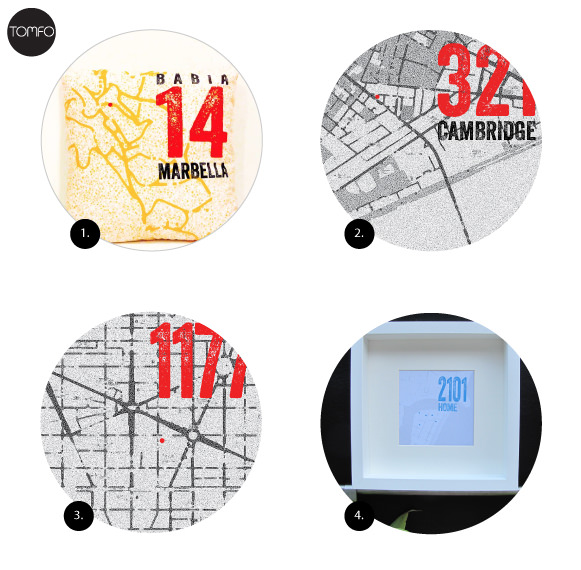 I love designing things for others.
And the stories that go with them.
I'm a black and white kind a girl, with a pop of colour, what's your favourite cushion colours?
Have a fab weekend guys,
Live with Love,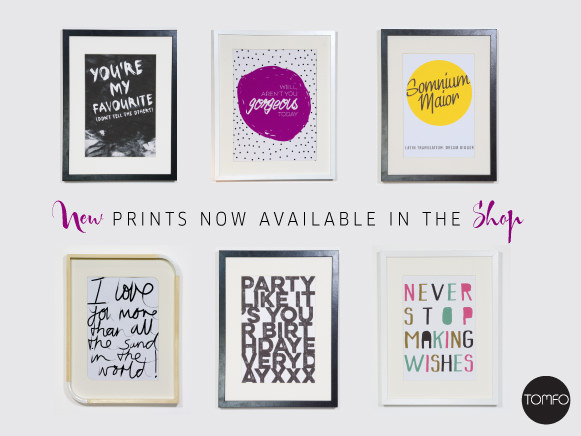 Care to stay in the loop? I'd love to have you!
Subscribe to my posts (so you can see what I make each week)… scroll to the right and enter your email in the Subscribe Box
OR leave a comment below
Like on Facebook | Follow on Pinterest | Follow on Google + | Follow on Twitter
Linking up with With Some Grace + Life Love and Hiccups + The Pin Junkie + Made to be a Momma
Tags: abundance cushions, designer cushiojns, designer cushions online, dream big cushions, dream big designs, dream big print, dream bigger prints, tomfo designs, word search cushions, word search print
READ MORE POSTS
---