DIY Scandi Style Mirror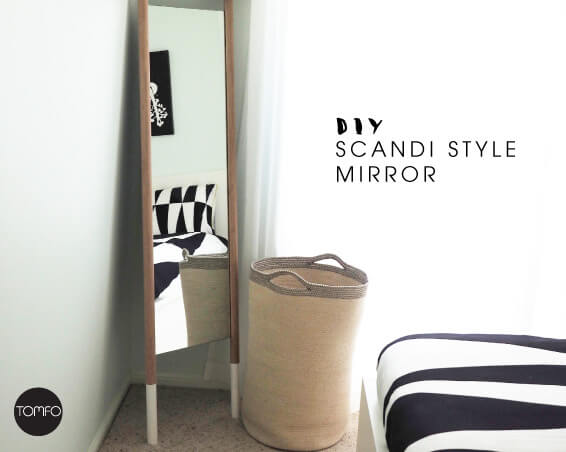 I get by with a little help…
from my handyman.
This DIY Scandi Style Mirror requires two 5mm grooves in each piece of dowel,
which, I definitely couldn't do perfectly.
Luckily,
I found Nigel, Yamba's Handyman.
We have no full length mirrors in our new house,
and rather than add mirrored doors on our wardrobes,
I thought we'd make one ourselves.
This gorgeous mirror caught my eye on Pinterest.
And we set about to making our own.
Here's how we did it.
DIY Scandi Style Mirror
You will need:
2 lengths of dowel, (I used 2 x Tasmanian Oak 35mm x 1.8m from Bunnings)
1 Mirror (I used Highgroove 1200 x 350 x 5mm flat edged glass mirror from Bunnings)
Liquid nails
A handyman, like Nigel, to cut 5mm grooves the length of the mirror
2 x old belts
Painters tape
White paint (or your colour choice)
Paint brush
How to make:
Step 1: Cut dowel to 2 even lengths (if not already done).
Step 2: Get someone super clever, like Nigel to cut 2 grooves in each piece, 5mm thick and the same length as the mirror. (We spaced ours with even lengths at each end.)
Step 3. Adjust once cut for a snug fit with a chisel if required.
Step 4. Add liquid nails to the grooves and slot in the mirror.
Step 5: Do the same to the other side.
Step 6. Use a few old belts to hold the mirror together for 2 hours while drying.
Step: 7 Using painters tape, mark off 4 even lengths and paint. I painted 2 coats on each leg.
Once we had the grooves cut, this took about 10 minutes to put together, and I painted the dowel in between watching tv. Too easy.
Thanks Nigel.
I love it…

Just imagine,
white floorboards…
white walls.
I think this will be the perfect spot for it.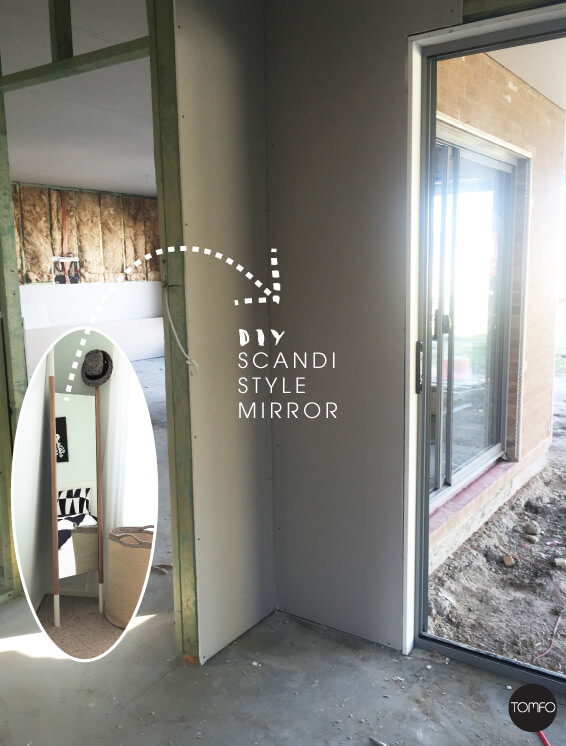 For now it's in our rental, waiting for two very special visitors to come for a visit.
We are counting down the sleeps, till they fill this bedroom.
Check out my Yamba Scandi Hibiscus Print inspired by them.

There you go…
our new Scandi Style Mirror, ready to go in our new home,
…with a little help from Nigel, our clever handyman.
As I was getting some money, out of the hole in the wall to pay our new handyman,
our brickie swung past on his bike, and said,
"Hi Nige, Hi Lise."
Dang, I love this town.
Feels, like we're part of the family, already.
When you read this,
I'll be on my way to Pro Blogger at Royal Pines Resort,
last time I was there, I had a solo art show, hosted by Hayley Lewis…
it was a cracker of a weekend with family and friends.
This time, I'm with one of my many great friends,
who knows, we may be in the same room, all those years ago.
I'm hoping to be inspired to create more pieces for my Yamba Scandi Collection, that you can make too if you wish.
Have a great weekend guys,
So what do you think?
Got a handyman who can help you get your groove on,
and make one of these DIY Scandi Style Mirrors?
Live with Love,

Linking up with With Some Grace, Life Love and Hiccups, The Ultimate Rabbit Hole.
PS: Our house news…
The plasterers have begun…
this will be our kitchen one day.
The long niches, will house wine, and I've added some strip lights and usb power points in the small ones, so no-one's phone should ever be recharging on the kitchen bench. lol!
And the render is coming along too.

Why not subscribe here so you don't miss a FREEBIE?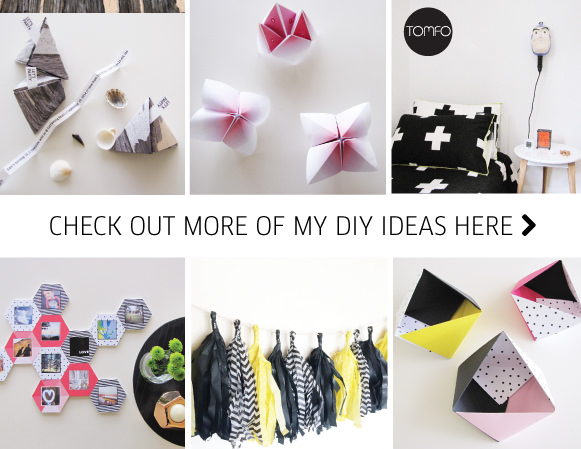 Tags: Scandinavian mirror, yamba scandi, Yamba Scandi Collection
READ MORE POSTS
---