20 awesome gifts for dad, that give back + DIY wrapping paper
Bought to you by Nuffnang and Good Spender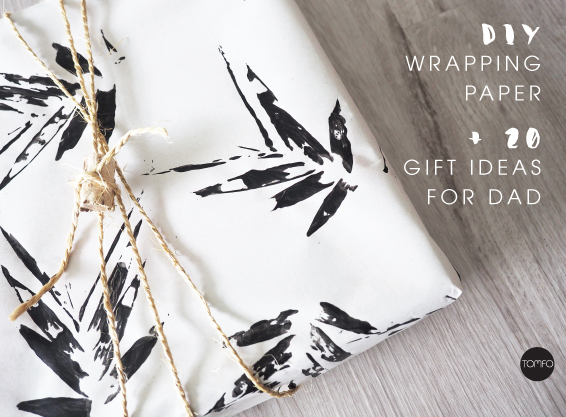 If I had one tip for myself…
it would be,
to get organised for Father's day,
earlier!
I've left it to the last minute again.
Incase you're like me;
I've found a great site with some awesome gift ideas for hard-to-buy-for dads.
So, if you're looking for a last minute gift idea,
(that gives back too)
and don't have time to head to the shopping centre with the kids,
check out these cool finds online at Good Spender.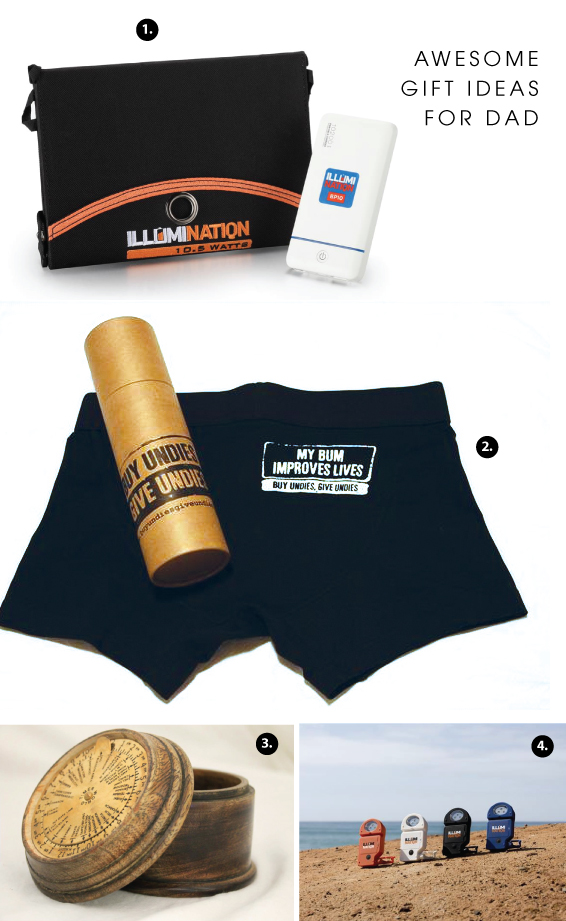 1. For the gadget mad dad, the Ultimate Power Pack, charges devices anywhere at lightning speed, perfect for the beach or camping. I think I'd even like one myself. $140 + free shipping.
HOW THEY GIVE BACK: For every product sold, Illumination will donate a solar energy light to communities living without power in a developing country. That's pretty darn neat!
2. These Men's Undies that Give Back as the logo says… my bum improves lives. $20
HOW THEY GIVE BACK: For every pair of undies bought a child in need will also get a pair. I love this idea!
3. Got a dad who's always dreaming of an international adventure? This World Time Box in Timber + Brass calculates the time difference in other countries, so Dads can dream about that trip away, plus it holds precious keepsakes too. $42
HOW THEY GIVE BACK: Ethically sourced from artisians from around the world, certified fair-trade art pieces.
4. Mandarin 2 Solar Light is a pocket-sized light that can last for up to 16 hours, perfect for the camping dad and fully chargeable in eight hours. It's available in black, blue, orange and white. Obviously, I'm a fan of the black and white. $30
HOW THEY GIVE BACK: See comment above.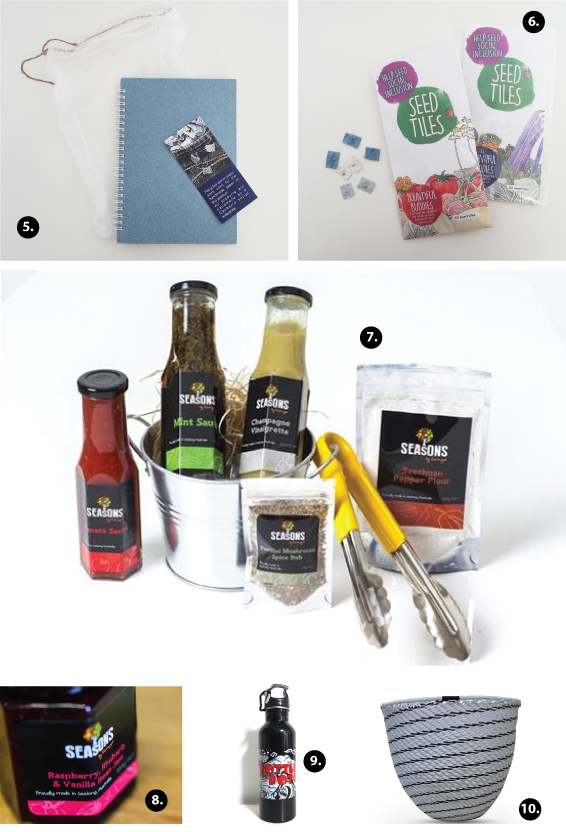 5. For the arty dad, this Enviro Denim Notebook is made from recycled denim jeans, with heavy 120gsm blank paper, which is perfect as a visual diary. They come in a food grade cotton muslin bag; personally, I'd be snavelling that bag from dad to keep my jewellery safe while travelling. $19
HOW THEY GIVE BACK: Made by Canberra residents who have limited employment opportunities; these are created by recycling denim jeans and locally harvested plant fibre to create handmade paper. This helps program participant's benefit from a range of skills development opportunities.
6. For the gardening dad, check out these Seed Tiles Hot and Cool Veggies, the perfect gift for a child to give dad so they can grow some veggies together. Made out of recycled denim and suitable for small spaces including carrots, mini pumpkin, cucumber and tomatoes, and each pack has a flash of colour with a marigold mix to boot. $15
HOW THEY GIVE BACK: See comment above.
7. For the BBQ dad, the BBQ Bucket is the perfect gift for the outdoor chef, or perhaps a gentle hint… Hampers contain: Champagne Vinaigrette, Tomato Sauce, Mint Sauce, Porcini Mushroom Spice Rub, and Szechuan Pepper. $32.50
HOW THEY GIVE BACK: These are made by Seasons of Karingal, a Geelong based not-for-profit group that offers supported employment for people living with a disability.
8. For the jam connoisseur, how about some Raspberry, Rhubarb and Vanilla Bean Jam? It won't break the bank, and perhaps it might even remind them of a dessert their mum used to make, you could pick up a few for this price. $6.50
HOW THEY GIVE BACK: See comment above.
9. For the water wise dad, Bottle for Botol, check out Anom's Design, of course, I love it because it's black, but the story is even better. Designed by an Indonesian high school student, with an illustration of a typical Balinese landscape, it comes with a hand written note, a symbol of friendship, thanking you for your contribution. BPA free. $20
HOW THEY GIVE BACK: One identical Botol is donated to a student in Indonesia. Money goes towards purchasing water dispensers for school canteens and a student takes part in an eight-week education program. That's pretty cool!
10. For the organised dad, Black and White Telephone Wire Bowl, this 15 x 13cm bowl is handcrafted using recycled telephone wire. It's the perfect size to keep chargers and a phone next to dad's bed organised. $30
HOW THEY GIVE BACK:  Ethical Gifts supports fair and sustainable trading practices for artisans in developing countries.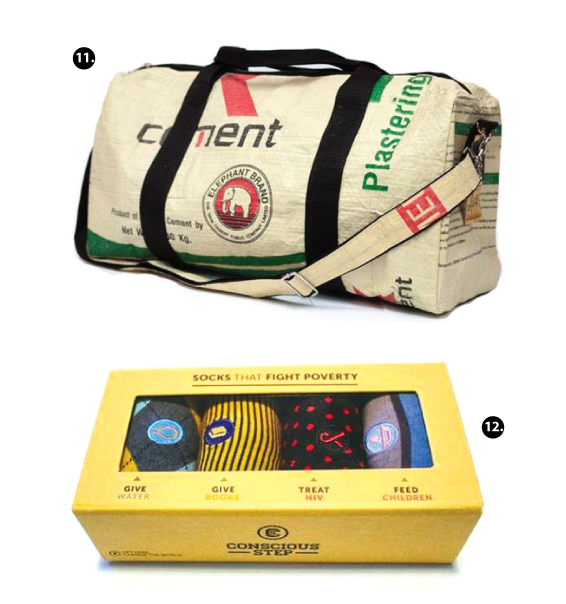 11. For the gym junkie, this Eco Friendly Gym Bag is made using recycled cement bags that are lined, with pockets and an adjustable strap. I think I need one myself and I don't even go to the gym. $25
HOW THEY GIVE BACK: Avenue Fair Trade sources products made by artisans with a disability from Australia and around the world, encouraging economic empowerment and vocational opportunities.
12. Give dad these cool socks and every step he takes will be helping others. By Conscious Step, each pair is made from GOTS organic cotton for unbelievable comfort, and manufactured in Fair Trade certified conditions.
HOW THEY GIVE BACK: This collection of cool socks provides 18 months of safe water with Water.org, 2 schoolbooks with Room to Read, 7 days of HIV therapy with UNAIDS, and 6 meals with Action Against Hunger, an embroidered impact emblem will remind dad how he's changing the world with every step.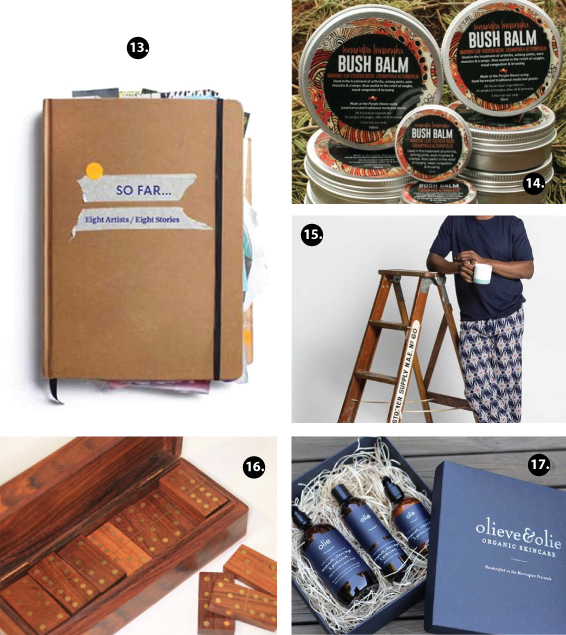 13. For the story lover. So Far… Eight Artists/Eight Stories the book celebrates eight artists and their work, who all have an intellectual disability. $40
HOW THEY GIVE BACK: Arts Project Australia celebrates and supports artists with a disability and promotes their work and inclusion in the art world.
14. This Irmangka Irmangka Bush Balm is used for arthritis, aching joints, sore muscles and cramps and is also useful in the relief of coughs, nasal congestion and bruising. It's perfect for dad's to keep handy during flu season and to help with aches and pains. Made with Australian ingredients Irmangka, Olive & Beeswax. $30 for 50mL
HOW THEY GIVE BACK: This social enterprise, The Purple House, promotes traditional cultural ecological knowledge from the Indigenous community members of the Central Australian region.
15. For the sleep-in Dad, Ethical Living's Reuben Long Pants made from 100% certified woven organic cotton and screen printed by hand. Size S- XXXL $70
HOW THEY GIVE BACK: Let's face it, we're not all activists, however when faced with an informed decision between products made in sweat shops OR people being paid fairly and given a chance at a better life… What would you choose?
16. Is it a work of art or a game? I think it's both. Dads will love this game, the Timber Brass and Dominoe Set not only looks good, but it's also a great game to play with the grandkids. $46
HOW THEY GIVE BACK: Wanderlust People, brings that big, wide world out there into your everyday life with awesome, authentic, ethically-sourced treasures and the stories of the people, places and traditions that have crafted them.
17. Why shouldn't dad be pampered too? Olieve & Olie Gift Pack for Men, this organic skincare set includes Shaving Gel, Hand and Body Wash and Skin Cream. $75
HOW THEY GIVE BACK: The core ingredient is olive oil; every step is completed by hand. Olieve and Olie products are pure and natural and completely free from chemicals, including preservatives.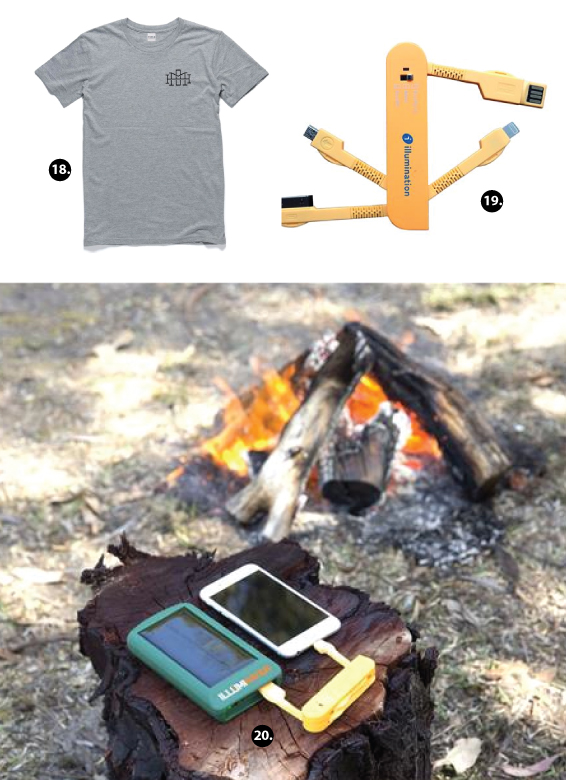 18. Every dad can get a little trendy with this HoMie Pocket Print T Shirt, and help out the homeless at the same time. I think the design is pretty neat! Size S-XL $40
HOW THEY GIVE BACK: – HoMie is a proud initiative of Australian charity, Homeless of Melbourne Inc. By purchasing from HoMie, you are providing brand-new clothing, training and job opportunities to people experiencing homelessness.
19. For the Swiss design lovers, this Banana Multi Adaptor is too-cool-for-school to leave off this list, it puts all your connectors in one place, just like a Swiss army knife, so you'll never bring the wrong adaptor again. It's currently out of stock, but you should get on the wait list for this one, it would make a great Christmas Stocking Stuffer. $10
HOW THEY GIVE BACK: Illumination supports international aid and disaster relief work. Their Buy One Give One Program, or what they call BOGO, ensures customers in the developing world can help support international aid work.
20. For the outdoor dad, the L3 Solar Charger will charge your smart phone, iPod, Go Pro, Camera or sports watch, simply leave in the sun to charge or plug into a wall with the USB cord supplied. It's even got a torch, perfect for outdoor dad's or being prepared for those pesky blackouts. $35
HOW THEY GIVE BACK: With every solar product they sell Illumination will donate one Mandarin 2 solar light to a person living in a developing country who lives without power. Did you know, since inception, Illumination has provided over 500,000 solar products to over 40 countries in aid and disaster relief?
What about a neat wrapping paper idea that says, you really thought about his gift too?
I've got you covered.
You can make this while your gift is in the mail.
With the kids even!

DIY Bamboo Wrapping Paper
You will need:
White Butchers Paper
Bamboo Leaf (or any leaf you have in the garden)
Black Paint
Water
Paint Brush
Flat Tray
How to make bamboo leaf wrapping paper:
Mix up black paint with a small amount of water, so it is runny in consistency, but not watery.
Place the leaf into the paint, use your finger to tap down to ensure the leaf has paint on it.
Then carefully place the leaf onto your paper. Repeat this step until you have covered all your paper in a pattern.
Let dry, then wrap away.
How cool are these gift ideas for dad?
I love it when your shopping makes a difference to other people's lives.
Why not pin this for later, it will be Christmas before you know it?

When you shop at Good Spender you're buying directly from each social enterprise. Sellers will promptly ship your purchase. However products can take longer during busy periods. As we are fast approaching Father's Day please be mindful of this.
Always have trouble finding a gift for dad?
Do you always leave your shopping to the last minute like me?
Do you shop ethically? Ever heard of Good Spender?
Happy weekend guys,
Live with Love,

Why not subscribe here so you don't miss a FREEBIE or new shop pieces?
PS: Why not check out some of my DIY Christmas prints for your home this Christmas?


Linking up with HIT, With Some Grace and The Ultimate Rabbit Hole.
READ MORE POSTS
---