Who is Sarah Preston?
The latest big news
A lot has happened since I started this blog  in 2013.
We've sold our house in the big smoke (Sydney) and made a sea change to a small coastal town called Yamba,
and we've built our dream home on a budget in 5 months.
I've created the Yamba Scandi Collection, it's inspired by the patterns and shapes I see in our new environment with a splash of black and white Scandinavian design. You can view my new collection here.
And we've become a retailer on The Block Shop!  Super exciting stuff if you're a fan like me.
You'll see more home DIY ideas as we layer our new home.
There'll be easy DIY ideas, inspiration, and free printables as usual.
It's been a long (and not always easy) journey, but I think we've found our dream destination.
I'm doing what I love, who would have thought that could happen to me?
Come, join us and see what we create from one crazy dream.
Maybe we might even inspire you to follow your dreams too. x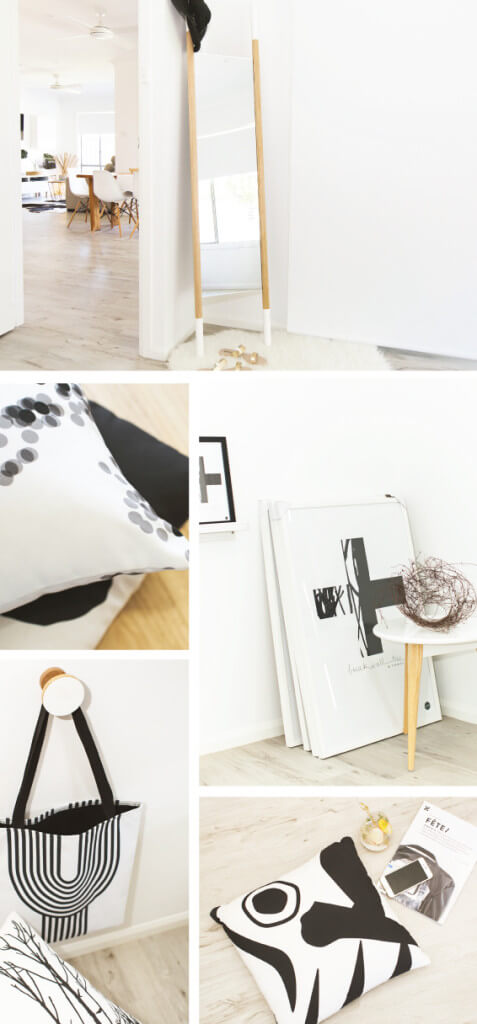 About me
Why do I write as Sarah Preston? Apart from the fact that I always wanted a pen name, it's a tribute to the heritage of my family and one awesome guy named Tom. My grandma was June Preston and nanna was Doreen (aka Sarah) Collins I took a bit from both of them as they were the women that started it all, I always knew that family is the most important thing in the world, even more so when I became a mum… My real name is Lisa Wright (nee Collins), I come from a family of four kids (one brother and 2 sisters), my mum and dad came from big families in the country.
I'm married to a wonderful guy who has an amazing passion for surfing, is the best dad and husband and we have a beautiful little boy and one pretty special dog named Murph. I'm a graphic designer and love creating things and spending time with my family and friends, I've been publishing the Family Organiser since 2001. Click here to purchase my 2020 family calendar printable.
My dad was thirteen of fifteen and my mum was one of six. So back in the day when we were kids, trips to the country for christmas were pretty big. Soooo many kids, aunties and uncles, we had to hire a bus or put tents in the backyard to fit everyone in. I loved it as a kid, and now we do that at my mum and dad's place every christmas. Seventeen people in one house (plus friends and neighbours), the lilos come out and we all find a place on the floor. It really is a magic time – my guy is lucky cause he has two sets of grandparents now!
My extended family of aunties and uncles, cousins and nieces and nephews stems from those two families in the country (and now my husbands side too) I am so grateful to have such a magic family. We lost one of our beautiful guys last year, he was my cousin Tom, such a funny guy, always had a great one liner, never complained, was the butt of many jokes, enjoyed banter over a footy game and many a gathering with his amazing family. He was one in a million. I am in awe of how he lived with love.
I like to think our family is like a spider web, it extends and grows with fabulous family and wonderful friends from both my husband and I and our families before us, its so delicate and beautiful all at once. Did you know spider silk, in general, is widely regarded as the strongest natural fabric known, at least half as strong as a steel thread of the same thickness, and much more elastic? I'd like to think we are all entangled in that precious web. Hey my little guy loves spiderman so he'd be happy with that!
I'm not saying my life isn't crazy and unorganised sometimes, just the other day as I was in my car at the lights, worrying about dinner on the way to pick up my little guy and thinking of all the things I had to do for work, I thought to myself… remember…live with love!
I think that's a magic gift from Tom and every time I think OMG my life is too busy or too hard I hear "live with love".
That's food for your soul I reckon.
All of us have special people in our lives that really make a lasting impression on our lives, if someone out there, starting with me, stops for a minute and chooses to live with love because of what I write, I think Tom would think that's pretty cool.
So make your own spider web or become part of ours, come and live with love too, everyday is for enjoying and laughing and spending time with family and friends.
Live with love,

Looking for my 2020 family organiser printable? Click the image below to purchase your pdf to print yourself.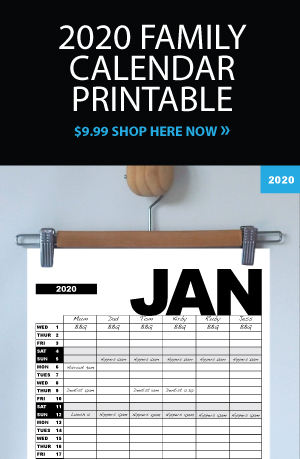 READ MORE POSTS
---