Our Yamba Scandi Home Tour
Hello and welcome to our home tour.
It's still a work in progress.
If you've been following my blog, (thank you x)
you'll know we started building our dream home in June 2015.
They say it takes 10 years to fully complete your home when you build,
so rather than waiting that long,
I thought you'd like to take a peek inside and see where we are at.
We built with the guys from GJ Gardners Grafton.
I can't give them enough praise and their fabulous team.
It was a dream experience, using awesome local trades.
(It's bbq time soon guys, just shows you how much we love them, we miss not seeing them everyday)
This is the Edgewater 186 which we modified to be 226sqm, and shows you can make your own stamp on an existing plan.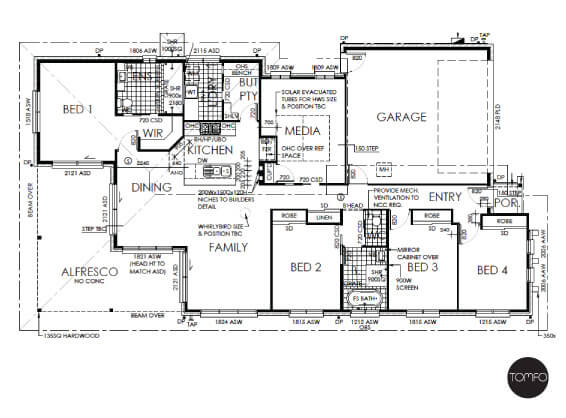 It's filled with my Yamba Scandi Collection and the DIY projects I've been making here on this blog.
There will be plenty more to come.
Last week…
one of our very talented,
local photographers,
Vicki James,
came to take some photos of our home.
I found out we have a lot in common,
we are both minimalists.
And, I love her work and creativity.
(Thanks Vicki x)
You can see more of her work here.
Welcome to our home.
This is the front of our house.
We still have no letterbox, that's one of our next jobs.
(I promise Mr postman)
Our hallway is inspired by one of the first posts I wrote in Yamba.
The first room is my office,
but it also doubles as a spare bedroom, that cupboard is a snazzy wall bed.
You might notice we've swapped the pendant light over from my DIY office desk post, and added a few hooks.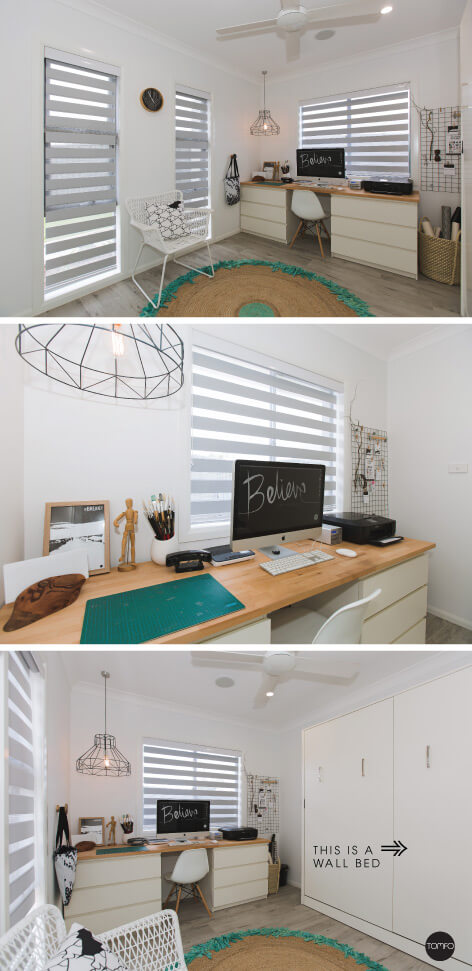 Then, off the hallway is a guest bedroom, it features my Hibiscus Print and wi-fi password  plus these super easy DIY concrete stools you can make yourself too.
Did I mention this bed also lifts up, with storage underneath?
I'm mad on storage, nearly as much as I am on hooks.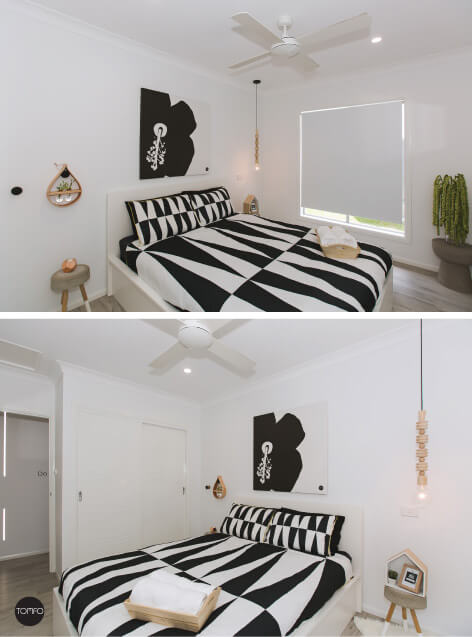 Then there's the bathroom,
you can't see the speaker in this shot,
but there is music piped in here,
it's a great way to start the day with a bit of music (and bad singing).
I love to put it on when friends come to stay too.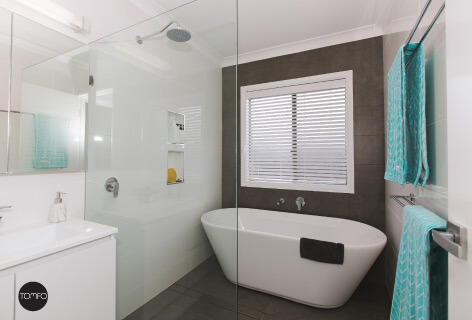 Then there's another bedroom, this is the little guys,
we are going to redo our world map wallpaper on the blank wall and add a few more shelves and styling,
it's still a work in progress.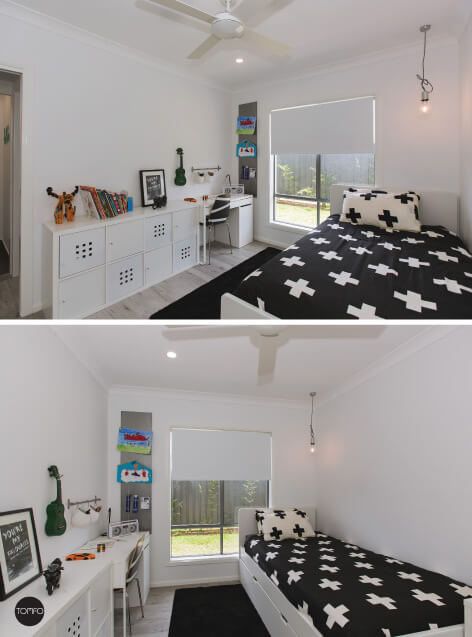 If you look right, you'll find the garage,
which also doubles as a studio and storage,
(and even a camp out, we had 6 kids sleeping here over Christmas).
You might notice my easy DIY Pallet Shoe Rack now has a home right at the door,
so you can take your shoes off as you enter the house from the garage.
There's a few more projects to do here,
(I have big plans for that fridge and a bit more painting and organising)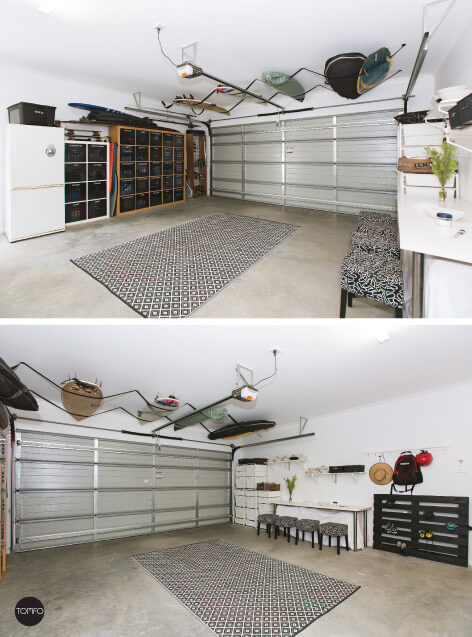 Then there's a media room that has a few of my Y Prints
and the DIY Terrarium and DIY Ruler Height Chart that you can make yourself too.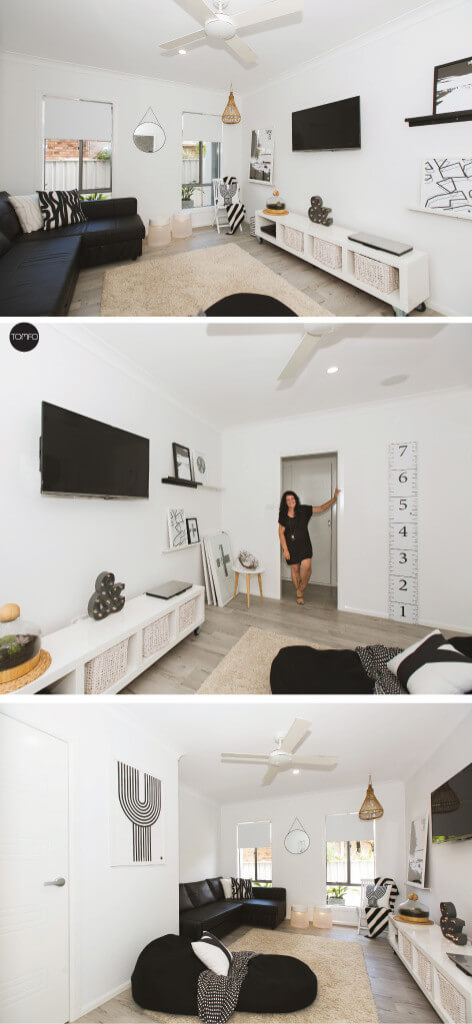 Here's the open plan lounge/dining featuring the Pelican and Hibiscus print cushions and my latest printable What would you do if you knew you couldn't fail?
Imagine when that bamboo grows,
you'll just see a wall of green out the windows.
We've been watering a lot!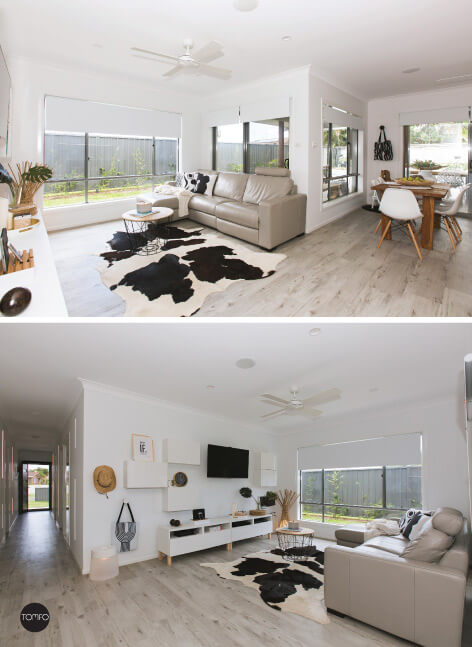 Here's the kitchen with butlers pantry,
I love the Sugar Cane Print and our wine neiches made by one of our local shipwrights,
he's more than a shipwright though, he makes beautiful furniture too, thanks Mark.


We've got a new grid board to house our family organiser and keep track of important parties and shopping lists.
Off to the side is the laundry, it features the Always Wash the Whites Separately Laundry quote
storage for recycling paper and bottles,
and personalised dog food containers that are in easy reach.
I think this room is the only finished one,
but you never know.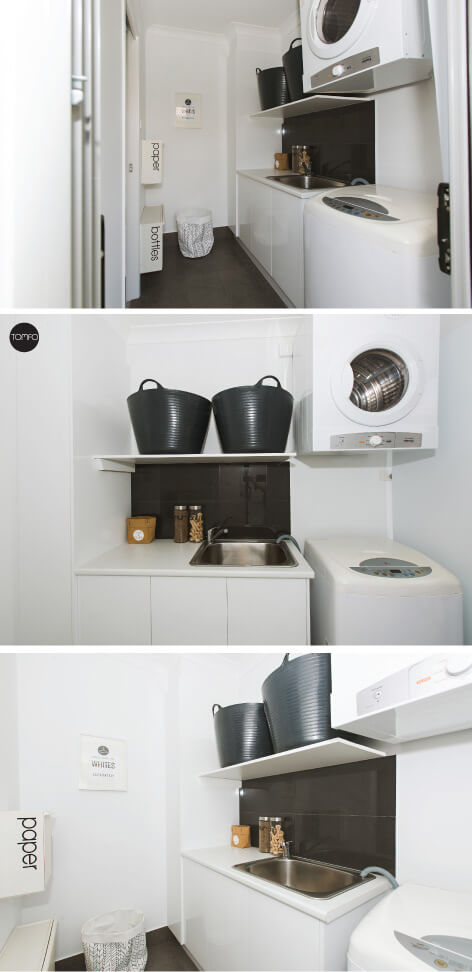 At the end of the house is the master bedroom with WIR and ensuite,
I'm working on a new piece for this to go on the black wall,
something that will match the pillow, Where The Crabs Live.
(stay tuned),
and perhaps a few more hooks,
I don't think you can ever have too many of these.

Our ensuite has a double shower, and music too.
And hooks…
One day those Rhapis palms will be taller and you'll see a band of green through that window,
we made the window clear so we can dream we are in Bali everyday. lol!
There's still much more to do,
layering and creating and adding more pieces,
this is where we call home
and the people who have helped us and inspired us along the way are on the walls and in the furniture.
That's what makes a home I reckon.
All the memories you put in it.
Priceless.
A big thank you to everyone. x
I thought you might like to see a quick flipagram of our progress over the last 7 months.
Thanks for following along guys,
I've truly loved hearing all your comments and well wishes along the way, it's like I've had a whole new interweb family.
You guys rock. x
Have a great weekend guys.
Live with Love,

PS: I'm sharing my favourite space with the lovely Nicole over at The Builders Wife next week, so drop by and take a peek. What space do you think it will be?
I'm linking up with HIT, With Some Grace, The Weekend Rewind and the Ultimate Rabbit Hole
READ MORE POSTS
---