DIY wire mesh memo board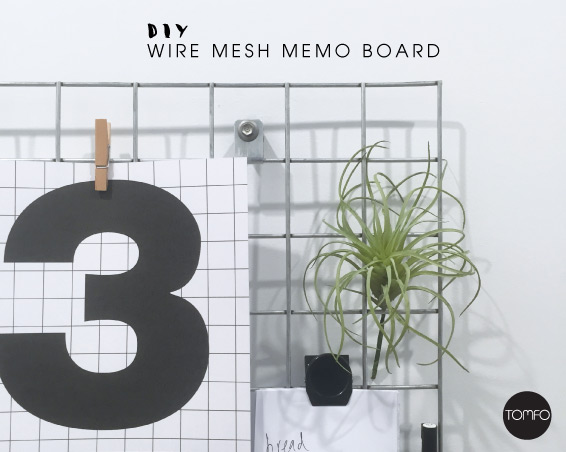 I've always fancied one of these wire mesh memo boards.
Now I've got two.
I thought you might like to know how we did it
with some mini mesh panelling I found at the hardware store
and some leftover screws and spacers we had.
So you can make one,
… or two,
yourself.
DIY Wire Mesh Memo Board
1 x Mini Mesh Panel (600 x 900mm)
4 x Black Nylon Round Spacers (we used some from our Ikea spare parts box)
But you could try these Screw On Bumper Pack
4 x Screws
(We used these)
Drill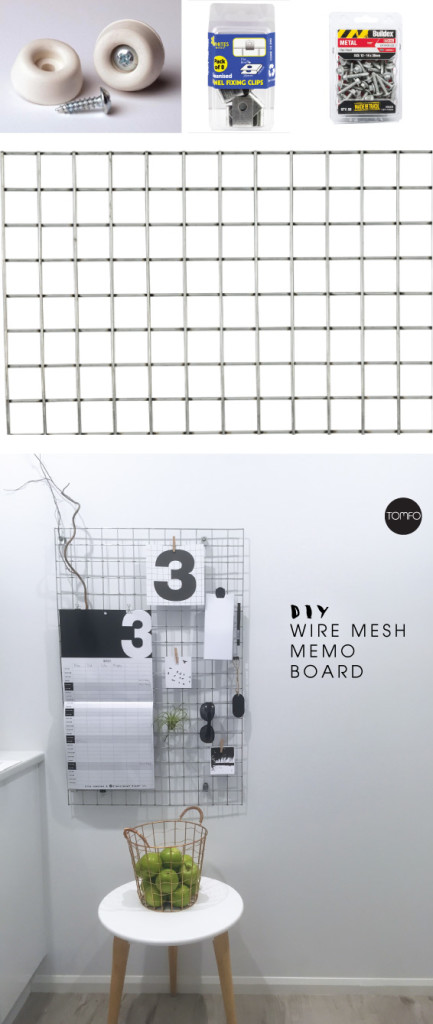 Position the mini mesh panel in your desired position.
(we found the studs, for extra strength).
Mark the screw holes with a pencil.
Then attach to the wall.
Slide a mesh fastener onto the panel,
using a spacer at the back, to make the panel sit off the wall,
(we had a few round spacers from our leftover Ikea parts, but you could also try the bumper screws above)
then fix the fasteners to the wall with screws.
(we had some spares in our tool kit, use the screws that are correct for your wall surface)
Repeat for the other 3 sides.
Voila,
New wire mesh memo board!
I love this.
So we made two.
I might even paint it one day.

It's great for organising.
We use this to hang our calendar.
Sunnies.
Shopping lists.
Party invites.
Even stray willow.
And,
Yamba Scandi Collection ideas.
I think it looks like a piece of art on the wall.
But the best bit…
The fridge is now clutter free.
Don't have a handy partner?
Too busy?
But really want one of these wire memo boards,
nab yourself a handyman and put one (or two) of these up with some hooks like I did.
Did I mention Tomfo is 3?
Yesterday actually.
We went live for the first time three years ago.
Thanks for hanging out with me for that long.
You guys rock! x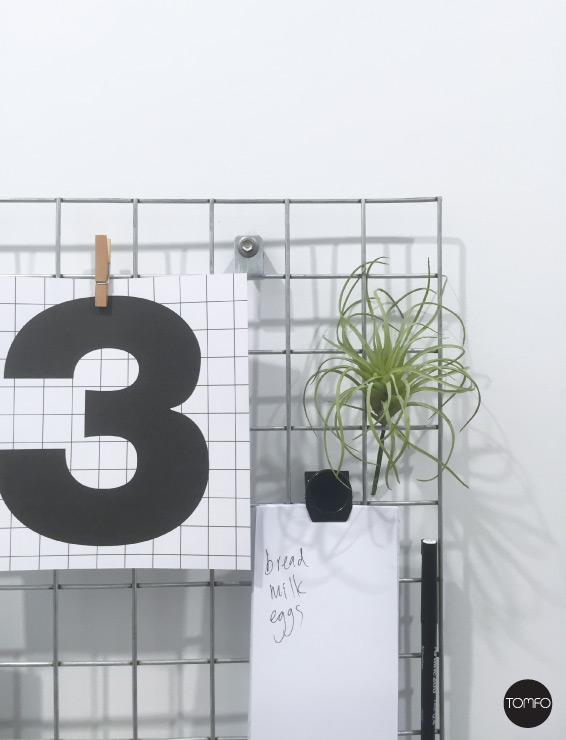 And,
This time last year we had just arrived in Yamba,
On March 2.
What a difference a year makes.
Or three.
I found my passion for Scandi – Yamba Style,
and I love sharing it with you.
Thanks for coming on the ride with us guys x
There's big plans for a new shop here, (click here to view The Yamba Scandi Collection)
So…
why not sign up below so you don't miss the launch, coming soon.
(I've been designing some new pieces and revamping some old ones)
Fancy giving this wire memo board a try?
Are you celebrating like me this weekend?
Have a great weekend guys.
Live with Love,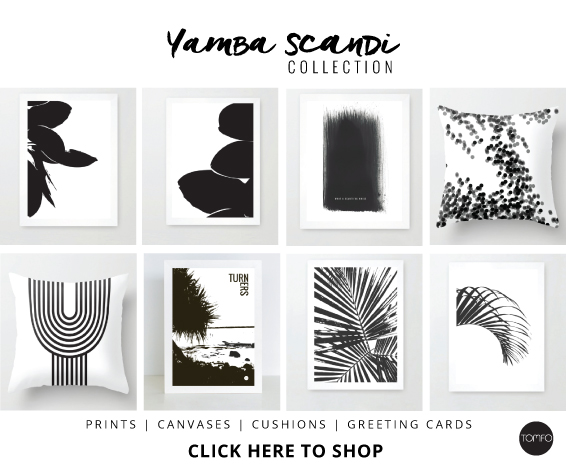 Why not subscribe here so you don't miss a FREEBIE or the new shop launch?
I'm linking up with #HIT, With Some Grace and The Ultimate Rabbit hole
READ MORE POSTS
---