7 Easy Luxury Bathroom Decor Ideas
Bought to you by Emporia and Nuffnang
Someone once said…Luxury is a state of mind.
I've been doing a bit of that lately.
We took a holiday, and we've been home to see the folks.
It was wonderful. Luxurious even. And while I was reminiscing I found some gems that never made their way to you.
Like this one…
The world is your oyster!
I thought it deserved a spot in our bathroom. So it can be appreciated and enjoyed, a little bit of luxury we can see everyday. Ever thought of putting up prints in your bathroom?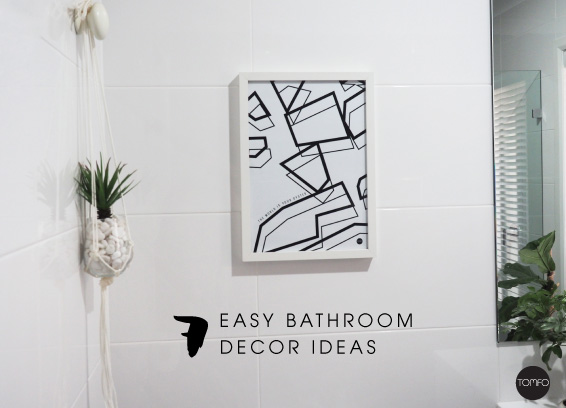 Here's 7 ways that we've added some affordable luxury to our bathroom with these easy decor ideas.
Did I mention they'll make you feel good too?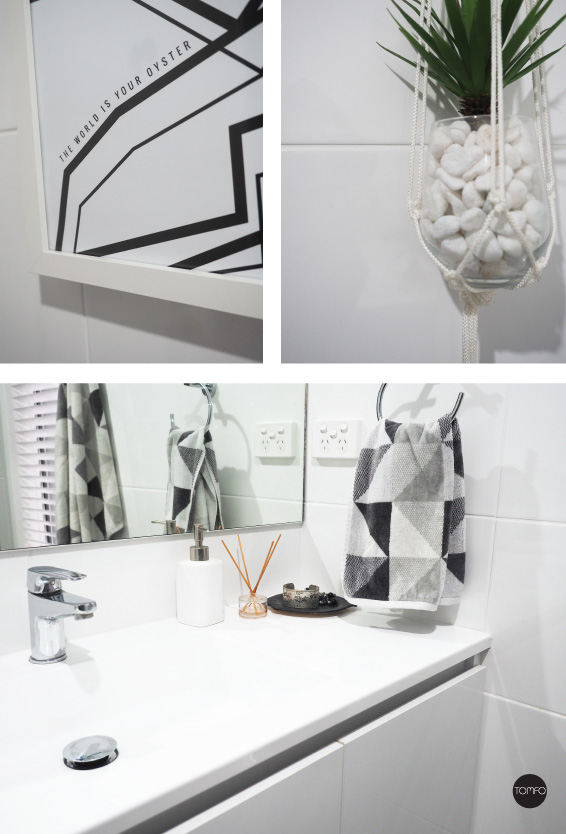 There's even research to back it up.
According to the latest research by Emporia, luxury toilet tissue paper brand, a significant proportion of Australian women are investing in affordable luxuries for a daily mood boost and as a means to increase their overall level of psychological well being. 79% of women say buying an affordable luxury item makes them feel happy and 18% even say they feel empowered! However, despite this finding, the majority of women (51%) rarely or never make an affordable luxury purchase.
It's pretty simple to add some affordable luxury to your bathroom. Here's a few easy ideas, some you can even make yourself.

1. Make a Plant Hanger with venetian cord and a wine glass
Whip up this DIY plant hanger, ours has an artificial plant in it, so it's one less thing to water, you can make it here.
2. Hang some Art on the Walls
I think the bathroom is such a beautiful space, it's where you start your day… every day. So it should be pretty awesome right? Show it some love, with some affordable art.
A couple of tips, humidity is arts enemy, turn fans on when using the bathroom and try to use artwork that's affordable and can be easily replaced if needed. If you're worried about using glass in the bathroom, use perspex instead of glass. We used a glass and tile drill bit, that's the trick with drilling into tiles, using the right drill bit.
3. Add some Green or Blooms
We've had the pleasure of these guys for the last 18mths at our place, Life on the Rocks is super easy to look after, all it needs is a splash of water to keep the rocks wet and there's a Fiddle Leaf Fig, but it definitely needs more attention, you could also use flowers to add that luxury feel and if you choose sweet smelling ones, you'll kill two birds with one stone.
4. Repurpose a Plate to hold some Bling
Try this holder for jewellery, it's a wonderful way to hold your everyday pieces and it looks good at the same time, I made it here and you can too, it's the perfect way to revamp existing pieces to fit your colour scheme. I do love a great smelling bathroom, why not try reed diffusers too?
5. Make your own Shampoo Containers
These are so simple to make, head here if you'd like to try them, "S" stands for Shampoo, "C" for Conditioner and "W" for Wash, they're a great way to bring personalised luxury to your bathroom while using the products you love, especially if they don't come in your bathroom colour scheme.
6. Add some Hooks
If you follow me, you'll know I love a good hook or fourteen, find out my favourite picks here. Finish with some quality towels that compliment your colour scheme and you've got instant luxury.
7. Go Luxe on the Tissue
Sometimes it's the little things that make all the difference. I'm one of those people that believe that having Emporia quality toilet paper is on par with offering quality wine to guests. Emporia 4 ply tissue is extra thick, silky and soft and is an affordable everyday luxury. When visitors come to stay, I even fold the paper over like the hotels do.

Want to know the story of the Oyster print?
One day, we took a walk along the bay and we saw the sunrise, my little guy ran around the oysters.
"Watch out for the oysters, they might cut you." I thought.
But then, as the sun was beaming, good morning,
It became one of those moments when you think…We are so lucky. Just like the oyster, even with all those sharp edges, life has so many other wonderful things waiting just around the corner, if you just look inside.
The world is your oyster little man…and it's yours and mine too.
I can't believe, I've never shown it to you before.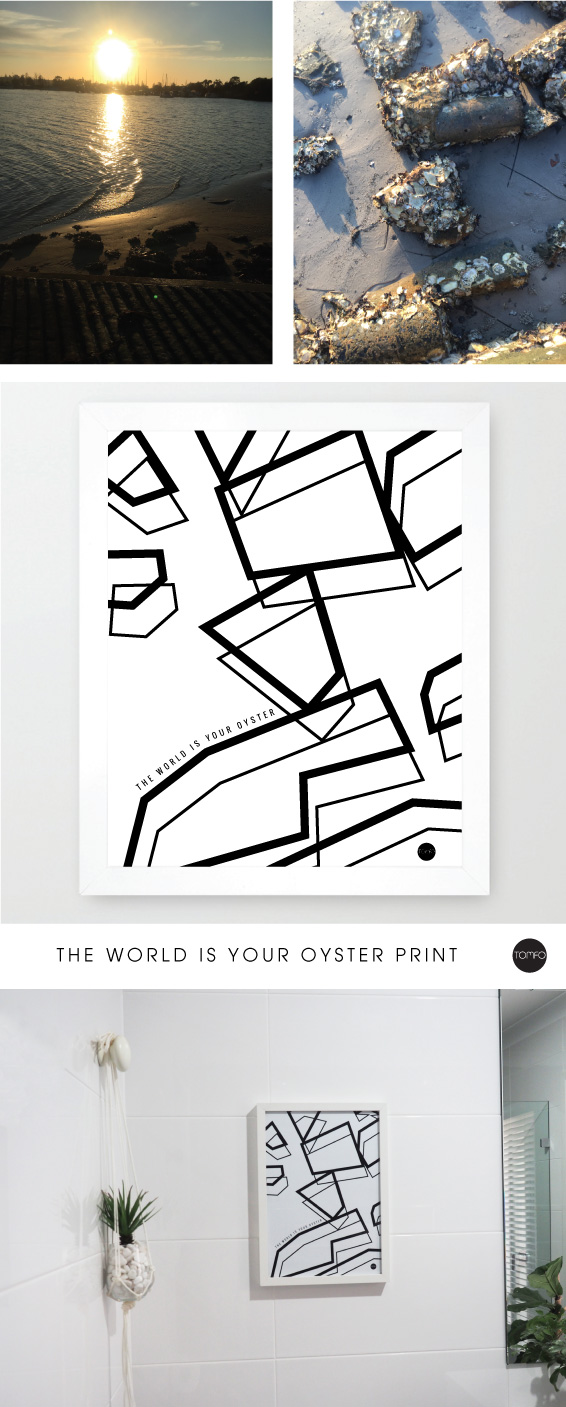 It's lovely to be back guys,
I've had a wonderful break, the best bit was taking time out to see what I've made and shared with you.
Hopefully, I've inspired you along the way too.
I truly believe that making things for your home make you feel good,
and taking time out to enjoy the little luxuries is good for your soul.
Don't take my word for it, Dr Suzy Green, founder of the Positivity Institute says that research supports that, savouring simple pleasures is a proactive investment in boosting feelings of happiness.
But I don't think you need research, really.
Luxury is a state of mind.
You just need time,
to appreciate all those little luxuries that you have.
Right in front of you… The World is Your Oyster.
How have you been?
Do the little luxuries make your heart happy like mine?
Do you only use premium toilet paper?
Do you think art should be hung in a bathroom?
Download The World is Your Oyster Print,  here for a little bit of luxury in your bathroom (free for a limited time only).
If you fancy trying some luxury Emporia toilet tissue paper, here's your chance! Head over to the Emporia Facebook page to enter their competition and you can win an Emporia Luxury Hamper pack to the value of up to $130. Details here
Have a fabulous weekend,
Live with love,

Looking for my 2020 family organiser printable? Click the image below to purchase your pdf to print yourself.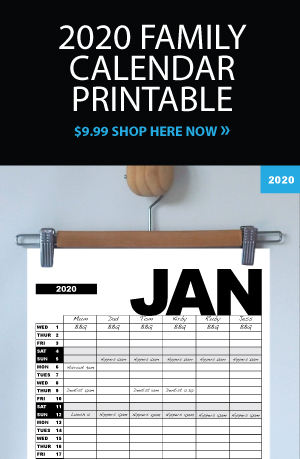 READ MORE POSTS
---