Santa's Beard Christmas Calendar Printable
Last year we used my Santa's Beard Christmas Countdown to mark off the days till christmas.
This year, I decided to change it up a little bit.
Colourwise…
I've gone black and white.
And added some crosses…
Download the Christmas Countdown Calendar here
It's chocolate free and lot's of fun to do.
If you're short on time, this will make you look like a super mum or dad!
See the tutorial below.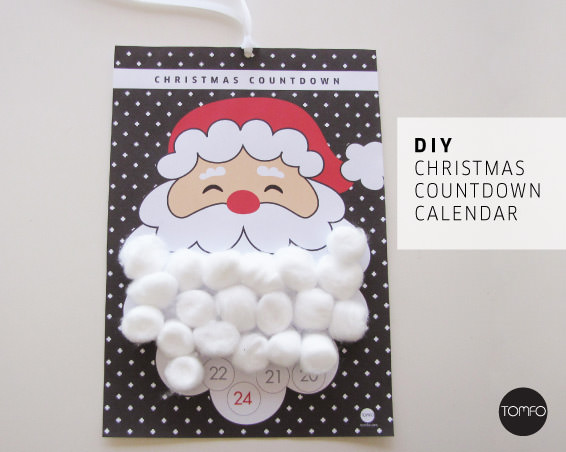 DIY Advent Calendar Countdown
You will need:
Printer
Santa Christmas Countdown Printable
24 cotton wool balls
Ribbon or string
Hole punch
Glue stick
Scissors
Optional holders for glue and cotton wool
Tin can
Washi tape
See the easy tutorial here.
To make the DIY Christmas Calendar:
Download the Christmas Countdown Calendar here
Or..
Check out the Christmas Countdown from last year here (it's a blue and red version, with a mason jar holder DIY).
Then print out on A4 card, I used 200gsm.
Punch a hole in the top with a hole punch.
Add some ribbon through the hole and hang it on a hook and you're done.
Using a glue stick and add a cotton wool ball every day. Once you've made Santa's beard he will be coming the next morning.
Easy fun with the kids.
Or even the grown ups! (If you're still a kid like me.)

Now we needed a place to hang this guy.
And…
I wanted to de-clutter my fridge and leave my Magnetic Seashell Clock there on it's own.
So…
I decided to make a new space for school stuff, dockets, our Family Organiser Calendar and a new spot for this baby.
This was our bag area before…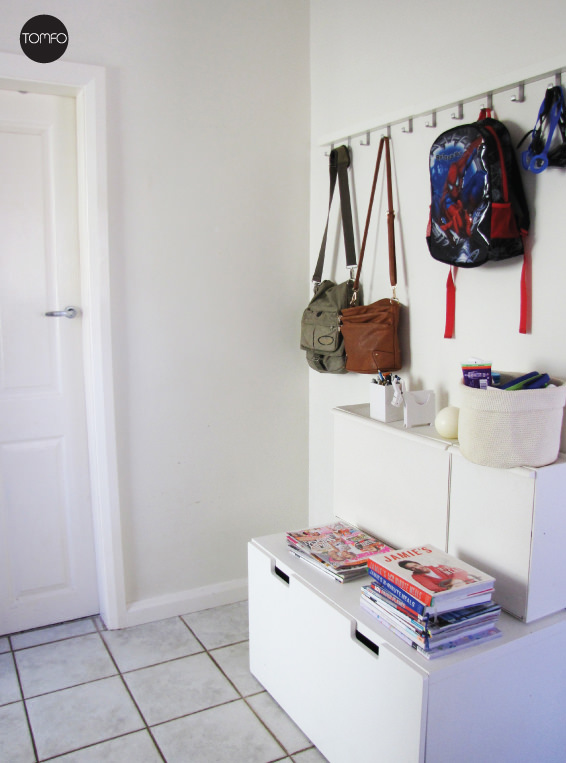 I've been busting to add a sheet of pegboard somewhere for ages.
One day I moved it out of the way to this corner…
And…
Decided it was the perfect spot to live in.
With some help from the big guy, (he made a frame on the back, so there is space to insert the pegs and liquid nailed it to the wall)
The new command centre was born…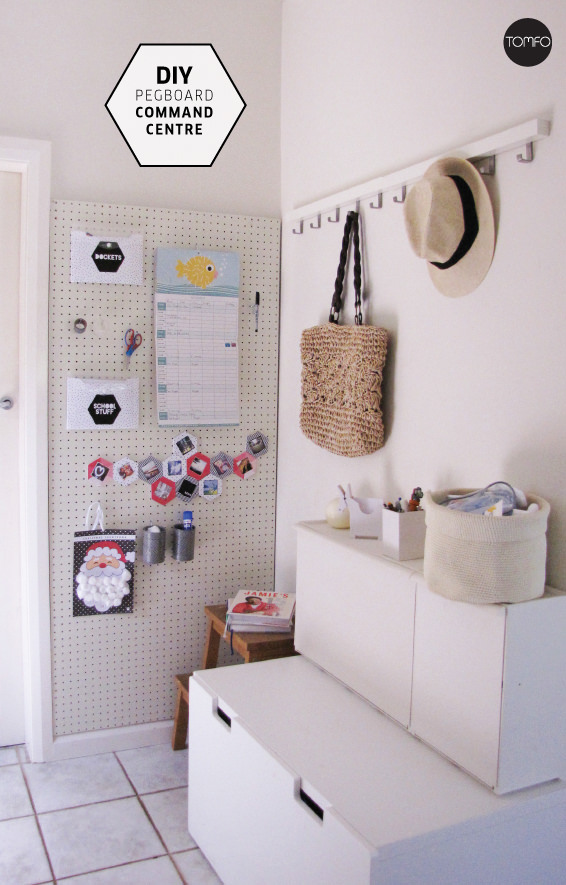 My DIY hexagon instagram pics have a new home now.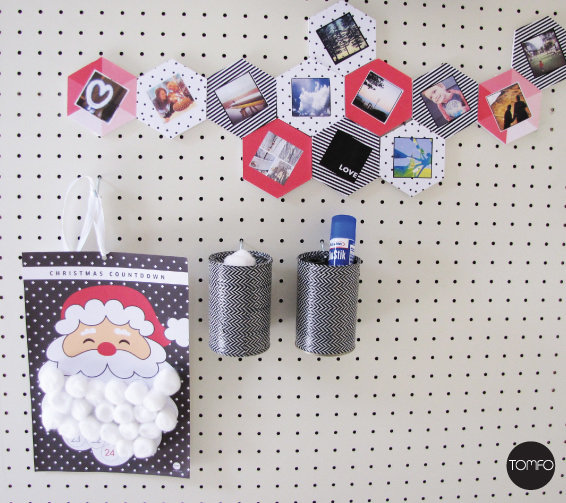 And I'll hang a fresh Christmas Calendar below it for the little guy to glue on the beard by himself.
Our 2014 Family Organiser boats poll position and a pen is kept handy on the peg board.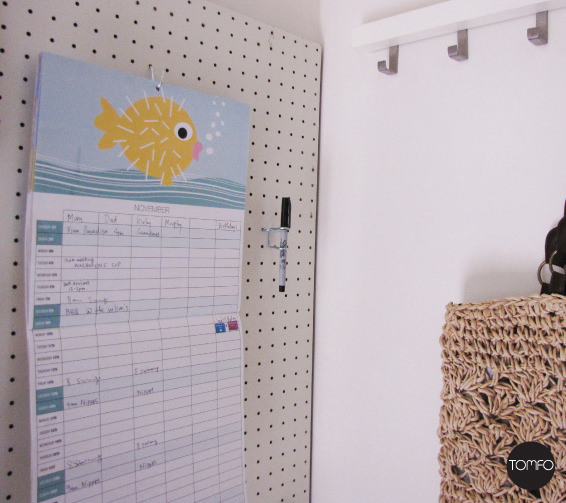 I also needed to make some form of holder for the school documents and dockets that keep taking over the kitchen bench and fridge. So I made up some labels for these clear A5 folders, to match my black and white theme.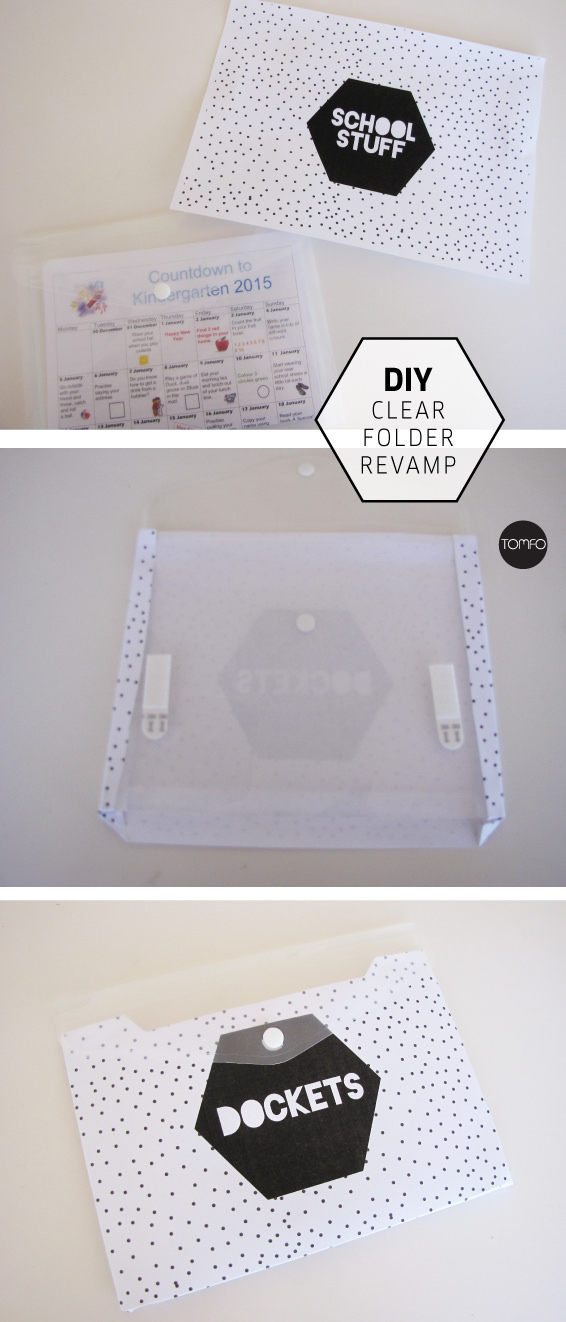 DIY Clear Folder Revamp
Print out the A5 Folder Cover Printable here
Purchase an A5 folder as shown in the pics above. I got mine from here.
Lightly spray with adhesive glue and place on the front side of the folder.
Then wrap around like a present.
Use a scalpel to cut the same shape as the folder at the top and cut out the press stud area so you can reseal the folder.
Then stick them on with 3m strips.
Now all the school stuff is in the one spot and neatly packed away.
And those petrol dockets can be easily found….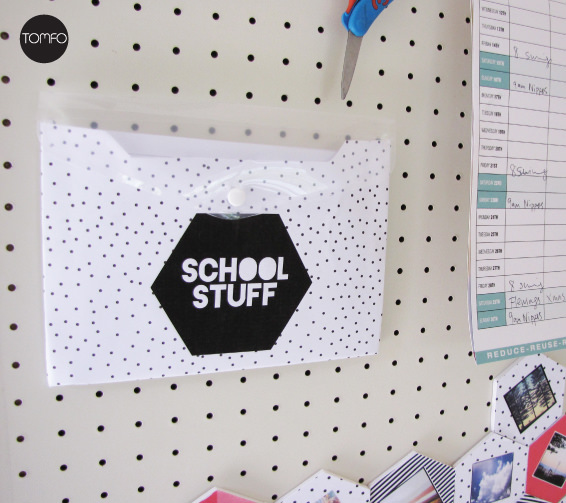 Phew… it feels great to get that organised.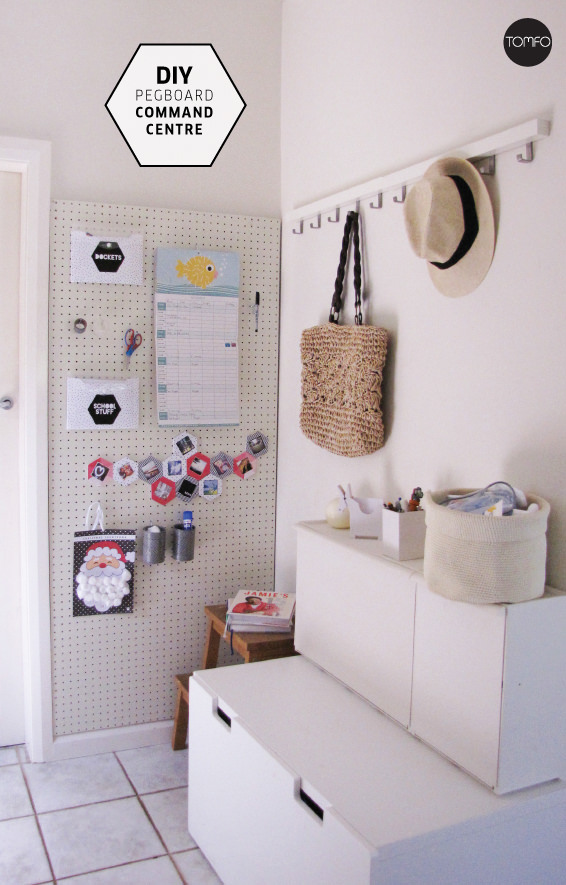 I'll put up a fresh Christmas calendar ready for the little guy to start counting down on the 1st December and attach the washi tape holders next to it, filled with cotton wool and the glue stick so he can glue them on himself.
I can't wait to countdown to Christmas with him again and I hope you enjoy counting down to Christmas with your special people too.
Do you prefer last year's Christmas Countdown  or this year's black cross version?
Live with Love,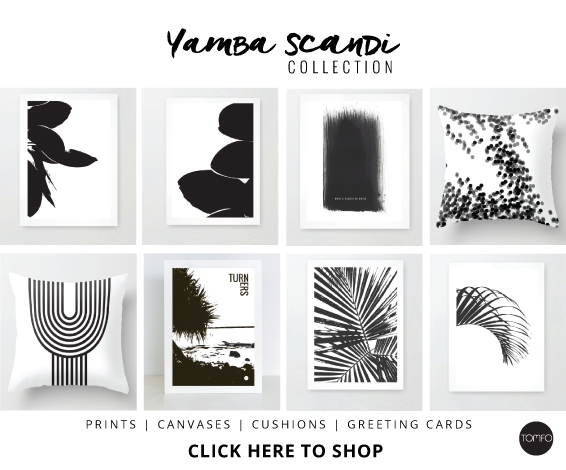 Why not subscribe here so you don't miss a thing?
Linking up with Life Love Hiccups + With Some Grace  + Sweetly Chic Events
Tags: free christmas calendar, free santa countdown calendar, free santa's beard printable
READ MORE POSTS
---